Coping With Ptsd Through Running Brum Half
Medical evidence shows being active can improve your mental wellbeing – and Great Birmingham Run debutant Ryan Mills is living proof. While in the debilitating grip of PTSD, anxiety and depression, the 26-year-old couldn't have imagined running for a bus – let alone entering the Midlands' most-popular half marathon on October 13. Ryan's mental health issues began after the traumatic birth of his son in June 2018, but almost a year later he went for his first run, which helped him put him on the road to recovery. Shrewsbury-based Ryan is a residential support worker at Options Higford, which provides care and education for children, young people and adults with autism, complex needs and learning difficulties. Arthur was born at the Princess Royal Hospital, Telford.
HOW RUNNING IMPROVES MENTAL HEALTH
According to the NHS website: "Physical activity is thought to cause chemical changes in the brain, which can help to positively change our mood." It adds: "…being active can improve wellbeing because it brings about a sense of greater self-esteem, self-control and the ability to rise to a challenge". This certainly rings true for Ryan: "Running has played a huge part in helping me improve my mental wellbeing in the past few months. This will be my first half marathon and my main motivation will be seeing my fiancée Jessica Hoggins and one-year-old son Arthur at the finish line, as I feared I would lose them both. Another big factor is raising money for Mental Health UK and giving back to a charity that has supported me so much."
HOW MENTAL HEALTH ISSUES DEVELOP
There are a wide range of causes, but in Ryan's case, it was severe stress: "I was diagnosed with PTSD, anxiety and depression at the end of May, but my issues began at Arthur's birth. Just a couple of minutes afterwards, Jess threw up all over me. Arthur was rushed to the neo-natal unit and I was removed from the operating theatre. I hadn't a clue what was happening. Jess was extremely pale, shivering all over and looked like she was going to die. The doctors diagnosed they both had sepsis and needed to act quickly to stop it killing them. Seeing the state Jess was in, I started thinking 'if she's like this, how can a baby survive? Arthur must be dead'.
HOW TRAUMAUTIC EXPERIENCES IMPACT MENTAL HEALTH
One definition of wellbeing offered by the Mental Health Foundation is 'the sense of feeling good…being able to function well individually'. Ryan was in a polar opposite state in the coming days and months: "Both Jess and Arthur were pumped with antibiotics to stop the infection spreading to their organs. My emotions were all over the place. At the same time, I was crying tears of happiness, at seeing my son born and sadness that I could lose them both. Thankfully, the infections were caught in time, but a couple of hours later Jess started screaming in agony. She had a hematoma the size of a grapefruit. They managed to remove it but she was kept in for two weeks and in real pain for most of it."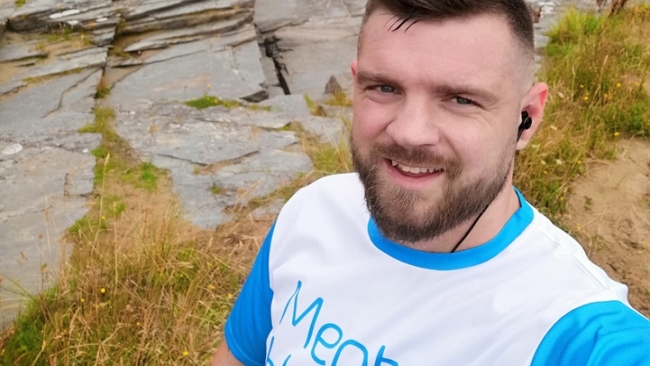 MENTAL HEALTH ISSUES – THE WARNING SIGNS
In Ryan's case, continually feeling anxious, restless and a loss of appetite were clear indicators: "During the week Arthur was born, I slept no more than three hours and was living off cigarettes and energy drinks. I couldn't eat. I was at the hospital 12 hours a day, then I'd go home and couldn't sleep. I was racked with worry. Being on my own, I couldn't stop thinking 'they won't be coming home, this is what my life will be like moving forward'. Thankfully, they both pulled through and have fully recovered. Arthur is wild and lively! But after they came home, I started having dreams about them dying. Either Jess or Arthur, or both, would die. When I woke up, I had to feel Jess next to me, or wait for Arthur to make a noise on the baby monitor, to convince me everything was ok. I was still having the dreams several months later."
MAKE A CHANGE FOR THE BETTER – GET ACTIVE
Knowing exercise will help is one thing. Actually, doing it is another! So what prompted Ryan, a self-confessed couch potato, to get his trainers on? "Jess' auntie, Yvonne Chetwood, is a keen runner and mentioned in passing how running helped her mental health. She had no idea I was having mental health issues, but she coerced me to do a Park Run last April – with no training! I wasn't into any sport or exercise. My father-in-law, Dean Spink, played for Shrewsbury Town in the nineties but that didn't rub off on me! This was my first-ever run. Even my mum laughed at me! Forget couch to 5k. It was more like 'couch potato to 5K finish line' in one go. I was absolutely shattered afterwards but had a huge sense of achievement. I felt the runners' high, as they call it. A few weeks later, with a couple of training runs under my belt, Yvonne persuaded me to do the Market Drayton 10K and I haven't looked back since."
CAN RUNNING ALONE BE THE ANSWER TO MENTAL HEALTH ISSUES?
Getting active brings huge benefits, but if the scars run as deep as Ryan's, expert help is also vital. "I loved the feeling I get from running," he added. "It took my mind off the pain I was feeling from Jess and Arthur's ordeal. There was no reason for that pain, as I hadn't lost them. But the PTSD was giving me flashbacks to scenarios that didn't happen. Running also helped me think more clearly. But it can't solve everything. Not long after the Market Drayton 10K, I was still feeling really low so I plucked up the courage to go to the doctor, as I was still having these horrendous dreams. I'd tried to deal with it on my own, and kept telling myself to man up, but that was a huge mistake.The doctor diagnosed PTSD, depression and anxiety, put me on medication and booked me in for therapy sessions, which have all helped. He also encouraged me to keep running. I run three to four times a week now."
IT'S GOOD TO TALK
Ryan has mixed emotions about attempting his first half marathon but has clarity of thought when it comes to offering advice to others: don't bottle things up. "I'm both really nervous and excited at the same time. I'm following a training programme and vary my routes, which is also good for the mind. I would advise anyone with similar issues to pluck up the courage to speak to someone – even if it's just one other person. A great starting point would be Mental Health UK, which is helping to normalise mental health issues in the UK. Being a man, I thought I needed to be the strong one in my family and was ashamed to admit I was struggling. I now know it is stronger to tell someone something is wrong. Getting active can certainly help this process."
Starting on iconic New Street, the new-look Great Birmingham Run route takes in popular Brum landmarks and suburbs like the Rotunda, Selfridges, Bournville, Cannon Hill Park, Edgbaston Stadium and Digbeth before finishing on Jennens Road, with Aston University campus hosting post-run refreshments.
Mental Health UK is just one of the many worthwhile causes that will benefit from the hundreds of thousands of pounds that will be raised by runners, joggers and walkers of all abilities at the Great Birmingham Run.
The half marathon also features the ENGIE Business Challenge, which pits work teams against each other for fastest-time trophies and bragging rights in the corporate world.

To enter the Simplyhealth Great Birmingham Run click here
Anyone who took part in the Simplyhealth Great Birmingham 10k in May will automatically receive a £10 discount off their entry to the half marathon, when using the same log in details.