Great Run'S Most Inspiring Of 2019
Our events are all about celebrating ordinary people doing extraordinary things. There are thousands of runners and every single one has a story to tell. Here, we explore the stories that have had the greatest impact in 2019 as we look forward to another fantastic year where our runners set out to be their greatest.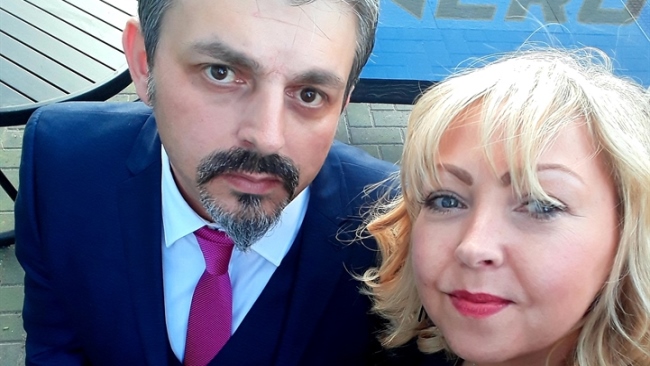 LISA ROUSSOS – SIMPLYHEALTH GREAT MANCHESTER RUN
Lisa Roussos, the courageous mum of the youngest of 22 innocent people who lost their lives in the Manchester Arena attack, took part in May's Simplyhealth Great Manchester Run to raise money for a new charity in her daughter's memory.
Lisa, from Leyland in Lancashire, suffered 117 shrapnel wounds in the horrific explosion when she attended the Ariana Grande concert with her eight-year-old daughter Saffie-Rose and her oldest daughter Ashlee, in May 2017.
Lisa, who was given only a 20 per cent chance of survival, woke from a six-week coma to the life-shattering news that Saffie-Rose had been killed.
But the incredible mum-of-three summoned the strength to fight for her own life and underwent pioneering surgery to save both her right hand and left leg from amputation before learning to walk and write again.
And after nearly two years of rehabilitation, Lisa took on her biggest challenge yet in memory of her daughter, walking the Simplyhealth Great Manchester Run 10K to raise funds for a new charity she and husband Andrew, 45, launched to support victims of terrorism.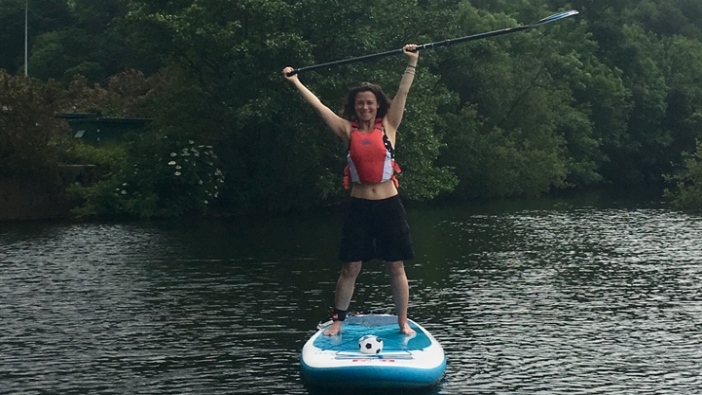 CLAIRE TURNER – SIMPLYHEALTH GREAT MANCHESTER RUN
Claire Turner, who was diagnosed with breast cancer a decade after she agreed to be a poster girl in a campaign encouraging gay women to check their breasts for lumps, took on the Simplyhealth Great Manchester Run as part of the Do Something campaign.
In 2003, when she was Director of Manchester EuroPride and Manchester Pride, Claire, now 48, from Newcastle-under-Lyme, was photographed in a spoof version of the early Wonderbra adverts as part of a lesbian breast cancer awareness campaign. Assuming the images would only be used around the Gay Village in the city, she was initially shocked to see herself on billboards and buses across Manchester.
After realising the impact the campaign was having, Claire became conscious of checking her breasts regularly, and in November 2013, found a lump in her breast which was discovered to be Lobular Carcinoma in Situ (LCIS), an early form of Breast Cancer known as Stage 0.
Claire's annual mammograms were clear for three years, but she had a nagging feeling that there was something wrong in the same breast. After attending an early scan, Claire was dealt the tough news that she had Lobular Invasive Breast Cancer Stage 2.
She underwent a mastectomy and immediate reconstruction in January 2018, and took on the 10K this year.
She said: "I loved running and really enjoyed the atmosphere. It's so well run and inspirational seeing thousands of people doing something for others.
"Taking part has also allowed me to fund the start of a new UK patient advocacy charity for Lobular Breast Cancer. We are working with patients, clinicians and researchers from across the UK to increase the understanding of the disease, standardise treatment guidelines and improve research to enable people to thrive with lobular breast cancer.
"I'm hoping that a group of us will be running for the charity this year. I am also the UK patient advocate for the European Lobular Breast Cancer Consortium so a lot has changed since the run that has brought real positivity from a cancer diagnosis."
OPERATION PULLED PORK – SIMPLYHEALTH GREAT SOUTH RUN
It's not every day that you see an operational police car being pulled along the course of a running event, but that is exactly what happened in October's Simplyhealth Great South Run.
Operation Pulled Pork was created after a chance meeting between PC Geoff Speak and a young cancer survivor. The officer decided to do something for Children with Cancer, and the idea was formed to pull a marked car for the ten miles to raise money for the charity.
PC Speak enlisted colleagues Arron Taylor and Connor Waters to assist in the task, which involved pulling the 1.5-tonne car for ten miles in a time limit of 2 hours 50 minutes.
PC Speak said of the day: "We absolutely loved the event. Whilst it was both mentally and physically demanding, we had amazing weather, the marshals were so helpful and the crowds were just unreal.
"We were cheered on and encouraged every single step of the way by thousands of legends who all came out to show support for everyone running their own races, and the atmosphere they created was something we'll never forget.
"I've done the Great South Run many times and always had a great day. With so many fitness challenges I want to tackle, I may well take part again next year – minus the car!"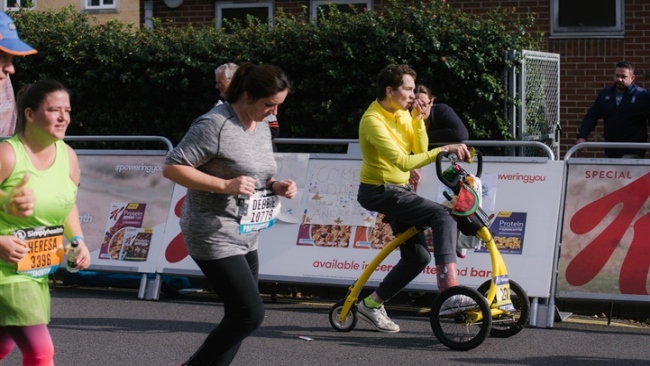 HARLEY SALTER – SIMPLYHEALTH GREAT SOUTH RUN
Among the runners setting themselves the challenge of completing the world famous 10-mile run in October was 24 year old Harley Salter. Harley took on the Simplyhealth Great South Run after completing his 10 Missions Possible challenge earlier this year to raise funds for Enable Ability.
Harley had his right foot amputated last year and walks with the aid of an Alinker three-wheeled walking bike. He has completed abseils down the iDrop i360 in Brighton and Spinnaker Tower in Portsmouth, a zip wire in Wales, and many more, raising £1,300 for charity.
Harley's mum Vanessa said of the challenge: "He had a fantastic time and was determined to keep up with the seasoned and experienced runners – even so far as to say the next day it was "deep agony".
"He loved the support from the crowd and seeing people he knew on the way round the 10 mile course.
"His participation on his Alinker walking bike did not give him an advantage over any of the other runners as it is designed to support mobility but keep you physically active. It made the impossible possible. Additionally it should not go unnoticed that he was not wearing a specialist sports prosthesis so he had to cope with the day to day discomforts he experiences with his standard prosthesis.
"He finished in an amazing 1 hour 54 minutes and 26 seconds and his split times for the 5K, 10K and 15K were not far off average running times for non-disabled runners.
"In participating in the Great South Run he has accomplished a UK, if not world, first by participating in a 10 mile race event using an Alinker walking bike and has set a benchmark for other disabled athletes using an Alinker. I have referred this achievement to the Guinness World of Records to see if he can become a verified record holder."
MADE BY SPORT PROJECT – GREAT NORTH RUN
The Great North Run will be celebrating a landmark occasion when the 40th staging takes place in 2020. GNR40 will be the boldest event yet, with a whole host of exciting new activities and experiences for runners, spectators and visitors planned.
The event's partnership with Made By Sport will play a big part in next year's celebrations.
In June we were announced as a founding partner of this national campaign, which was launched by HRH Duke of Sussex, Anthony Joshua and Nicola Adams
This four year campaign has been created to support the vital work of community sports organisations across the UK. It aims to champion the power sport has to change lives and raise £40m in additional funds for organisations using sport to transform the lives of young people in the UK over the next four years.
In September, we highlighted the work of some of the amazing community sports organisations and the extraordinary people that give up their time and energy to sustain them. We hope finding out more will motivate runners to support the campaign in 2020 and help Made By Sport change the lives of young people in the North East.
Sporting Chance North East is one of these organisations. They offer education, training and social opportunities to children, young people and adults that have found it difficult accessing mainstream education or services. Sporting Chance empowers children and people through sport and fitness to gain qualifications, achieve employment and improve social skills. Director Jamie, Head of Operations Jordan and five friends took part in this year's Simplyhealth Great North Run.
GREAT EAST RUN OUTREACH PROGRAMME
A team of 40 Suffolk residents previously classed as inactive realised their dream of taking on a half marathon in September's Simplyhealth Great East Run.
The participants in the Great East Run Outreach Programme received expert coaching through their preparation for the half marathon. The initiative is part of Suffolk County Council's quest to become the most active county in the United Kingdom, and has been successfully carried out at previous events in 2017 and 2018.
The programme included weekly supported training sessions by experienced local run coaches, exclusive discounts, physiotherapy support, nutrition advice and entry into the event.
Participants received an extensive programme of support from experienced run coaches with expert advice and guidance from double Olympic long-distance runner Paul Evans.
Paul represented Great Britain in the 10,000m at Barcelona 1992 and Atlanta 1996 Olympiads, and currently stands fifth in the UK marathon records having won the Chicago Marathon in 1996.
Bridget Goldstone and her husband Barry make up the coaching team alongside Paul, and the Suffolk resident is delighted to see the results the Outreach Programme brings each year.
She said: "This is our third year leading the coaching team for the outreach programme and it has been so rewarding to see not only people achieving their running goals, but how much they grow in confidence and their mental health improves.
"We particularly like to coach those new to running as with the combination of our skills we love to see them grow so much and we are both passionate about helping people to live a more active, happier and healthy lifestyle."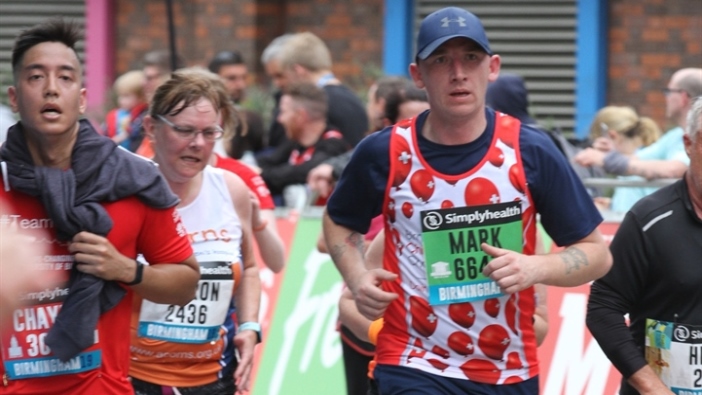 MARK HUSBANDS – GREAT BIRMINGHAM RUN
Mark Husbands, whose daughter was born with a rare heart condition, took part in October's Simplyhealth Great Birmingham Run to raise money for Birmingham Children's Hospital Charity.
The 36-year-old dad from Ross-on-Wye took on the event to say thank you to the hospital where his daughter Holly, seven, received three life-saving operations after she was born with a congenital heart defect.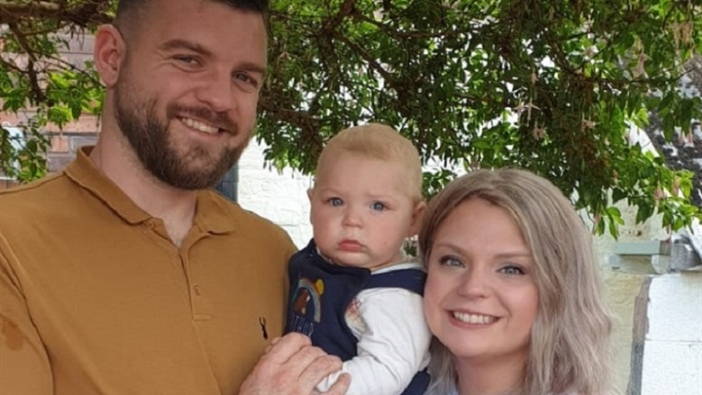 RYAN MILLS – GREAT BIRMINGHAM RUN
Simplyhealth Great Birmingham Run debutant Ryan Mills took part in the half marathon after crediting running with improving his mental health.
While in the debilitating grip of PTSD, anxiety and depression, the 26-year-old couldn't have imagined running for a bus – let alone entering a half marathon. Ryan's mental health issues began after the traumatic birth of his son in June 2018, but almost a year later he went for his first run, which helped him put him on the road to recovery.
Shrewsbury-based Ryan is a residential support worker at Options Higford, which provides care and education for children, young people and adults with autism, complex needs and learning difficulties. Arthur was born at the Princess Royal Hospital, Telford.
Mental Health UK was just one of the many worthwhile causes that benefited from the hundreds of thousands of pounds that was raised by runners, joggers and walkers of all abilities at the Great Birmingham Run.
Ryan said of the event: "I thought the event was amazing, everybody seemed to be really happy, really excited and very friendly – both competitors and staff for Great Run.
"I am definitely going to take on the challenge of running next year's half marathon (and 10k) and will once again like to run for Mental Health UK as they were one of the charities that helped me through my difficult time.
"I want to be able to give something back to them so that others can be helped in the same way they helped me overcome my anxiety, depression and PTSD. I am also hoping to beat my time this year.
"Great Birmingham Run has inspired me to take on a bigger challenge on the coming months which is to run a marathon.
"Following the Great Birmingham Run I took a two-week break from running and spent time with my son and fiancé. Since then I have been running every other day.
"Things have started looking positive and I can see the sunshine through the clouds. Running has been a great help with my mental health and gives me the time to process negative things and turn them into positives. I would highly recommend running, or other forms of exercise, to combat the negativity and anxiety in a person's life. It really does help."
CHRISTINE THOMSON – GREAT SCOTTISH RUN
An East Kilbride woman who only took up running 18 months ago conquered the Bank of Scotland Great Scottish Run Half Marathon – at the grand old age of 69.
Christine Thomson began running when she was talked in to taking part in a 10k, and although she admits to not enjoying her training to begin with, the pensioner quickly caught the running bug.
Christine said: "I've always been a walker, not a runner and at 67 I certainly didn't think I'd begin pounding the streets in my trainers. However, my friends talked me into taking part in a local 10k as a great way to keep fit and I've not looked back.
"The first few nights of training were tough and I was left wondering what I'd let myself in for, but I kept going and it wasn't long before I began to look forward to going out for my evening run and taking part in my first 10k.
"I find that running is a great way to clear my mind. Lacing up my training shoes and getting out in the fresh air certainly boosts my mental health. Also, as you get older you realise the importance of looking after yourself. At 69 years old, taking part in running and working towards a challenge such as the Great Scottish Run is an ideal way to keep physically fit. Who wants to live a long life, if it is not a fit and happy one?
"I'd say to anyone, no matter their age, to put your trainers on and give it a try."
JOHN BALLANTYNE, GREAT BRISTOL RUN
After a near fatal collision in 2018 John Ballantyne has defied all odds by pulling through and learning to walk and talk again. In September, John set his sights set on his next challenge, to run the Simplyhealth Great Bristol Half Marathon with husband Alan, to raise money in support of others recovering from brain injury or mental health issues.
In May 2018, John was struck by a car on the crossing outside of the Hippodrome, on his way home from a night out.
Despite spending four weeks in a coma, almost a year in a specialist brain injury unit and only being allowed home in March of this year John set Simplyhealth Great Bristol Half Marathon as a personal challenge and to raise money for Headway Bristol and Mind.
John and Alan led very active and full lives. John was a keen triathlete and had a highly skilled engineering job for Rolls Royce, Alan worked in London during the week and travelled home to Bristol on weekends. All that changed when one drunk driver made the decision to get behind the wheel.
This run was even more poignant for John and Alan as they ran along Anchor Road and past the very spot that the collision took place, crossing the finish line just over 100 metres further down the road.
EMILY WALLACE, GREAT SCOTTISH RUN
Emily Wallace took on September's Bank of Scotland Great Scottish Run 10k for the second time as proof that running has medicinal properties after being diagnosed with bipolar disorder when she was 15.
Emily, 21 from Irvine, was diagnosed with the condition after displaying physical symptoms which resulted in a year of tests and visits to her GP as well as being referred to a psychologist and psychiatrist for depression leading to her eventual diagnosis.
Emily said: "I started feeling unwell about halfway through secondary school and could sleep for up to 23 hours each day. My mum took me to the GP and they initially couldn't work out what was wrong and referred me to a psychologist who referred me to psychiatry for depression. After being prescribed a variety of medication which didn't work, I was prescribed lithium which started to level out my emotions.
"Running is a good time for self-reflection and I am so grateful that I found it when I did. Since then I have gone on to study Early Years at Ayrshire College and I'm now in my final year. I'm also getting married in a couple of years' time so the last few years have been a real turning point in my life and it was all thanks to running."