Inspirational Runners Rise To The Challenge In Bristol
Inspiring runners joined The Great Run Company to kick start the Bristol running 2020 events calendar. Sign-ups to the events are already in full swing with over 7,000 people already registered to take part in the 10k on Sunday 3 May 2020, which is a 44% increase on this time last year, meaning the 10k event is on track to sell out faster than ever. Attendees at the press call shared their motivations and stories for taking part in the popular Bristol running events this year. Here are some highlights from the event:
Andy Graffin, Head of Product Development at The Great Run Company, said: "The Great Bristol events are a highlight in our annual calendar as they have such a unique feeling whether you're taking part or watching from the crowd, the people of Bristol are proud and this is felt along the course and around the harbourside afterwards, which makes for a great experience for everyone on the day. The 10k is on Sunday 3rd May this year and it is already on track to sell out quickly as we're 44% up on entries already right now in comparison to this time last year, with over 7,000 people already registered for the 10k in 12 weeks. The response continues to be amazing for these events here in Bristol and we're looking forward to another excellent year."
Briony Williams recently won the Great Christmas Bake Off and was a semi-finalist in the Great British Bake Off but it's running that is inspiring her so much right now as she's the ambassador for Bristol University's Healthy Minds initiative. Briony said: "Bristol University are promoting the idea that exercise is beneficial for mental health, and this resonates with me as if I run it helps keep my mental health on track and I feel so much better. Now I'm the ambassador for this initiative and taking part in the 10k and half marathon as a result, it means I'm back in training.
"When you're signed up for a running event it is the best motivation to take the time to train, and there's plenty of time for anyone thinking about taking part in the 10k, take your time and build up slowly. I'm delighted to be an ambassador for the Great Bristol 10K this year as running is something I'm incredibly passionate about.
"I only started running in 2017 but it changed my life because of the positive effects it has had on my physical and mental health. I've done the Bristol Half before but never the 10K so I'm excited to be taking part this year. Being from Bristol, it is always lovely to participate in a hometown run. Bring it on!"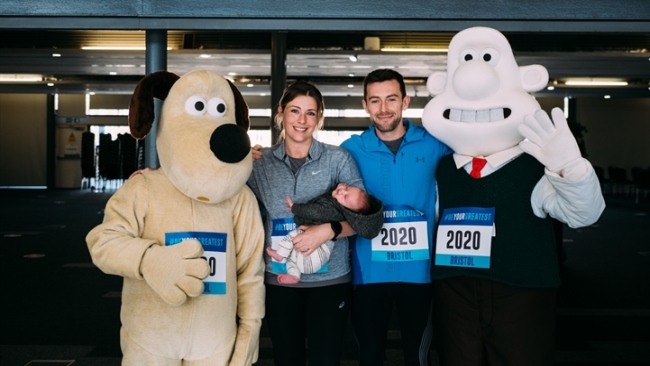 Matt Rees and Kelly Ruck – It's not every day that you meet a couple who are as motivated to run as each other, both Matt Rees, (@thewelshrunner) and Kelly Ruck (@kelloggs_ontherun) are training together for the Great Bristol 10k in 12 weeks and they shared their top tip for training.
Matt said: "When training for a race, consistency and discipline are what leads to good progress, focus and get some consistency, and make sure to do some hill sprints." Kelly who is training for the Great Bristol 10k as her first event since recently having her son, Harri, said: "Start slow and build up sensibly, go steady and you'll be fit and ready by race day."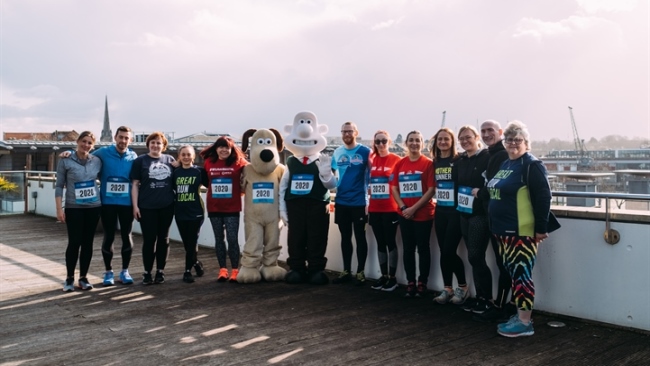 This Mum Runs – Mel Bound is the Founder and CEO of the popular running community and movement This Mum Runs. Mel set up This Mum Runs in Bristol after appealing on Facebook to find some mums to run with. It's now the largest running community for Mums, changing how women feel about exercise.
Speaking at the press call, Mel said: "The Great Run Bristol 10k and Half Marathon are huge highlights in the This Mum Runs Bristol calendar. Hundreds of women in our community take part every year, and often it's their first-ever race.
"The events are hugely welcoming to all abilities and the atmosphere along the course is brilliant. We can't wait!"
The Grand Appeal – As the charity partner for the Great Bristol 10k and family run, The Grand Appeal mascots Wallace & Gromit attended the press call alongside spokesperson Nathan Fuller. Nathan said: "It's huge for us having the relationship with the Great Run company. We love the family run, which follows on immediately after the 10k run as it is an opportunity for families to get together, run a mile and children get to have the big finish line experience when they receive a medal as well. Patients from The Bristol Children's Hospital can come along and enjoy the positive atmosphere too. Wallace & Gromit will be setting everyone off at the start of the family mile this year and will cheer everyone on. Last year's 10k and family run combined raised an incredible £26,000 in 2019 which allows The Grand Appeal to make a huge difference, for example, Grand Appeal house which has recently opened and helps families to stay just minutes from the hospital during traumatic times."
Great Run Local – Two Great Run Local volunteer event coordinators, Catherine Chalmers and Rhiannon Annandale were there to represent the Bristol Hengrove Park weekly run which takes place every Sunday over a 2k or 5k distance. Catherine Chalmers said: "We love seeing the community come together each Sunday at Hengrove Park, it's a friendly atmosphere and these runs are open to everyone. Several of us from Great Run Local will also be taking part in the 10k this year so our weekly Great Run Local events will be a great help to our training."
Steve Hale is an inspiration to many. After suffering a brain injury at work in May 2019, Steve has been recovering over this last year and the Great Bristol 10k will be his first running event since the accident. Speaking from the kick-off event, Steve said: "I had a serious accident in May 2019 in which I suffered a traumatic brain injury. I am running the Great Bristol 10k to raise money for the Great Western Air Ambulance; who saved my life and Frenchay Brain Injury Rehabilitation Unit who were instrumental in my recovery. I will be running with a group of others, including my wife, Jo and it will be her first time taking part in a 10k. We are pleased to be here today and to be able to participate together for such an important cause close to our hearts."
Representatives from the University of the West of England and the University of Bristol also joined the press call as they will have over 100 and 550 students taking part in the Great Bristol 10k, respectively.
Some key facts shared at the event:
– Great Bristol 10k entries are way ahead versus previous year with over 7,000 entries taken to date. It's expected to sell out quickly so those interested should sign up soon to avoid disappointment.
– Bristol is the fastest city across all UK events hosted by Great Run! Stats: 5.99% of Bristol Half Marathon finishers ran a sub 1hr30 half marathon vs. 3.95% in Birmingham, and 11.99% of Bristol 10k finishers ran a sub 46min 10k!
Community running groups are growing in Bristol:
– Great Run Local is a weekly group timed run that takes place each Sunday at Bristol Hengrove Park over 2k & 5k. All are welcome and more details available: https://www.greatrunlocal.org/
– Great Runners Bristol is a weekly social running group taking place on a Thursday – see the Facebook group for more details
So, make sure to Rise to the Challenge in Bristol this year and sign up today to the 10k, family run, and half marathon. Greatrun.org/Bristol10k