Olympic Rider Aiming To Conquer Great North Run
Taking on the challenge of the Great North Run is an achievement thousands of runners conquer annually. But for Olympic Eventing rider Jonty Evans, the challenge is harder than simply following a training plan, as he is still on the road to recovery after a riding accident that put him in a coma for six weeks.
Growing up in the Conwy Valley in North Wales surrounded by horses, it was clear from the first time Jonty got up in the saddle that he would ride professionally one day, eventually going on to become a champion eventing rider, competing at the Badminton and Burghley Horse Trials being his ultimate goals.
With those successes under his belt, Jonty then turned his attention to qualifying for the Olympics which became a reality in the summer of 2016 in Rio de Janeiro. With no Welsh team available, Jonty was able to represent Ireland due to having an Irish Grandfather and went on to finish 9th in the individual eventing competition, riding the horse he'd trained from it being a youngster, Cooley Rorkes Drift.
However due to the success at the Olympics in early 2017 the owners of 'Art', as he is affectionately known by his stable name, decided to sell the horse. Jonty, desperate to fund the purchase of his 'life-time' horse who he only met by chance when stopping at the side of the road to help with a broken down horse box one day, embarked on a seemingly impossible crowdfunding campaign when he was unable to raise the money needed privately.
This last ditch attempt proved to be an outstanding victory and Jonty's popularity became crystal clear as within three weeks thousands upon thousands had donated, raising the half a million pounds needed. The deal was done and Art was now the 'People's Horse'.
But what appeared to be a fairy-tale ending came crashing down at the Tattersalls International Horse Trials in County Meath on June 3 2018.
Already heading toward the top of the leader board and having jumped the same fence previously, Jonty and Art were involved in a freak accident with Jonty being knocked unconscious when hitting his head hard on the ground. After assessment at the Connolly Hospital in Blanchardstown, Jonty was moved into the specialised neuro intensive care centre at the Beaumont Hospital where he was put into an induced coma.
It was his failure to wake from the coma that highlighted the extent of the brain injury and with pneumonia and other infections ravaging his body, Jonty's family were told there was little to no chance of survival as he was moved back to the Connolly with 'No Rehab Potential' written on his notes.
But Jonty proved to be a fighter and each time his family were given bad news, their standard response became "You don't know Jonty", even after he finally woke from the coma and they were told he would have many long term problems. With his Mum Maggie constantly by his hospital bed and his sister Hannah working to secure a place in a UK rehab centre, Jonty started the long road to recovery having to learn how to talk, swallow, move and stand as well as trying to get his memory back.
By late August a place was available at The Walton Centre in Liverpool, but spiralling costs meant the family had to persuade the hospital to discharge Jonty medically, so they could bring him home by car and boat, another of the many challenges they had to overcome. But the silver lining in this cloud was that Jonty was able to see his children, Charlie and Mia, for the first time since the accident, with them never having given up hope that their Dad would be home soon.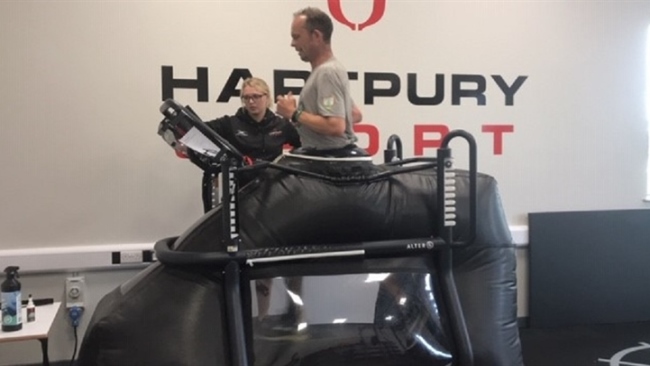 Jonty training at Hartpury College
A few months later one final move came into Oaksey House, a specialist rehab centre for injured jockeys nearer his home in the Cotswold's, where Jonty focused on the goal of being fit enough to return home for Christmas, a goal he achieved to the absolute delight of his family.
Getting back on a horse was obviously another crucial part of Jonty's recovery which he did in a very carefully and controlled manner only six months after the accident and just before the first anniversary took part in a dressage competition with Art, winning the class. Fantastic as this sounds, Jonty admitted it "Didn't feel amazing… it just felt normal" proving in the saddle is definitely where he belongs.
Fitness and running has always played a major part in Jonty's training to be an Olympian and this has continued throughout his recovery, using antigravity running machines and learning to swim again to help with his balance.
He is now training for the Great North Run with a team of sports scientists from Hartpury College where he has access to cutting-edge sports facilities, advice on diet and nutrition including not only what to eat and drink but when, working with osteopath Liz Launder from the Rider Performance Centre of which he says the attention to detail is "off the scale".
What will be just fifteen months after the accident, Jonty is on track to complete the Great North Run in a target time of two and half hours, taking part with long term friend Michael Knight and Associate Professor Kathryn Nankervis, manager of the Rider Performance Centre with the trio fundraising for three different charities – Headway, Alzheimer's Research UK and the David Foster Injured Riders Fund.
Although full recovery is still some way off Jonty is now back at work and refuses to let any problems that come along or the constant fatigue that his injury brings, get in his way. With huge support not only from his own family but from Art's amazing family and his never give up attitude to live, Jonty Evans is proving extremely inspirational to many people.