Roundhouse Runners To Tackle Great Birmingham 10K
Pictured: Chris Maher, Creative Producer, Anna Jukes, Operations Manager, Jade Morgan, Volunteer and Community Involvement Officer and Keith Wraight, Active Outdoors Development Officer
When staff at Birmingham's latest visitor attraction heard that thousands of runners would be passing their doorstep as part of the new route of the Great Birmingham 10k they decided there was only one thing to do – join in.
Keith Wraight, Katerina Kovacic and Chris Maher have already signed up for the popular event on Sunday, May 31 and they hope a team of eight will ultimately take part.
Their workplace, the Roundhouse, sits alongside the Birmingham New Main Line Canal near Sheepcote Street and is on the new-look Great Birmingham 10k route.
The event has been redesigned to take in the historic heart of Birmingham, its latest developments and world-famous heritage sites.
Runners will start near the Birmingham Hippodrome before passing the Mailbox, Grand Central and the historic Jewellery Quarter, before finishing near Victoria Square and Colmore Row in the city's Business District.
So it is fitting that the Grade II *-listed Roundhouse, which is undergoing a multi-million pound renovation, is on the route.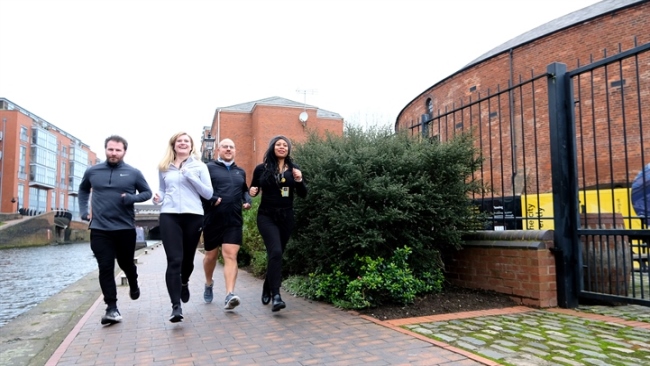 The 19th century canal side stables and stores, which is due to open to the public this summer, is one of Birmingham's most distinctive buildings.
The unique horseshoe-shaped site lies at the heart of the city's canal network and was built by the Birmingham Corporation in 1874 as a base for the city's lamplighters and the horses of the Public Works department.
It's been brought back to life thanks to a partnership between the National Trust and the Canal & River Trust.
The National Lottery provided a £2.5 million grant and Historic England gave £196,000 to transform it into a hub where people can meet, work and explore the city by foot, bike and boat.
It will house a visitor centre, exhibition space, café, shops and offices and staff and volunteers will lead tours and activities. One of the goals is to help people become more active.
"When we heard that people taking part in the Great Birmingham 10k would be running past our front door we thought 'why don't we join in?'," explains Active Outdoors Development Officer Keith Wraight.
"It links in really well. We're hoping at least eight members of staff and volunteers are going to run.
"We're also planning to set up a 'cheer station' at the Roundhouse where we hope to have lots of our volunteers out in our distinctive yellow tops cheering people on."
Volunteer and Community Involvement Officer Jade Morgan and Operations Manager, Anna Jukes, will join other staff and colleagues running the cheer station.
Keith and his fellow Roundhouse runners, Creative Producer Chris Maher, and Active Outdoors co-ordinator Katerina Kovacic have the perfect place to train right on their doorstep.
"The canals are a great place to run. You can escape the traffic and you're never far away from a patch of green land and trees. I like to call it a blue highway," says Keith.
"It's a great place to improve your fitness, destress and have a bit of time to yourself between home and work.
"It's the first time for me doing the Great Birmingham 10k and I'm looking forward to it.
"The new route's amazing, the way it includes a lot of Birmingham's historic and key sights.
"We're hoping we will be able to raise awareness of the Roundhouse and encourage the local community and visitors to the city to come along."
To enter the Great Birmingham 10k click here
Find out about the Engie Business Challenge at the Great Birmingham 10k click here
For more information on the Roundhouse visit nationaltrust.org.uk/roundhouse-birmingham