Running For Nathan At The Great Birmingham Run
Mike Bracken, husband, father and absolutely passionate runner, having covered over 2500 miles already this year, is taking on the Simplyhealth Great Birmingham Run on 13 October for the PWSA, the Prader Willi Syndrome Association.
The Great Birmingham Run is very special to Mike as not only is this the event where his family are always there to support him but for the first time last year, he came in the top 100 finishers, with a personal best of 1:23:30.
But that's not Mike's main motivation. That accolade goes to his son Nathan, of who he says: "Nathan is a very complex, happy little boy, with a rare condition called Prader Willi Syndrome, and autism. I'm always emotionally driven to do my best at this race because I know it makes my son proud and he loves cheering me on."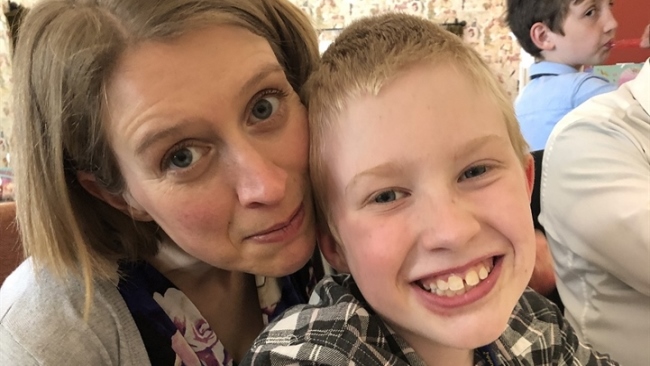 Nathan and his Mum
Nathan, who has just turned ten, was born via caesarean section a couple of weeks premature due to being in the breech position. Coincidentally, Mike points out, on the same day Usain Bolt achieved his 100 metres world record!
Although there was no immediate indication anything was wrong, it quickly became clear that Nathan was weak, initially put down to being born prematurely, and his inability to suck in milk resulted in him having to be spoon fed. But with a gut feeling there was a serious problem, Mike and his wife Alison received the devastating diagnosis when their new baby was just three weeks old.
The memory of that moment is so vivid, Mike recalls it was 7pm on a Friday night, standing in the spare bedroom at home when the call came from the hospital. After immediately looking up Prader Willi Syndrome on the internet, Mike locked himself in the bathroom and cried for his son's future.
PWS is a serious, lifelong, spectrum disorder, causing insatiable appetite, learning difficulties, weak muscle tone, and if left unmanaged, a genetic predisposition to obesity. There is no cure, but hormone treatment helps children grow to their genetic potential height and improve muscle tone. Trials are currently ongoing for a medication to control appetite and Mike is convinced that during Nathan's lifetime he will benefit from a medical breakthrough.
Despite the pressure Mike and Alison have a happy family and are lucky to have a strong support network around them from immediate family and friends, Nathan's school, the NHS and the PWSA. Mike gives special mention to his seven-year-old daughter Jessica for helping to look after Nathan, attending a young carers group with him, encouraging and playing with him – and defending him when she feels the need arises!

The Newton Family
It was through the Prader Willi Syndrome Association (PWSA) that Mike and his family met and became good friends with the Newton Family, Martyn and Sue and their children Thomas and William, who also suffers with PWS. For the last five years the families have not only been a huge support to each other, but enjoyed each other's company at PWSA events, many of which Sue has tirelessly helped organise in the Midlands area, raising thousands of pounds in the process.
Tragically Martyn died unexpectedly earlier this year and Mike will be dedicating his Great Birmingham Run jointly to Nathan and Martyn, saying: "Martyn touched all our hearts, was a fantastic dad and loving husband. All he wanted was a family with Sue. He was always there for them and terrific company. He was a kind and generous person, a pleasure to be with, and will be deeply missed by everyone. They are a special family, always thinking of others, and deserve as much love and support as possible."
Having only taken up running in 2015 following the encouragement of work colleagues, Mike quickly became hooked with the activity giving him the space to process life's challenges and says the mental and physical health benefits are absolutely massive as it makes him feel calm, healthy and stronger both physically and mentally at home and at work.
Come rain, shine or freezing snow training either takes place in the early hours before the rest of the family are up or with a rucksack on his back, returning from work at Arup in Blythe Valley, which works well not having to look for a parking space! Mike also says Arup is a great place to work and they actively encourage mental wellbeing in their employees and support his lifestyle.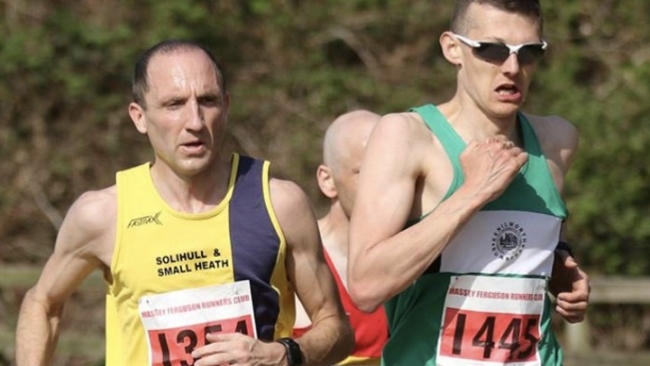 Mike running for Solihull & Small Heath AC
Discovering he was actually quite good at running, Mike then joined Solihull and Small Heath AC, where they not only push him out of his comfort zone once a week but have gone on to become great friends, giving good support and advice. Mike gives credit to fellow club runner Chris Dix and their 19-mile Sunday runs as the reason he consistently beats his PB's, with his next goal being a sub 2:55 marathon.
This focus is what helps Mike and his family cope with the daily struggles of having a child with PWS and although Nathan's diagnosis greatly impacted on family life, they have come to terms with it and are proud to be managing the condition so Nathan can have as normal a life as possible.
Sadly, normal for Nathan includes controlling his intake of food and drink to manage his insatiable appetite and daily injections of his growth hormone. He has seizures, wears nappies at night, tires easily due to his weak muscle tone and has obvious sensory issues which he copes with using repetitive behaviour and routine. He doesn't like motorways or hand-dryers, clapping often makes him cry and is constantly undergoing assessments across numerous medical departments.
But despite all this Nathan is a genuinely happy boy, who enjoys school so much at Hazel Oak in Solihull that he regularly comes home exhausted from his busy day. Most importantly he has all his senses, knows who his Mum, Dad and sister are and that they love and look after him and enjoys music very much, his favourite song being Shotgun by George Ezra!
Now Mike is looking forward to taking his place on the start line of the Great Birmingham Run with the hope of knocking another minute or two off his personal best, saying: "This is a massive event and the atmosphere is phenomenal. My heart goes into this race, I want to make my family happy and see the smile on Nathans face."
To add a little pressure to his hope of finishing inside 81 minutes this year, Mike's daughter Jessica is becoming more interested in running but has categorically told her Dad, she won't be taking up athletics herself until he brings a trophy home!
Should motivation alone be enough to cross the finish line it's fair to say running for Nathan's smile, running for Jessica's trophy and running in memory of Martyn that Mike has that box well and truly ticked.
To donate to Mike's fundraising for the Prader Willi Syndrome Association visit justgiving.com/fundraising/mike-bracken1
To enter the Simplyhealth Great Birmingham Run click here
Anyone to entered the Simplyhealth Great Birmingham 10k in May will automatically receive a £10 discount off their entry fee to the half marathon when using the same log in details.