Sporting Memories Made At The Great North Run
Broadcasting legend Steve Rider lead a team of celebrities from the world of sport to raise funds for The Sporting Memories Foundation in this year's Simplyhealth Great North Run.
Sports presenter Steve, who fronts ITV's Kwik Fit British Touring Car Championship coverage, signed up alongside fellow presenter and ex-BTCC driver Paul O'Neill who is a Patron of the charity, which is the first in the World to tackle dementia, depression and loneliness through the power of sports reminiscence.
The pair were joined by around 17 other athletes and runners to pound the roads including former Bradford City FC captain Gary Jones and two young local motorsport stars in the shape of Max Coates from Scorton and Northallerton's Ethan Hammerton.
The whole team were in for a big treat when they were invited to join Steve Rider at the front of the start line for a pre race live interview on BBC1, where Steve spoke of the work of the charity, his own recollections of running, including appearing in the very first Great North Run in 1981 and his all time favourite Sporting Memory.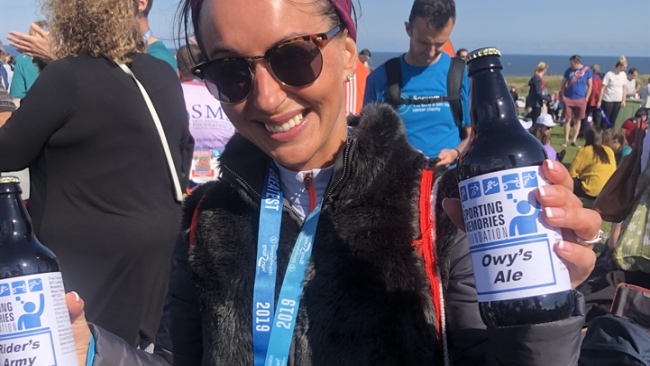 Co-ordinating the mammoth task was Tony Jameson-Allen from Topcliffe, the co-founder of The Sporting Memories Foundation, who himself is a former motorsport competitor. Tony's duties precluded him from entering but he delegated his wife Amanda, a specialist nurse working with older people in North Yorkshire, into running her first ever half marathon!
Five Towns Brewery supplied all The Sporting Memories Foundation team with a couple of beers to celebrate with at the finish – Rider's Army and Owy's Ale, a tribute to the efforts put in by the team leaders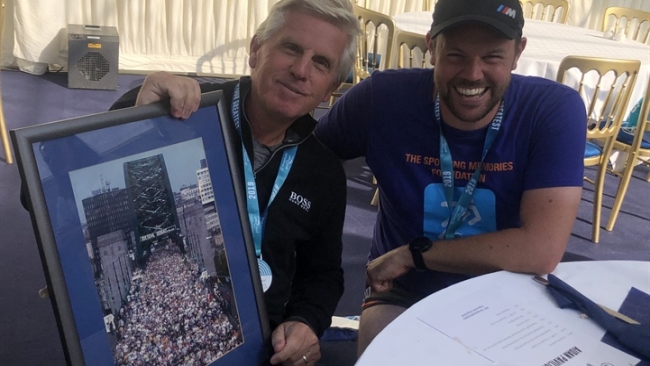 The day was rounded off with a special presentation to Steve. Having competed in 7 Great North Runs and after an 18 year break, he declared this to be his final Great North Run. Charity Patron Paul O'Neill was on hand to present Steve with a superb photo of the iconic Tyne Bridge for his office wall, to be able to look back on many happy memories of the great race.
Steve Rider: "Whilst it was a huge challenge, I enjoyed getting my running shoes out and taking on the Great North Run alongside my team-mates from the wonderful world of sport. The work The Sporting Memories Foundation does in tackling dementia, depression and loneliness is truly inspiring and I'm proud to be representing such a wonderful charity."
Paul O'Neill: "As a Patron of The Sporting Memories Foundation, I'm proud to have taken part with so many of the BTCC family on the team. Being involved in such a brilliant event was really inspiring and hopefully we've helped raise the profile of the charity and raised some much needed and valuable funds too.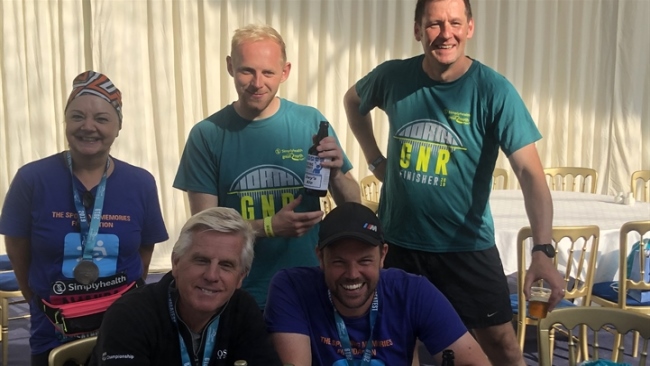 Max Coates: "The Sporting Memories Foundation charity is one that really hits home for me, both my Grandparents experienced dementia in their final years so the opportunity to do something for the charity and in their memory is something that makes me proud.
Tony Jameson-Allen: "The support we have received from the world of motorsport, especially from people involved in the BTCC has been truly humbling. Paul is a wonderful Patron and has been very persuasive in coaxing his colleagues, including Steve, into taking on this challenge. The public really got behind the team and have helped them to raise some much needed funds so we can continue to support older people across the UK attending our groups free of charge."
To make a donation please visit: sportingmemoriesnetwork.com/appeal/great-north-run