Click here to enter Simplyhealth Great Manchester Run.
Still Waters Run Deep are not a running club but a welcoming creative community. We are a group driven by curiosity, exploring our city wherever and however possible to find new ways to interact with our surroundings through fitness.
This year, 10 of our crew will be tackling the Simplyhealth Great Manchester Run 10K, searching for good vibes and those all important PB's. Signing up for the race is the hard part, now for the training. Here are our top tips for getting race ready.

1. Endurance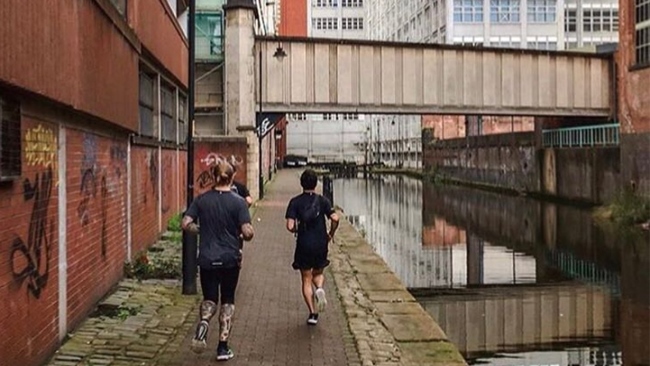 With any race, it's vital to get some time on your feet in the weeks leading up to it. Our best advice is to build gradually. We recommend increasing your runs by around 10-15% each week, spread out over two or three sessions. Run these at a steady pace, which you feel comfortable with. This will help your aerobic capacity and improve your cardiovascular system's efficiency.
Top tip: Aim for 1 long run per week. Run at a comfortable pace where you can still chat while running.
2. Intervals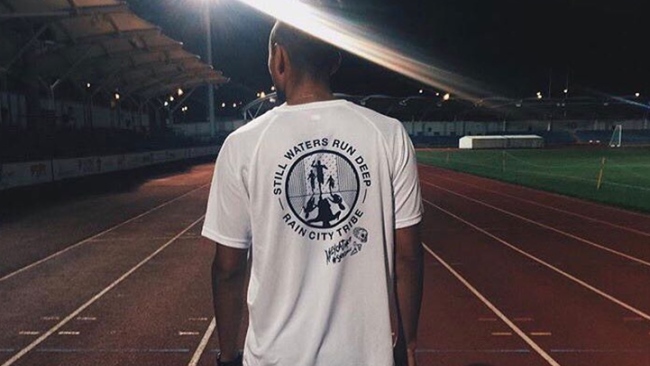 Thursday nights are track night at SWRD. This is where we get some speed in our legs and search for that uncomfortable feeling which will reap rewards come Sunday 20 May. Slow and steady will finish the race, but if you want to get faster, you need to push yourself out of your comfort zone.
It's all about being creative. You don't need access to a state of the art running track, so work with what you've got. Lampposts, road signs and road crossings can all be turned into finishing lines to help you out with intervals. If you look close enough you'll always find something to work with.
Interval or Fartlek training is key for race preparation. It will help boost your running speed and endurance, which is essential for all PB chasers.
Top tip: Start off with 8 x 200m at 90% effort, with a 200m recovery jog between each. Repeat the workout every other week, adding a few repetitions each time. Alternatively, use lampposts as markers. Sprint to the first one, recovery jog to the next, and repeat.Trust us, this works!
3. Team work
At SWRD we always start together and finish together. Group training gives us the extra encouragement we need to get out and stay active. Be that person in work who suggests training together at lunchtime or before/after work. We guarantee that if you are thinking it, it's more than likely someone else will be too. You'd be surprised at just how many secret runners there are around.
Top tip: Locate that friend who is always up for a challenge and get them on board. Training together will keep you both motivated and prepped for race day.
4. Routes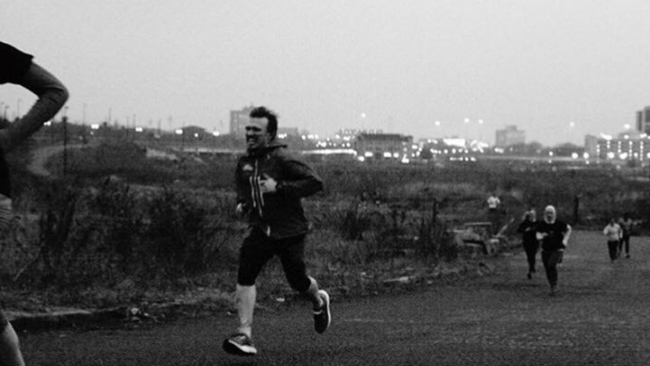 No two runs are ever the same at SWRD. We are a group that thrives on exploring the ever-changing Manchester landscape.
To keep your training fresh, think about ways in which you can interact with your local surroundings. Rather than running the same loop time and time again, check a map and look for inspiring destinations and influential landmarks in your area.
Top tip: Route planning is all about being creative, so do this in advance. Search out new street art or do a tour of historic buildings. And whether you're from the red or the blue side of town, the city's football stadiums always make for interesting training runs.
5. Hills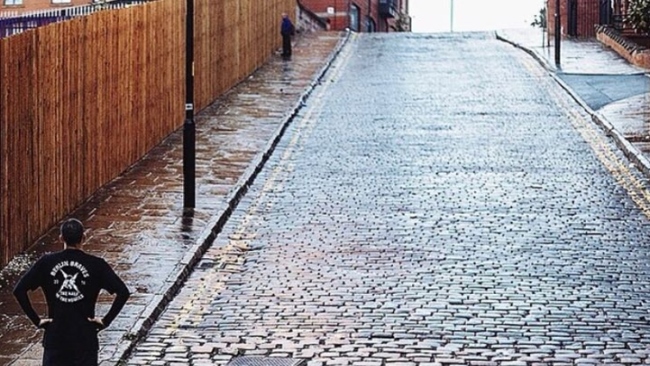 Going up! Time to conquer that hill you always avoid on the walk home. It's time it became your best friend and training partner.
Manchester is a flat and speedy course, but hill training will add another dimension to your race prep and help you build your leg muscles and running speed. Come race day your legs will thank you for it.
Top tip: Locate a hill close to your home. Sprint up it and walk down it. Repeat this 5 times and add a further repetition each week.