Thousands of amazing women have taken part in the Great Run series over the years and alot has changed since the fist staging of our flagship event, the Great North Run in 1981, when only around 1300 women took part. Although a triumph of its time, women made up only 11% of the total field. We're proud to say that 48% of the 57,000 runners taking part in Great North Run are women, and on average, 50% of all Great Run participants are women.
There are so many inspirational women out there, and to celebrate International Women's Day this year, we've rounded up the stories of just some of the amazing women who inspire us and will hopefully inspire you too.
Susie Chan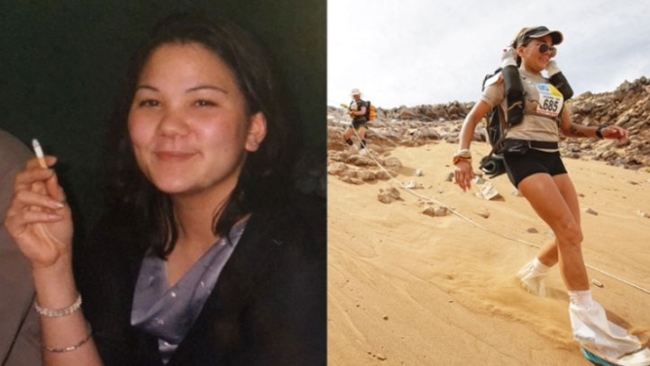 Susie took part in Great North Run alongside close running friend BBC News presenter Sophie Raworth in 2017 and 2018, and her story is pretty inspirational. She only took up running in 2011 and took part in her first Ultra Marathon in 2012. Susie now runs for a living and competes in many distance events across the world.
Susie was part of our #NewYearNoPressure campaign in January which encouraged people to set themselves long term goals for the year and not become bogged down with unrealistic New Year Resolutions; according to Strava, 92% of people who set themselves the goal of an event are still active 10 months later.
Jess Dyer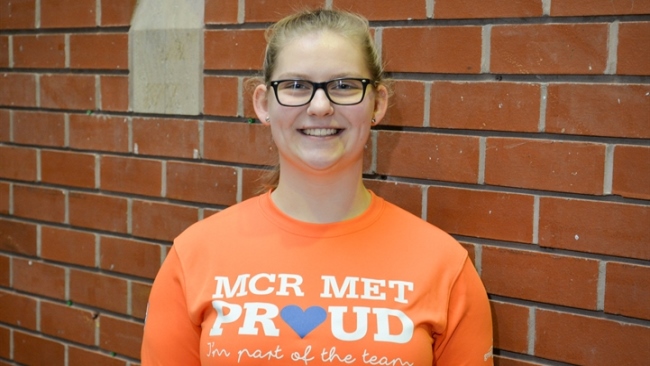 Jess, 22, took on Simplyhealth Great Manchester Run to celebrate five years since she last attempted suicide. She's continuing to inspire people with how she overcame her battle with depression; Jess endured severe bullying at secondary school which led her to self-harm for the first time when she was just 11-years-old.
"I wouldn't say running played a part in my recovery when I was younger, but it is a huge part of my life now, and helps me to cope with ongoing mental health struggles.
"When I completed my first Simplyhealth Great Manchester Run, the real sense of accomplishment and triumph as I crossed the finish line was just magnificent. I burst into tears. It was truly overwhelming."
Read Jess' full story here.
Mel Bound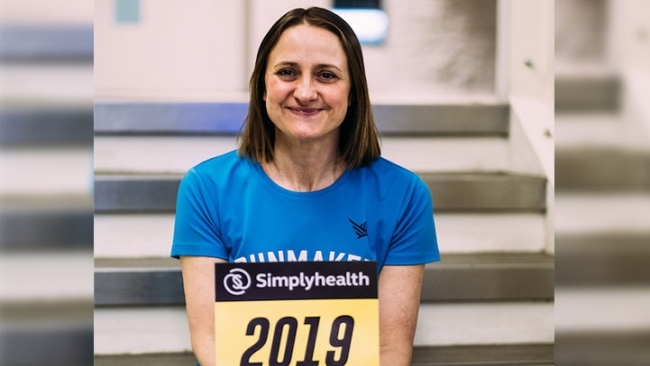 When Mel Bound from Bristol commented on a page for mums that she was feeling frustrated about her lack of physical activity and sluggish energy levels after having children, she found that she'd touched a nerve, hearing stories from other women saying they felt exactly the same.
Inspired, Mel told the group that she was planning a run in her local park and that anyone who wanted to join her was welcome. She was not prepared for the response. As she waited by the park to see if anyone would take her up on her offer of a running buddy, a total of 75 women joined her on that first run—This Mum Runs was born.
Two years on, This Mum Runs is now a community of 50,000 UK-wide, with over 9,000 runners in the Bristol and Bath area. It offers free running meet ups as well as courses and an online store.
Hundreds of people from This Mum Runs are set take part in the Simplyhealth Great Bristol 10k, when it returns to the city on Sunday 5 May, with the event providing first time 10k runners with the perfect distance to aim for when taking part in their Run60 courses.
Sonya Hughes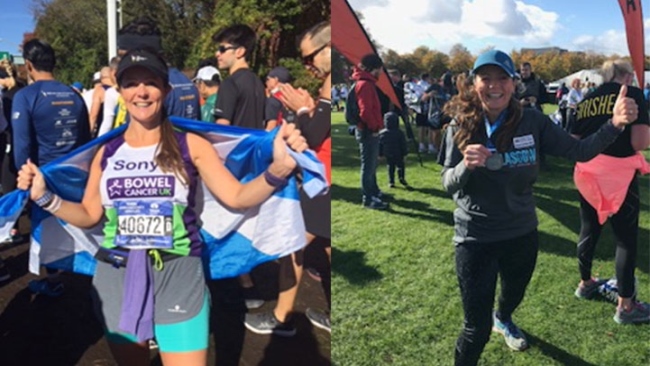 46-year-old Sonya Hughes from West Kilbride is a foster carer, who took up running to be a positive influence in her children's life. She is taking part in the Simplyhealth Great Stirling Run marathon event to continue to lead by example in her mission to inspire them to lead active lives.
With a granddaughter from her 28-year-old daughter, an adopted 18-year-old son and four long term foster children, aged 8-15, running also gives Sonya some much needed headspace in her busy life.
Sonya credits running with helping her manage a busy household and helping her children manage their own specific needs, which include ADHD, Dyspraxia and Foetal Alcohol Syndrome, as well as general mental health issues stemming from their formative experiences.
Read Sonya's full story here.
Claire Coulthard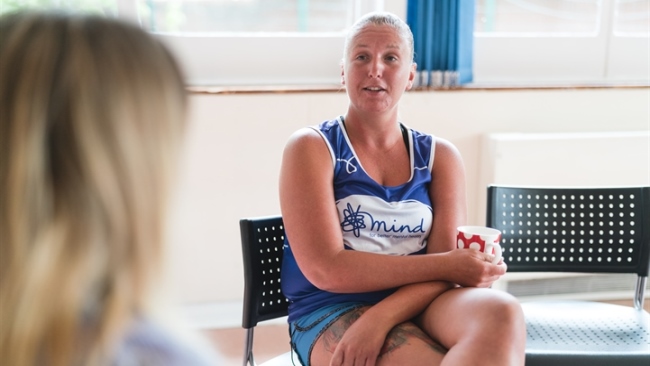 Claire Coulthard took part in the Simplyhealth Great North Run as part of her role as leader of a peer support group to help people with mental health problems through exercise.
Claire, from Stockton-on-Tees, sought help for her own mental health issues as a result of a failed suicide attempt in 2017 and has gone on to volunteer for Mind, the mental health charity.
Her group, Red Balloons, started in February and has grown to help more than 600 people online, while Claire leads sessions to around ten people weekly face to face.
She is the leader of a small group of people who have her to thank for their progress, and who feel inspired to take part in a half marathon run themselves.
Red Balloons now has its first official premises and the self-belief Claire has gained through her training means she is now in the middle of her first year at university.
Claire's new-found confidence led her to apply for a place in the Simplyhealth Great North Run last year and she took part in the event for the first time in 2018. Read more on her story here.
Lizzy Yarnold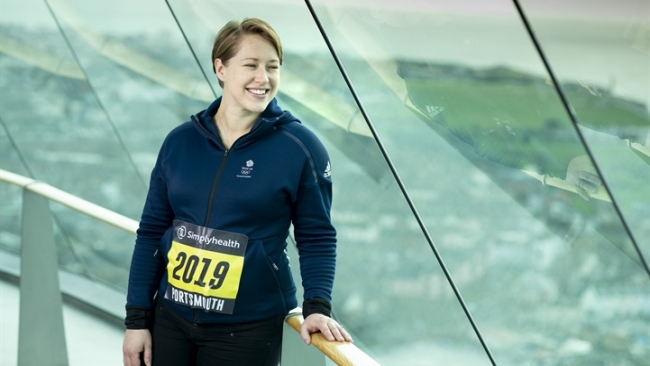 Lizzy Yarnold, Britain's most decorated Winter Olympian, joined a group of runners from the past, present and future of the Simplyhealth Great South Run to kick off the event's 30th anniversary in February.
Lizzy, who claimed her first skeleton Olympic gold medal at Sochi in 2014 and retained her Olympic crown in PyeongChang, was the event's honorary starter last year and has been inspired to take on the 10-mile challenge.
"Last year I cheered on the thousands of people taking part and was left feeling very inspired to take part in October.
"I'm ready for a new chapter, I believe there is something out there for everyone and if you put your mind to it, with hard work, something you love will find you as well."
Lizzy will be taking on the event just six months after her planned due date for her first child! We salute you, Lizzy.
Sarah Pinch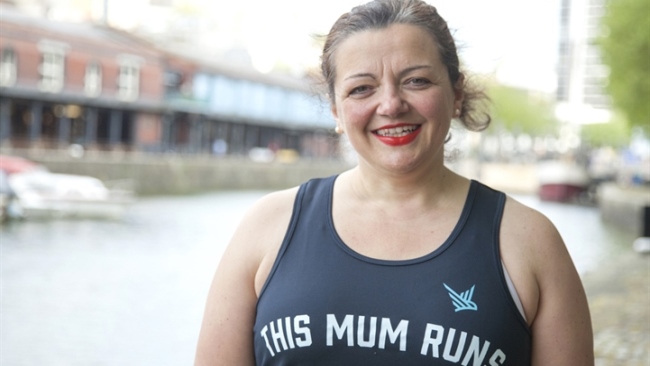 Sarah Pinch, from Bristol, found running provides a respite from her busy schedule.
She started training with the popular This Mum Runs group in 2016 and faced her first Simplyhealth Great Bristol 10k in May the following year.
Sarah, said she decided to take part in the event after discovering the positive effect that running had on her mental wellbeing.
After having a tough start to the year where she lost her uncle and some of her friends, she wanted to make a small change in her life half-way through the year to have a fresh start. She decided to learn to run by joining This Mum Runs.
Sarah took part in two running courses with them as her ability improved. Half-way through the final course, she decided to set herself the goal of running her first 10k event.
Since completing her very first 10k in 2017, she has run another five. She also completed her training as a This Mum Runs Run Angel, and now leads and inspires other women on social runs around North Bristol. She'll be taking part in in Simplyhealth Great Bristol 10k again this year.
If you fancy taking on your own running challenge and you've been inspired to get those trainers on, we have lots of events to choose from in 2019. Find your Great Run.