We've teamed up with blogger Johnny Cullen, Up & Running Birmingham and Great Run Local to give you the ultimate training inspo. If you're bored of the same training routes or you work in the city centre and struggling to find a lunch run loop – we hope this blog provides the answers.
Johnny's Top 5
Spring is almost upon us. The days are lengthening. Temperatures are pushing double figures. And – happiest of all – the road running season is soon to start. Which means it's high time to begin adding a few 5ks to your monthly mix.
So if you're a Brummie in a hurry, where are the best places to train in and around our city centre? Well, funny you should ask that. I've been talking to local runners of all ages and abilities, and put together the following five suggestions for you.
Each of your routes comes in at about 5km. They're easy to reach, and popular with both gentle joggers and super speedy types. As always though, please be sensible. Do tell someone where you're going, and keep your eye out for traffic, cyclists and other runners.
1) Edgbaston Reservoir
Two laps of the reservoir will get you three miles. Flat and traffic free, this is a tried and tested venue for shorter reps and fartlek. If you're up near Five Ways, it's spot on.
2) The Vale Village
Fancy some lovely leafy running through Edgbaston? Then take the canal to the University of Birmingham's Vale Village. A quick lap of the park, and it's back on the canal home. If you start and finish outside the Mailbox this is around 4 miles.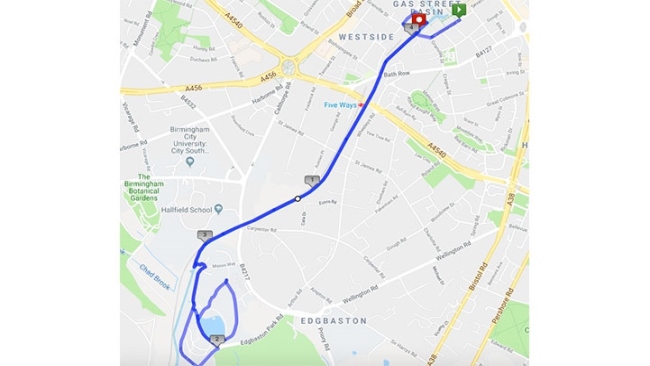 3) Soho Loop
Arena Birmingham is your start and finish for this one. You'll venture up the canal towards Smethwick, go up and around the Soho Loop, and return the way you came. Splendid!
4) Millennium Point
For a more urban flavour, try this nippy road route. You'll zip past ThinkTank and Millennium Point, and head through Eastside Gardens. Some nice downhills here too. The loop is around 0.6 miles so you can do as many laps as you have time for or maybe try a little speed session here.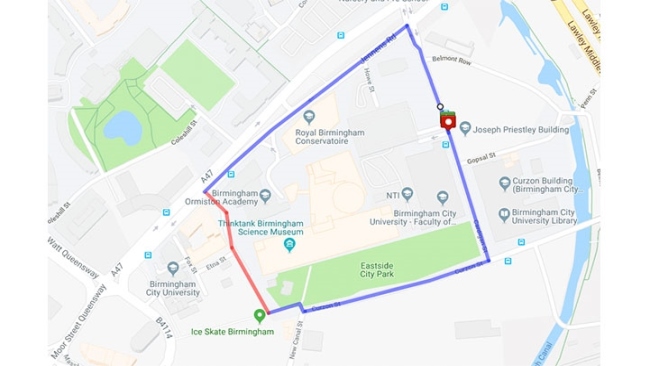 5) Cannon Hill Park
A firm favourite with runners, you'll follow a natural lap of nearly one mile. Plus you can begin and end at the mac arts centre, which has a fab cafe to refuel in afterwards.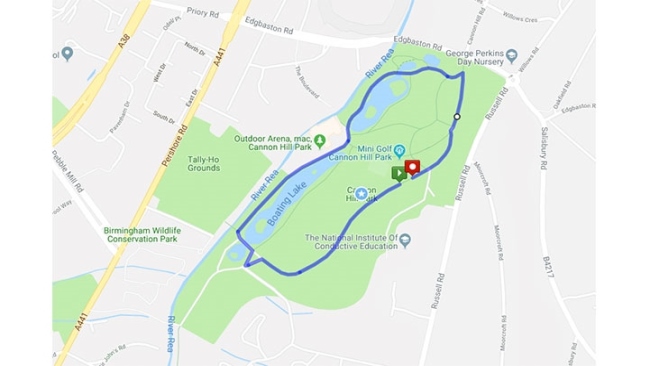 Hit 'Up and Running' Social Run
These guys based on Colmore Row are a place to turn if you're looking for a group to go out with. Their running club varies up the route depending on the seasons. In winter months they pass through the Jewellery Quarter, a slightly more challenging route with some hills but they make sure they double back at key points to keep the group together.
In summer they break out onto the canals, heading either towards Wolverhampton or down towards the University. They do these sessions based on time, so head out for 15 minutes and then double back, this means every pace is accommodated for and groups naturally come back together.
On all the runs, there is always a leader (usually 2 or 3) to keep everyone on track and so everyone has fun and someone to chat to. It is a social run after all.
From time to time they're joined by brands, giving runners chance to try shoes, clothes, nutrition and watches before you buy. They even have a reward scheme in place where you are rewarded for your loyalty to the social run, 5 runs gets you a t-shirt and 35 runs gets you a £35 voucher, all of this is completely free of charge! What's not to like? Find out more.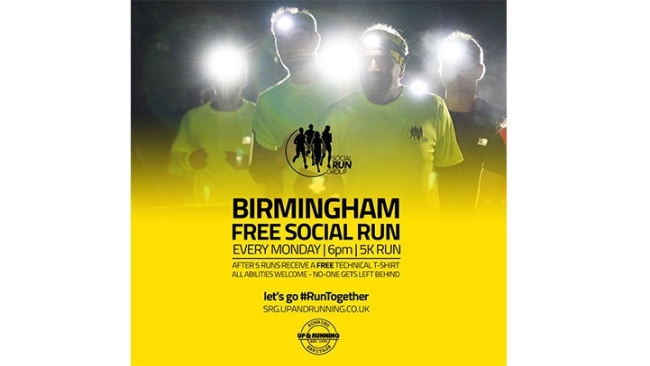 Great Run Local
If everything we've mentioned sounds just a little bit much and you're new to the running scene, a great way to build your confidence is to join a weekly running group. Great Run Local has three locations in the midlands that you can come along to for FREE. The sessions are all volunteer led and include a 3k or 5k route. They encourage all abilities and ages to come along, you can even bring your four legged friend too!
Take a look at the sessions and the Facebook pages for more information on how to sign up:
Ley Hill – Starts at 9:30am every Saturday from Holloway Hall Community Centre
Edgbaston – Starts at 9:30am every Sunday from Edgbaston Reservoir
Image: Great Run Local Edgbaston Facebook
According to Strava, 92% of people who set themselves the goal of an event are still active 10 months later. So set yourself your next goal at Simplyhealth Great Birmingham 10k on Sunday 26 May. Enter now.