Thousands of amazing women have taken part in the Great Run series over the years and a lot has changed since the first staging of our flagship event, the Great North Run in 1981, when only 1300 women took part.
Although a triumph of its time, women made up only 11% of the total field, we're proud to say that they now make up 48% of the 57,000 taking part.
Since we launched our virtual events at the start of the pandemic, an amazing 100,000 people have signed up, and unbelievably, two thirds of them have been women.
It's been well documented the pandemic has specifically impacted women in a number of ways, from taking on the lion's share of caregiving responsibilities at home or within the wider family, to the higher number of women in frontline jobs like teaching and healthcare.
There are so many inspirational women out there, and to celebrate International Women's Day this year, we've rounded up the stories of just some of the amazing women who have inspired us this year and will hopefully inspire you too.
Polly Mann and Vicky Owens
Midwifes Polly Mann and Vicky Owens are both nurses who have been working as Sisters at a paediatric emergency department throughout the pandemic. They have been signing up to a virtual medal each month to give them something to focus on.
Running has become a great outlet for them and gives us them the opportunity to support each other, by debriefing and providing a distraction from the stresses of recent events.
Ramona Mulligan
Ramona is running at least 5K every day for her own mental health and will celebrate 365 days of running on 31st of March. She started running every day from 1st of April 2020 as part of her daily exercise with her dog Alfie. After they achieved 50 parkruns in 50 day she realised that they had hit a milestone and that maybe they could do something positive with all of their efforts!
She had a charity place at Great Manchester Run for Shelter but after the event was cancelled along with all other races in 2020 she knew charities were counting on fundraisers now more than ever; she gave herself a targeted of raising £1000 by Christmas and included several challenges including taking on the Great Run 12 Days of Christmas challenge (twice!) and raising £1155.
In 2021 she is supporting the charity mind after struggling with her own mental health when she lost her mother in 2019. She knows her Mum would be proud of her for being able to help others along the way and is taking part in our March challenge, celebrating International Women's Day to honour her.
Sally Hayler
Sally returned to work in York Hospital after answering a plea for help from the NHS for ex-staff to return to support them during the pandemic. She worked as a discharge liaison officer in a ward-based role working to plan and arrange patient discharges and reduce delays at all stages of patient care.
Her current employer agreed to loan her to the NHS for up to three months. She started working on the Covid wards in May 2020 and was then moved to ward 34, a respiratory ward.
Her experience gave her first hand experience of wearing PPE all the time, the constant need for vigilance and the continuing need to treat patients who were seriously unwell with conditions other than Covid. It was hard work and increased her respect for her colleagues in the NHS.
She took on the virtual Great North Run in September and raised over £1000 for the ward.
Mel Bound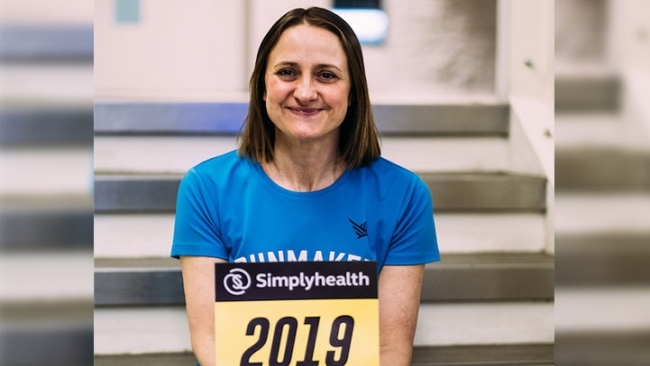 When Mel Bound from Bristol commented on a page for mums that she was feeling frustrated about her lack of physical activity and sluggish energy levels after having children, she found that she'd touched a nerve, hearing stories from other women saying they felt exactly the same.
Inspired, Mel told the group that she was planning a run in her local park and that anyone who wanted to join her was welcome. She was not prepared for the response. As she waited by the park to see if anyone would take her up on her offer of a running buddy, a total of 75 women joined her on that first run—This Mum Runs was born. Going from strength to strength its now a global community of over 100,000.
During the pandemic, Mel who is a chronic asthma sufferer was wondering how she would be able to safely obtain her own regular drugs. She had an idea of encouraging This Mum Runs members to use their daily exercise to collect and deliver prescriptions for other vulnerable or elderly people in Bristol.
The call for volunteers on TMR's Bristol Facebook page was met with an immediate response and within two days women who were desperate to stay active were also supporting overstretched local pharmacies that were struggling to get prescriptions out to patients.
Since then hundreds of deliveries have taken place.
If you fancy taking on your own running challenge and you've been inspired to get those trainers on, our virtual challenges are still ongoing in 2021 and we're confident we'll be back on the start line in person by the autumn. Choose an event that's right for you in 2021 .