GREAT Britain Olympian Andy Vernon is the official ambassador of the Simplyhealth Great East Run which takes place on Sunday 24 September. With less than two months to go until the big day, Andy offers some last minute training tips to help you get the most out of your run.
I have trouble breathing early in a run, what is wrong with me?
"I used to be the same, I'd come out of the house and run at my threshold pace, and my breathing and heart rate would be higher. I warm up quite vigorously but even around races you can warm up and go to call rooms, or stand on the start line, and it's time when you'll start to warm down. Your first mile or so is spent warming up again.
Even in sessions, if I'm warmed up and I think I'm warmed up, I've done stretches, I've done drills, I've done strides, the second rep is often a lot easier than the first one. That's just a case of warming up fully. That happens to everyone, they might not warm up completely, so when you start, you don't feel great – warming up will help that."
How important is stretching?
"I'm not exactly a spring chicken anymore, I'm 31, I've been training full-time since I was 17, so my body is starting to feel its age. The one thing that you always need to do is stretch. There are some times when my quads get tight because I can't sit on my knees, like you would do as a kid. When everything's hurting I can feel a pull on my knees and I know to go to town on stretching my quads to avoid having problems. A good stretch really does help."
How often do I need new trainers?
"They need to be replaced around 500 miles. I have the luxury of being a sponsored athlete so I change mine every month, but you need to be looking at it every 500 miles. Some trainers are different. I tend to do 400 miles in mine, some athletes do fewer than that and go through one pair a week. A classic tell-tale sign is the sole, and if the grip is going through to the spongy midsole, then you probably need a new pair.
I don't train well in warm weather, how do I get better?
"The only thing you can do to prepare for the heat is that you need to run in the heat. That's the best way of doing it. It's about acclimatisation. To run well at altitude, you run at altitude and this is a similar situation. If you struggle with running in the heat, don't avoid it. It's often really nice weather in September so don't be surprised if it is the other side of 20 degrees on the day of the Simplyhealth Great East Run.
Don't let it ruin things. If it is hot, don't let it panic you, try and enjoy it as much as you can.
The other thing to look at is the hydration levels too, that can have an effect. If you're already starting dehydrated then you're putting yourself on a massive back foot. Try to monitor how much you're drinking as you should be taking on two litres of water a day – if you're training in the heat you should be looking at more than that. If you're only taking on a litre a day that's one of the big areas you can improve on, starting your runs more hydrated."
I don't feel I've done enough training – what do I do?
"You don't have to run the whole way. Not everyone runs the whole way in these events. They're out there because they want to do it and they have a reason to do it. Even if you run 3k, walk 1k, run 3k and so on, you're still doing it.
The event will have support on the sidelines. It is a cliché, and people say it all the time, but the crowd really do get you through it. If you're watching the World Championships you can hear the atmosphere when the Brits are running, it does push you to another level. If you have people at the side of the roads cheering you on, that will keep you pushing."
What do you do when you don't want to run?
"It's different for me because it's my job. I haven't got the choice to say no, I can't do it today, I have to get up, it's the way I earn my living. It's like saying I don't want to get up today, even though you have got a mortgage to pay, you've got kids to feed or whatever – you don't have that choice, that's the way I see it.
If I don't get out, to train and to win races, then I can't pay my mortgage. Not wanting to run is not allowed to enter my head. There are some days when you get up and it's raining and cold, but I think most elite athletes have this innate motivation.
I do it because I want to do it and I love doing it. I generally love standing on a start line and running races. If you call on that, say that you really want to enjoy it and get the most out of it as you can, then you have to be as prepared for it as possible and that should motivate you on the days when you don't want to do it."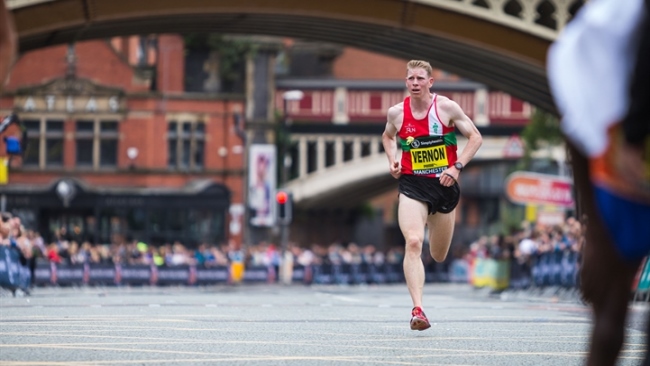 Is eating pasta the night before a myth?
I don't think it's something you need to get caught up with, really. It doesn't really matter what you eat the day before, as long as it is healthy and you're not having fish and chips. As long as you have a decent meal.
Everyone says pasta is great but you shouldn't leave out rice and potatoes. It's all the same – it's all carbs, so you will get the same effect from that. I don't think it matters too much.
On the day of the race I will have a bowl of porridge myself, or a couple of slices of toast, and that's me done – I don't like to overeat. You can go a long way before your body decides to give up, and it's only when you're doing a marathon when you'd need that. Again, your body will know what to do, you're not going to be running hard enough or long enough to really run out of fuel. Porridge is fine. I've never come across a time when I've really struggled in the last ten per cent of a race. The longest I've raced is half marathons, but I've done 20 mile training runs without breakfast. I wouldn't worry about it. As long as your meals are balanced you should be fine."
Do energy gels work?
"Energy gels are a personal thing. Some people do like to take them on board. I used one once on a run, and I had it an hour and a quarter in – by that time it was all warm and sticky and it went all over my hands, my mouth was stuck together, it was almost annoying for the last 45 minutes rather than it helping me. If you take one, take it at a water station where you can wash your hands.
For a marathon you have to, really, to replace those glycogen stores, I haven't had the need, yet.
I've done six halves and only ever taken water once. I just don't feel the need to take much on during half marathons. If you want to do that, practise it during a training run. I did one half marathon where I took a gel on before I started, and I ran 13 miles with a stitch. I think it was the gel. I would say practise it. The high sugar content can give you a stitch.
It wasn't great for me, but it's something that would take your mind off running. I wouldn't say yes or no to it – see if you like it."
Should I run the whole distance in training or not?
"I would say that the time on your feet is more important than distance. If you have a target time, say your target time is two hours, try and go for a run that is close to two hours, if you only get ten miles or 11 miles, don't worry too much – just practise the time on your feet.
"That's more important than running the distance. The crowd will get you through and you will be lifted. You will probably finish and think it was easier than you thought because you'll be in the zone on the day."
What's the best advice you've ever been given?
"I once asked my coach what my tactics were for a race, and he said "don't screw it up" Those were his words of advice. He knew that I knew what I was doing so he didn't have to go through a whole race plan. I thought 'fair enough'. Lots of advice contradicts other advice so it's a very difficult one – there's no golden advice for running, just find what works for you."