When we're not organising the delivery of around 40 mass participation running and swimming events from Aberdeen all the way down to Portsmouth, plenty of us at the Great Run Company practise what we preach and run every day.
And with a team boasting Olympic, Commonwealth and national level runners, we'd like to think we know our stuff.
Here's a comprehensive guide on how to keep on running right through the winter, with hints and tips from our staff.
WHAT TO WEAR
Even though it's cold, don't wear too many layers as you'll warm up when out on your run. The trick is to actually 'warm up'. A few slow laps around the block before you get started on your miles eases you in nicely and builds you up the right temperature (not scientific BUT based on my experience)
– Sarah Bull, Social Media Executive
Wearing a few thinner layers is a much better idea than one larger layer. Excessive sweating in cooler conditions isn't a good thing at all, so a number of wick away thin layers will do the job well. Make sure if you drive to a location to run you do have always have a towel and at least one dry top to change into afterwards. Also, crucially, don't forget those hats and gloves, which are vitally important for keep heat contained within your body. Running on a cold winter's day is a most invigorating experience provided you are properly clothed, so prepare your kit bag well and enjoy!
– Gareth Turnbull, Business Development Manager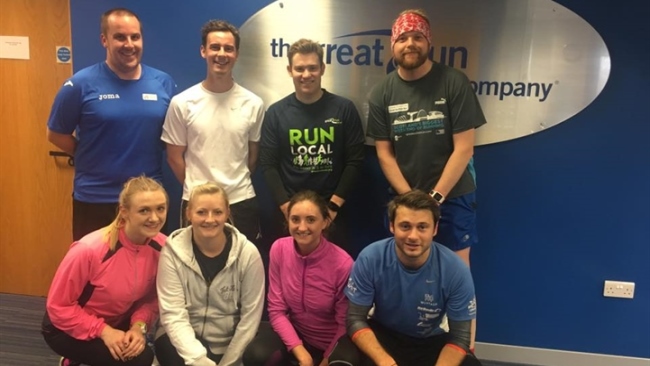 SET A GOAL – AND STICK TO IT
Sign up for one of the many December running challenges like the Marcothon. At Great Run, we have our own advent challenge, where everyone has to do 30 minutes of exercise a day up until Christmas Day. It gets us running as a group, and it's more difficult to say no even if the weather outside is frightful
– Richard Easterbrook, Content Executive
Enter an event between Christmas and New Year – it gives you chance to motivate yourself before the New Year arrives so you're ready to smash it in 2017 and have a goal to aim for
– Sarah Bull, Social Media Executive
The years I trained for spring events are the only years I have been able to carry any kind of momentum through the winter. Having a goal is the most important thing – it is key to have something to work towards, trying to keep running ticking over with no goal is very tricky mentally. It also helps to have running / training partners who share the same or a similar goal
– Tom Westman, Events Manager
PREPARE WELL
If you're new to running, don't go out all guns blazing over the Christmas period. Build up slowly so you don't burn out and make sure you have the right kit before you embark on a long run as you might be suffering from injury in the early days and this will only put you off
– Sarah Bull, Social Media Executive
MIX IT UP
Try different types of training. If you don't feel like a run you could go for a long winter walk or bike ride. Ice skating is also another good form of winter cross training, although you may ache in places that don't get a regular workout if you're not used to this kind of activity!
– Andy Graffin, Director of Product Development
STAY SAFE
Wear high-visibility or reflective clothing and stay to well-lit streets if you have to run in the dark. Also consider investing in a headtorch so that you're fully illuminated. Stick to routes that you have ran before – early mornings and late nights are not the time to be exploring
– Richard Easterbrook, Content Executive
Think about how you can train in the hours of daylight if at all possible. Air temperature will be warmer and natural light will give the biggest and best range of venues to train at, such as off road trails, paths and smooth grass surfaces
– Gareth Turnbull, Business Development Manager
RESPECT THE WEATHER
Think about perhaps running before work rather than after or even squeezing your run in during your lunch break so you can run in the best weather possible. It's much better to run in safe conditions where the risk of injury is as small as possible. As a runner, we all often panic about missing a day and how it might affect our training, but if the weather isn't cooperating then simply don't run! Better to miss one day than risk slipping, falling and missing several more. Finally if the option is available, look at using a treadmill if the forecast really doesn't look great over a number of days. While not a recommended long term training option, every once in a while, training indoors on a machine can still be useful and again, better be safe than sorry and keep your training on course
– Gareth Turnbull, Business Development Manager
DON'T STOP
Keep running during the Christmas break, even if you don't feel like it! It means you don't put on weight but being a competitive runner it means not losing any fitness over your rivals
– Wendy Sly, Director of Great Run Publishing (and Olympic silver medallist)