You're never going to be able to run enough to burn off the excesses of a Christmas Day binge, but knowing the calorie content of your festive favourites – and how many calories you can burn while running – can help you to make an informed decision this winter.
It has been estimated that the average person will consume 6,000 calories on Christmas Day this year.
For women, that's three times the recommended calorie intake. For men, it's almost two and a half times the recommended amount.
The last thing we want to do over Christmas is check the calorie content of a mince pie – it's 230 calories by the way – or calculate how many calories the five Quality Street we had before breakfast contained. It's Christmas after all. A time for excess, for celebration. A time for all the food, all the time.
But with research revealing that the average person gains six pounds between Christmas Day and New Year's Day, we shouldn't be complacent.
That Christmas blowout is not going to help you in the New Year, when you're wondering how all your running gear is now acting as a compression sleeve when it was baggy before Christmas.
The trick – and stick with us on this one – is to stay running through Christmas and New Year to reduce the need for a January detox.
What we're saying here is that you can quite literally have your cake and eat it. But you're going to have to burn it off.
So, here's a quick run-down of the calories contained in your festive favourites.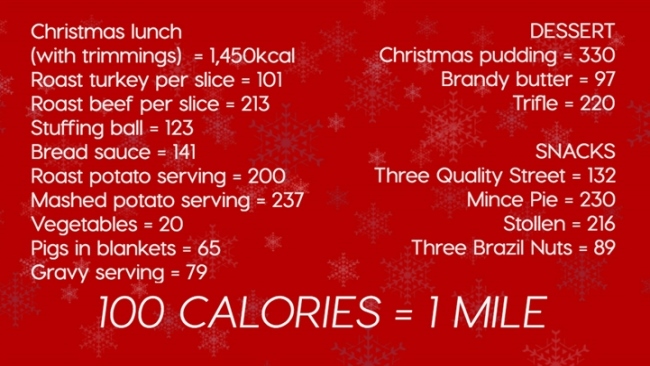 How many calories do I burn when running?
It depends, is the short answer. Many factors come into play including weight, age, general fitness and so on. But the general rule of thumb is that you burn around 100 calories for every mile you complete. The greater weight you carry, the more calories you will fry.
You're not going to have to run faster to burn more calories. You're just going to have to run longer. A mile at 10:30 pace is going to burn just as many calories as a mile at 6:00 pace. You're just going to get there quicker.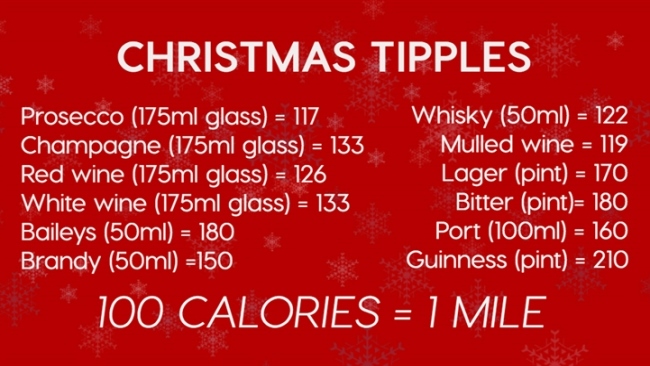 Food For Thought
If you're in a position where you're going to be sinking 6,000 calories in a day, we can't recommend you burn off the excess, unless you plan on running an ultramarathon, or cycling to Spain.
Running will help. And it will also help inform your decisions over Christmas. Do you really need that second mince pie? It's going to cost you.
How Much Running Do I Need To Do?
A four-mile Christmas Day run will burn around 400 calories. That will buy you your dessert later on. Or almost two mince pies. Or a second filling of meat, vegetables and gravy.
It's easy to see how the calories can stack up. And why not? It's Christmas after all. But with a bit of careful planning and crafty running, and a wee bit of abstinence and self control, Christmas can be ho-ho-ho instead of woe-woe-woe.
Choose A Goal
If you can't see the point of controlling the calories over Christmas, pick an event to train for, which will give you a reason to go out and run every day and stay in shape.
Why not take a look at our events and see if one catches your eye?