Transplant And Donor Athletes Launch Great North 10K
Entries to the Simplyhealth Great North 10k are open now, for more information or to enter, visit: Greatrun.org/North10k
Award winning local transplant and donor athletes and local fundraiser Sarah Cookson met Councillor Angela Douglas and Councillor Linda Green alongside Transplant Specialists from the Freeman Hospital today in Gateshead telling inspiring stories of transplantation and courage; kicking off the countdown to the Simplyhealth Great North 10k Gateshead, which takes place on Sunday 7th July.
Local athletes will have a unique opportunity to run in front of a home crowd at the Simplyhealth Great North 10k as a training event ahead of the World Transplant Games taking place in Newcastle Gateshead in August 2019.
Their experiences are being highlighted to celebrate this region's pioneering excellence in organ donation and transplantation and to encourage as many people as possible to share their organ donation wishes with members of their families. It is also a great fundraising opportunity to raise much needed funds for services, care and support.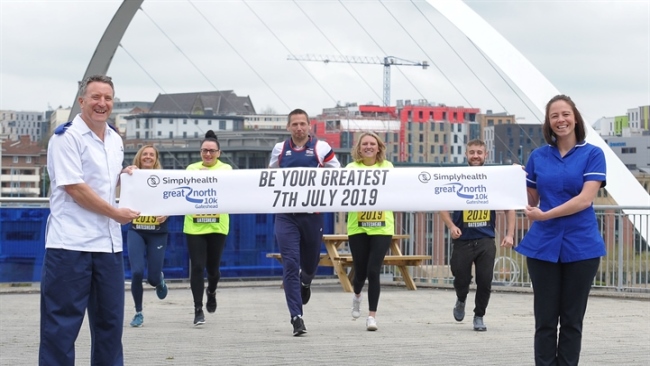 Event Director Chris Price explains "The Simplyhealth Great North 10k is a very popular event in the region, and we see runners of all abilities take on the challenge every year. For some it will be a good gauge of how their training is going for other events, including the Simplyhealth Great North Run."
"This year we are really looking forward to welcoming world class local athletes on the run up to the August World Transplant Games. I'm sure they will enjoy the opportunity of running in front of a home crowd."
Local athletes include Gill Childs, son Ryan Dobinson and John Moor, who were joined by Sarah Cookson, local fundraiser, with inspirational stories to share:
Gill Childs and son Ryan Dobinson – In 2010 Gill donated a kidney to her son Ryan, then aged 15, who had been born with Dysplastic Kidneys. Since the transplant his life has improved dramatically. Ryan was always sporty and it was the nursing team at the Great North Children's Hospital who suggested he take part in the British Transplant Games as a child. This was the turning point for Ryan and he now has his sights set on a gold in field events at the World Transplant Games when they come to Newcastle Gateshead.
Gill's life has also been transformed by this experience and she is also hoping for gold at the WTG, where they will both be taking part not just as Mum and Son but Donor and Recipient.
Gill is also looking forward to the Simplyhealth Great North 10k as a training event in the run up to the games.
Gill explained "I am proof that as a Live Donor you go onto lead a perfectly normal life and seeing my son thrive and develop into a fantastic young man is every mums wish. There are many people on the Transplant waiting list who like Ryan have rare tissue or blood incompatibility who could wait years for a transplant. Having more people sign up to the NHS Organ Donor Register will have a massive impact on waiting times so have that conversation with your family and celebrate the gift of life."
John Moore – is a middle distance runner who has won numerous gold medals at both World and European Games. John received a liver transplant at the Freeman Hospital in 2011. He originally started running aged 13 to train for the Simplyhealth Great North Run, and joined Heaton Harriers shortly afterwards.
John said "The gift of life provided by organ donation has allowed me not only to survive, but to resume a full and active lifestyle. Competing is a great opportunity to highlight this, and hopefully to encourage a discussion of organ donation that might lead to fewer people dying while waiting for a transplant."
Sarah Cookson – Sarah and Chris lost their 1st son Charlie at just 2 ½ years of age to an un-diagnosed condition. When he passed away they founded The Charlie Cookson Foundation in his honour.
It took a lot of courage for them to try again to start a family and Carter was born on Boxing Day. Just a few hours into his short life it became clear that there was something wrong with his heart. A heart needed to be found urgently to help him; Carters story was shared far and wide but unfortunately, time ran out and at 25 days old he lost his battle for life.
During this short time Carter's story raised awareness of the importance of organ donation. The Foundation is now called 'The Charlie & Carter Foundation' in memory of the two brothers.
Peter Robinson Smith, Abdominal Transplant Co-ordinator, attended with colleague Stephanie Dunn, Transplant Nurse Specialist, he advised "We carry out around 40 liver transplants, 120 kidney transplants and 10 kidney and pancreas double transplants a year. We could do more, but we need more people to come forward as organ donors."
"The Freeman carried out its first heart transplant in May 1985, first lung transplant in June 1987, and paediatric heart transplant in October 1987. Since then to end of March 2019 we have performed 1213 heart transplants (including 331 in children) and 1129 lung or heart-lung transplants (including 30 in children)."
Councillor Angela Douglas said "It's an honour to meet so many local award winning transplant and donor athletes, alongside local fundraiser Sarah Cookson and transplant specialists. To hear so many inspiring stories is absolutely incredible."
"Within the North East, we need to celebrate the region's pioneering excellence in organ donation and transplantation to help encourage as many people as possible to share their organ donation wishes with members of their family."
As Lynne Holt, GB Team Manager, from the UK charity Transplant Sport (TS) which supports Team Great Britain, said:
"I am really looking forward to seeing our world class athletes taking part in the Simplyhealth Great North 10k. The athletes need to be at their peak of physical fitness to compete in the World Transplant Games in August and this is a fantastic training event for them where they will be able to run in front of a home crowd.
Many of our transplant athletes have experienced near death situations and long illness, and it is very gratifying to see them able to enjoy a full life, thanks to organ donation. However, all our athletes are gold medallists, in that they have all won their race for life, but the true champions are those individuals that gave the gift of life, offering all these athletes their second chance to live."
The World Transplant Games take place from 17-24 August. To find out how you can get involved go to: worldtransplantgames.org
Bambos Neophytou, Brand Director at Simplyhealth: "We shouldn't underestimate the role that activity and, in particular, running has to play in maintaining both physical and mental health and wellbeing. It's inspiring to know that so many people, no matter what their level or ability, will be continuing their health and fitness journey with us. We're looking forward to supporting them every step of the way."
Whatever their pace and motivation, thousands of runners will share the satisfaction of completing the North East's biggest 10k running event. The route has proved to be a firm favourite with participants, giving them the opportunity to finish on the athletics track inside Gateshead International Stadium, to experience their own finish line experience with their family and friends watching from the stands.
Entries to the Simplyhealth Great North 10k are open now, for more information or to enter, visit: Greatrun.org/North10k