We've all got busy lives and we don't want our training for the AJ Bell Great Manchester Run to suffer. Don't worry though, we've got your back.
In collaboration with our Manchester on-the-ground running group, Run Wild, we have listed three handy go-to Inner-city Manchester training routes for when you are short on time for planning.
1. 'Beat The Tram' (Deansgate Tram Station to Sale Metrolink Station = 10 Miles)
Run along Deansgate and jump on the tow path at Castlefield. Follow the Bridgewater Canal to Sale Metro stop.
Within minutes of joining the tow path you'll be far away from the hustle and bustle of the city. Forget stopping for cars or dodging shoppers on Market Street, you'll have miles upon miles of hassle-free flat routes. It's a perfect traffic free training spot, so there will only be other runners and cyclists to navigate around.
It's an out and back route. You can go for as long or as short as you like. Bear in mind you need to run home too though, so don't go too far out and regret it later.
Feeling tired? Think about the thousands of hours that workers in the 1760s spent digging the canal. Sheesh.
For some added motivation, leave the station at the same time as a tram and try and race it along the course. Just remember that the tram is meant to stop, not you!
And, don't forget to say "Hey!" to the narrow boat captains.
2. "Loops" (10km loop of the city)
This is our take on New York's Five boroughs. Start in Collyhurst (the NQ for you trendy kids), head through Ancoats, round over University Place, straight into Hulme. From there, dash through Salford on your way back to the Northern Quarter. This makes up a perfect loop of the city which all in all is around 10km. Perfect for when you need to get a shorter run in pre or post work.
3. "Hills" (8km including the suggested reps, 4km as a straight loop).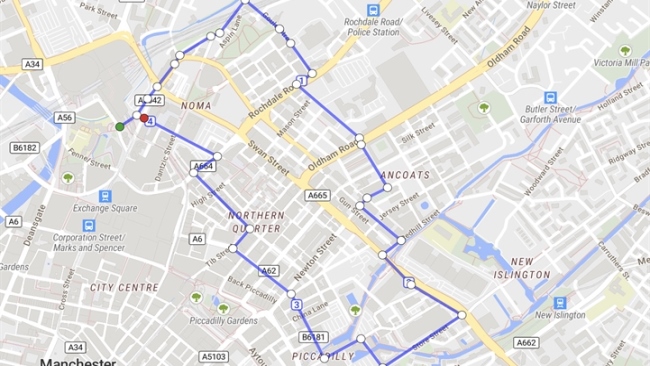 Undisputed favourite with the SWRD crew. When the call goes up for some hills, you know you're in for some work.
Start at Victoria Station, wind yourself through the Co-Op Quarter and arrive at the foot of Gould Street. This 300m 'hill' is ideal to get some power into your legs. It kicks up at three different points so make sure you don't go out too quick.
Repeat at your leisure, but we recommend around three reps. Once you've summited Gould St for the last time (don't stop in the pub, we are watching), take a gentle run through Ancoats and navigate yourself to Jutland Street at the back of Piccadilly. A firm favourite with fellow runners, boxing clubs and football teams, this is ideal for sprint training on a sharp incline and you'll rarely be training here alone.
Take a breath at the foot of Jutland, sprint up the left-hand side and walk down the right. We are saying 10 reps, what are you saying? Check your legs for any damage, and then take the run back down through the Northern Quarter and Shudehill, arriving back at Victoria Station.
Run Wild is a completely free, social running club based at the University of Manchester. They are primarily aimed at university students but alumni, staff, and other members of the public are more than welcome. They focus on being inclusive and accessible to all abilities and levels of running experience – they're not about being competitive (except against their own PBs!), they just love to run, have a chat, and meet new people.
They run 2-3 sessions a week, with our main session meeting on a Tuesday at 6:15pm behind Whitworth Hall on Oxford Road. This session has 6 groups ranging from our beginners group (approx. 4k at a jog/walk pace) to our fast group (9-10k at 4:30/km) – it's totally free and you don't need to sign up, just turn up and run! There are Run Leaders for each group, with new and different routes around Manchester each week. 
They also have a session on a Thursday (same time, same place) which is distance-based, with no set pace. This one has four groups (4, 6, 10 and 15k), which are run at whatever pace suits the group – this is a great one to push your distance a bit further.