You might already be completely in love with running (like we are here at Great Run) or maybe you like to run but you wouldn't say you're in love with it just yet. Here are some of the reasons why we think everyone should fall in love with running:
YOU'LL FEEL GOOD
If you lead a busy life, being active can improve your mood and be the me-time you need to feel your best or to help you face the day ahead with a fresh mind. Running is also great for sleep; with all the effort you'll be sleeping better in no time and you'll be telling everyone how good you're feeling. Take the time to appreciate your run and stay in the moment, life can be so busy so running can help you release some day-to-day stress.
TREAT YOURSELF
Running is a great workout, so if you like a sweet treat from time to time you can certainly enjoy a guilt-free dessert this Valentine's Day. Or if sweet treats aren't your thing, you can reward yourself with a dinner date with a friend or loved one, or a new pair of running shoes- To: me, from: me. Treat yourself for your efforts.
RUN WITH YOUR LOVED ONE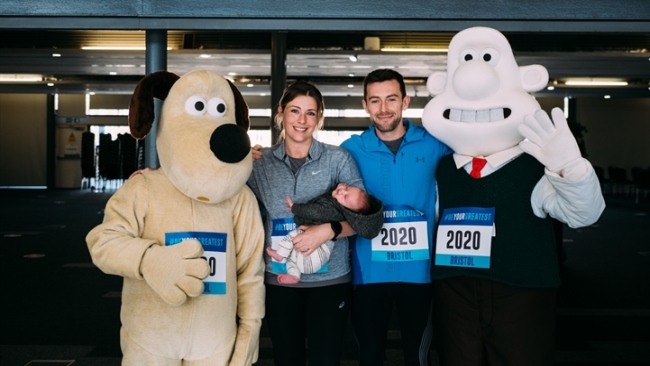 (Matt, Kelly and baby Harri pose with The Grand Appeal Mascots Wallace & Gromit at the launch event for Great Run Bristol 2020)
Running with a friend or loved one can change your outlook on running. Having someone to run with can be a big motivator when the thought of running alone might sometimes feel daunting. A support system is sometimes all you need to get out and get that run finished. A great example of making the most of time together through running are Matt Rees and Kelly Ruck. Matt and Kelly love to run – they've completed many running events and they are currently in training together for the Great Bristol 10k. This is Kelly's first run since having her newborn son, Harri and Matt and Kelly will run together on the 3rd of May. For more training tips and inspiration follow along with Kelly (@kellogs_ontherun) and Matt (@welshrunner) on Instagram.
RUNNING KEEPS US SOCIAL
If you enjoy getting out and running with a friendly group then why not join in a weekly Great Run Local near you? Take advantage of the free weekly, 2km and 5km timed events while making friends. Great Run Local is ideal for all running abilities as well as families.
Fall in love with running by signing up and training for a Great Run event this year