10 Years As Partner Of Great Scottish Run
Runners of all abilities from across Scotland are being urged to grab their trainers, get outdoors and start training for this year's Bank of Scotland Great Scottish Run.
The Great Scottish Run will once again be supported by Bank of Scotland, who this year are celebrating their tenth year as partner.
The event was officially launched today at Glasgow Green, the perfect choice of location, where runners will enjoy their own celebrations when crossing the finish line in the shadow of Nelson's Monument on Sunday, 30 September.
Helping to launch the event, which is televised live on BBC Scotland, was Scottish Commonwealth Games athlete Susan Partridge who won the Bank of Scotland Great Scottish Run in 2013, Rhidian Jones who works for Lloyds Banking Group and will be running with a 20kg backpack, Bank of Scotland colleagues David Dunlop, Marie Crichton and Stephen Louch, who single-handedly raised the most money for Mental Health UK last year, Dawn Hunter who has been in remission from cancer for 10 years and marking the occasion by doing 10 different challenges, Ann Bonner who has been encouraged by her running family, Richard Morrow who will be taking on his 25th half marathon in a row as well as Stewart Jamieson who will be running the half marathon for the 36th time at 70 years old.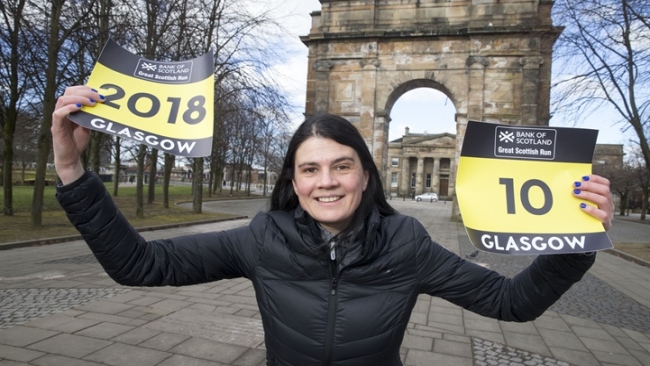 The courses will remain unchanged this year. After heading out from the start at George Square in the heart of Glasgow, participants will follow either the iconic 10k or half marathon routes through the city before passing under McLennan Arch ahead of the finish line at Glasgow Green.
With the Toddler Dash, Junior Run and Family Mile taking place on Super Saturday, 29th September and both the 10k and half marathon on the Sunday, up to 30,000 runners of all ages and abilities are expected to take part.
The Bank of Scotland Community Challenge will also return, which was first staged last year as part of the Bank of Scotland's mission to get Scotland more active by encouraging runners from each Scottish Local Authority to apply to take on a tailored '10 week to 10k challenge'.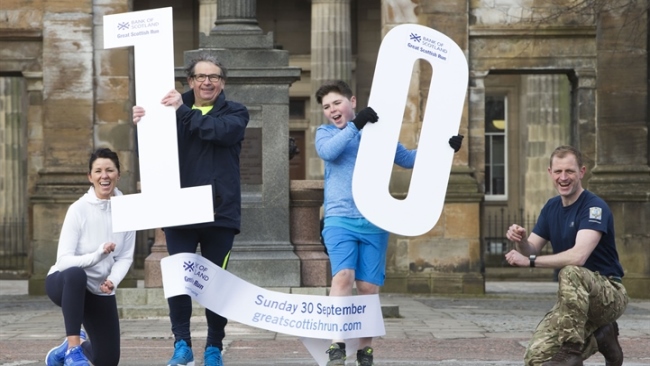 Alex Jackson from organisers the Great Run Company said: "It's fantastic to have the continued support of Bank of Scotland and their partnership over the last 10 years has been invaluable helping build the event into Scotland's biggest weekend of running.
"We're looking forward to welcoming all our runners to the city again in September for what will be another action packed weekend."
Philip Grant, Chair of the Scottish Executive Committee, Lloyds Banking Group said: "I am immensely proud of Bank of Scotland's 10 year partnership with the Great Scottish Run. Since 2009, it has evolved into Scotland's largest mass participation event, bringing together over thirty thousand runners of all abilities and ages from all over Scotland."
"It also raises millions of pounds for many worthy causes and for the second year running it will give our colleagues the opportunity to take on the challenge for our charity partner, Mental Health UK. The significant fundraising achieved through this important event underscores our ambition to help Scotland prosper."
For more information and to enter the bank of Scotland Great Scottish Run click here
For more information on the Community Challenge click here