100 People To Run Great North Run For Rebecca Dykes
For more information about the Simplyhealth Great North Run, visit: Greatrun.org/North
One hundred people are set to take on the Simplyhealth Great North Run this year in memory of the British Diplomat Rebecca Dykes, who was killed in Lebanon in December.
Rebecca was only 30-years-old and working in Beirut as a programme and policy manager for the Department for International Development when she was found dead outside the country's capital on 16 December.
She was a dedicated humanitarian and since her life was tragically cut short, her family and friends decided to launch The Rebecca Dykes Foundation, a charitable fund to continue her work supporting refugees and preventing violence against women in the country.
The huge group of runners is made up of Becky's family, friends, colleagues and university peers, organised by sister Harriet Maes, from London, including her cousin Beth Evans, from Edinburgh, and friend Sara Allan, who knew Becky while she was in Lebanon.
Among the runners is Government Minister Alistair Burt MP and a number of Becky's colleagues who have all been left inspired by her work and share her ambition for a kinder and safer world.
The 100-strong group are all supporting and running for The Rebecca Dykes Foundation, which was set up to continue the overseas work that she cared about.
The funds raised by the runners will go towards funding a project to support vulnerable women in Lebanon, in collaboration with Christian Aid and Lebanese women's charity KAFA.
The project will ensure the long-term provision of services at KAFA's safe Shelter in Mount Lebanon, by funding empowerment workshops, counselling and improvement of their facilities. The project will also secure women across Lebanon with access to a 24/7 emergency helpline.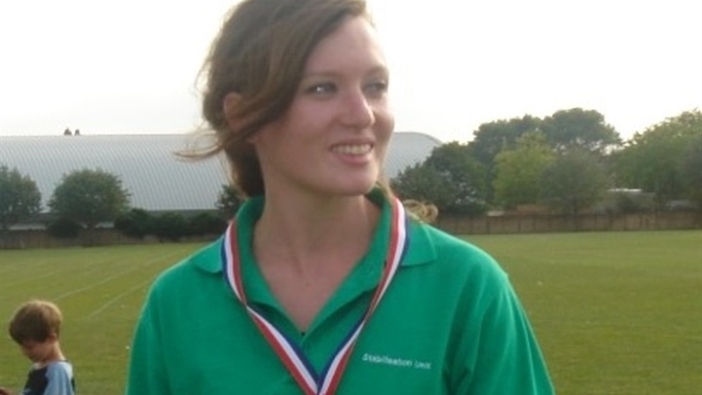 Harriet, 32, said: "Becky was so committed to humanitarian causes and she worked tirelessly to make the world a kinder, fairer, safer and more stable place.
"She was very passionate about helping others and believed that the work she was doing would really make a difference in the world.
"Following her death, we were overwhelmed by how many people wanted to support a cause that she cared about and so setting up the Foundation was the next natural step.
"Her work in Lebanon was focused on improving the lives of refugees and helping these vulnerable communities. As a team, the Foundation want to continue that support in her honour.
"The Rebecca Dykes Foundation is our way of channelling something positive out of something so tragic.
"Taking part in the Simplyhealth Great North Run in such a big team is everyone's way of staying close to Becky.
"There are so many people from all areas of her life who will be there to take on a challenge and that will be something that is very special and important to us.
"We have set a target of each runner raising £500 and it will a very emotional moment to have a large number her friends and family all together ro raise money for a cause close to Becky's heart nine months on from her death.
"It will be a huge reminder of how her dedication, passion and kindness touched everyone that she met."
Harriet joined Beth, Sara and Rebecca's colleague Amanda Mcloughlin as Directors of the foundation, which was launched earlier this year. Beth and Sara will be among the 100 runners taking on the world's biggest half marathon on Sunday 9 September.
The event features 57,000 runners making the iconic 13.1 mile journey from Newcastle to South Shields every year, whatever their pace or motivation.
Sara, who met Rebecca while studying Arabic in Lebanon and was with her on the eve of her death, said: "Rebecca loved her work and we all want to make sure that continues in her name.
"Becky was a keen runner and had competed in marathons for charity before, so we are all really looking forward to taking on 13.1 miles for a cause that she was so passionate about.
"Since her passing, I have learned so much about Becky through the Foundation and working so closely with her sister Harriet to create her legacy."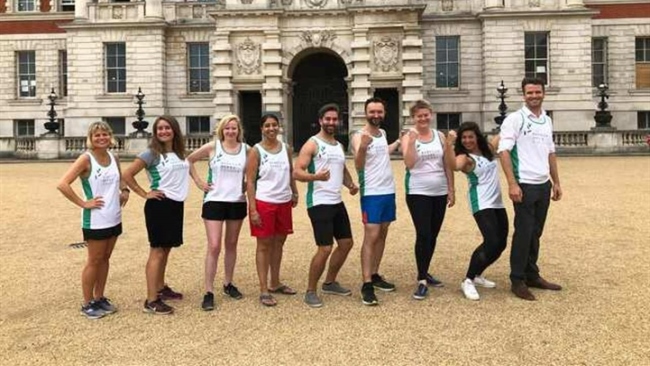 Beth, who works as a solicitor, will also be joined at the run by six members of her team at Turcan Connell, which is where the foundation in her cousin's name is set up.
She added: "My colleagues have been incredibly supportive since Becky's death and offered huge amounts of their time and expertise to help set up the Foundation. It is a privilege to be involved with the projects the Foundation supports and to be able to continue the work Becky was so passionate about.
"We are hugely grateful for everyone who has signed up and it will be wonderful to see so many of Becky's friends and colleagues there to support the Foundation on the day."
For more information about The Rebecca Dykes Foundation and to donate, visit: https://www.rebeccadykesfoundation.com
The Simplyhealth Great North Run is shown live on BBC One on Sunday 9 September between 09:30 and 13:30. For more information about the Simplyhealth Great North Run, visit: Greatrun.org/North