100 Women Celebrate 100 Years Of Vote At Manchester Run
To be a part of the city's most loved running event visit: Greatrun.org/Manchester 
One-hundred women will run shoulder-to-shoulder at the Simplyhealth Great Manchester Run in celebration of the women's suffrage movement.
Supporters of the Pankhurst Trust are taking on the 10k run on Sunday 20 May as part of a year-long calendar of events to mark the centenary of the first women gaining the right to vote.
They will run together in t-shirts featuring suffragette sashes on the streets of Manchester, considered to be the spiritual heart of the movement.
Supporters gathered in what was once the Manchester home of pioneering activist Emmeline Pankhurst and the location of the very first meeting of the Women's Social and Political Union in 1903, who would become known as the suffragettes.
It now stands as the Pankhurst Centre, a small museum and heritage site that also serves as a women's community centre.
The women will run together in what is for many of them their first running event, raising money for the Pankhurst Trust, with funds going towards plans to preserve the Pankhurst Centre and transform it into a museum of world-class standing that is befitting of the Pankhurst's legacy and the quest for female equality.
Bex Shindler, fundraising and development manager of the Pankhurst Trust, said: "I think there's something really nice about running events in terms of building that support for each other.
"Whilst we're all an individual part of the run, we're all running together for something, so there's that solidarity and the sisterhood aspect that appealed to me and I think that would've really appealed to the suffragettes too.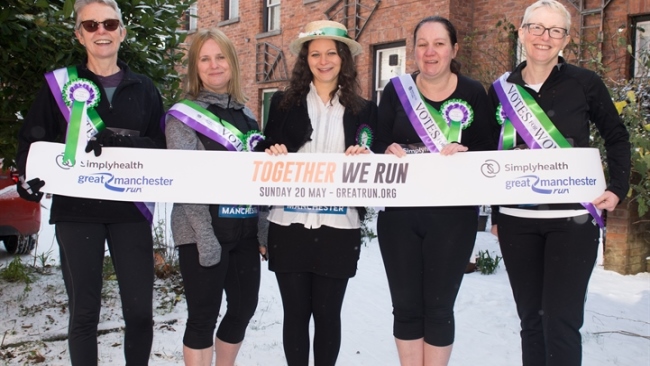 "The Simplyhealth Great Manchester Run is a big event for the city and this a great opportunity for us to celebrate the city and to celebrate our history.
"I'm looking forward to the atmosphere on the day and starting with one-hundred women. I can't wait to share our story and get it out there."
With a 10k and a half marathon to choose from, the Simplyhealth Great Manchester Run is a running event like no other.
A celebration of everything that's great about the city, the event is known for its buzzing atmosphere, incredible supporters and the booming Manchester anthems that rock the city's streets.
The 10k course goes past Old Trafford, the Imperial War Museum and the Lowry before heading back to the spectator packed finish line in the shadow of BeethamTower on Deansgate.
Those taking on the half marathon will also run on Mancunian Way, a stretch of motorway usually closed to pedestrians.
To be a part of the city's most loved running event visit: Greatrun.org/Manchester
To find out more about the Pankhurst Trust's fundraising visit: https://www.justgiving.com/pankhurst or you can email Bex Shindler (B.Shindler@manchesterwomensaid.org) to find out details of the different ways to support the Trust.