10,000 Return To Broad Street For Great Birmingham Run
More than 10,000 runners are eagerly awaiting a return to Broad Street as the Simplyhealth Great Birmingham Run heads back to its spiritual home this weekend.
The new and improved half marathon route starts on the famous city centre entertainment hotspot before taking runners out to Edgbaston, Bournville, Selly Oak and back to a grandstand finish in front of thousands of spectators near Aston University.
Hundreds of children will also be collecting medals with the Junior and Mini Runs taking place on the same day as the half marathon. The two events are growing in popularity and will help make Sunday a day of activity for all the family.
Sixty children will be wearing the red tee-shirts of city charity Zero Hunger with Langar at the Junior and Mini Runs, to help the charity's mission to improve quality of life around the world. "Langar" is the concept of providing free compassionate food for all people, regardless of faith, gender, age or social status.
Zero Hunger for Langar is just one of dozens of charities that stand to benefit from thousands of pounds of fundraising at the Midlands' biggest day of running.
The 13.1-mile course is relatively flat and invites runners to go for a personal-best finish to the 2018 running season.
Among the runners is the Mayor of the West Midlands, Andy Street, who is running to raise funds and awareness of charity Acorns, which supports children with life-limiting illnesses.
Mr Street will be aiming to improve on his impressive time of 1hr 46mins at the 2017 half marathon, which helped his 'Mayor's Movers' team win a trophy in the Business Challenge.
And city charity LoveBrum, which offers grants to local grass-roots causes chosen by the charity's members, will have a team of 90 runners taking part on Sunday.
The Business Challenge invites corporate teams to take part and help raise funds for company foundations, boost office morale, or secure those all-important bragging rights in the business world.
Business Challenge teams at Sunday's Great Birmingham Run include Wesleyan Assurance, Deloitte, Charter Court Financial Services and Deutsche Bank, with its Birmingham office having 35 runners taking part in the Challenge to raise funds for Cure Leukaemia, one of its charities of the year.
Bambos Neophytou, Brand Director at Simplyhealth said: "We're looking forward to joining the thousands of people taking part in the Simplyhealth Great Birmingham Run. Whether you're running, jogging, or keeping up with younger athletes, every single person here this weekend is showing just how great being active can feel. We never cease to be amazed at the inspiring stories behind why so many people run.
"We've been improving access to healthcare for 146 years, and we'll be supporting runners every step of the way on Sunday. After crossing the finish line, we want runners to join our mass cooldown at the Simplyhealth Stretch Zone, then head to the Simplyhealth Massage Zone for a well-deserved free massage to help kick-start recovery together."
The City of Birmingham Rockets Wheelchair Basketball team will be represented on Sunday, as coach Andy Craddock takes his place among the wheelchair participants.
Andy is aiming to raise £1,000 for new equipment and to raise the profile of inclusive sport in Birmingham. The Nechells-based Rockets side, which was founded 18 months ago, is looking ahead to the Birmingham 2022 Commonwealth Games with ambitions to take part in the sports spectacular.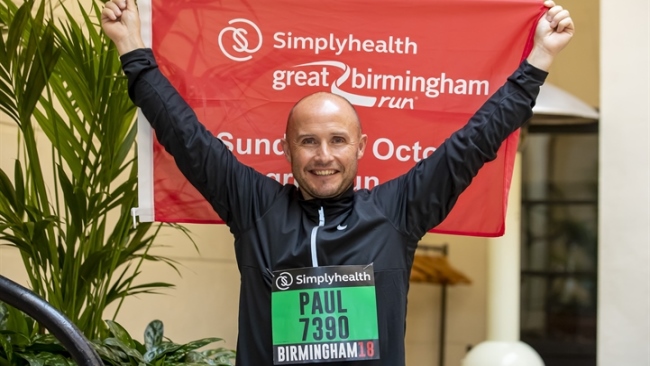 Paul Devlin
Continuing the sports theme and Birmingham City FC favourites and 'Blues Brothers' Paul Devlin, Paul Tait and Paul Robinson are taking part in Sunday's event for an extra special cause.
Former players Paul 'Robbo' Robinson, who retired in May, and Tait will be running the half marathon with Devlin to help 'Devs' raise £20,000 to fund lifesaving treatment for his 12-year-old daughter Annie, who suffers from Addison's Disease, a rare disorder of the adrenal glands.
"The response has been overwhelming since Taity, Robbo and I announced we'd be running the Great Birmingham Run for Annie's appeal," said Devlin.
"We're almost halfway to our £20,000 fundraising total, which is absolutely brilliant. I want to thank each and every one who has supported us. We've even had a £5,000 donation from Redditch Blues Supporters' Club, which is unbelievable. It's an absolutely fantastic gesture from Lynda and the other members."
"I'm as ready as I can be for Sunday and the training has gone okay. Taity's struggling with a long-standing calf issue but he's vowed to get around the course one way or another for Annie. He's a bit too big for me to give him a piggy back for 13.1 miles, though!"