10,000 Take On Simplyhealth Great Bristol Half Marathon
The 2018 Simplyhealth Great Bristol Half Marathon will take place on Sunday 23 September. Enter at: Greatrun.org/Bristolhalf 
Thousands of runners pounded the streets of Bristol on Sunday 17 September for the Simplyhealth Great Bristol Half Marathon.
Over 10,000 runners of all ages and abilities took on a great day of sport in the city, which has grown each year to become a huge sporting fixture in the region's calendar.
The iconic 13.1 mile course offered participants a scenic route around the city centre, as well as taking in the sights of the Clifton Suspension Bridge and the Avon Gorge.
Fun runners and charity fundraisers were joined by a competitive club runner field, which featured some of the best runners from around the South West.
The event's official starter, the right honourable Lord Mayor of Bristol, councillor Lesley Alexander, set off the elite runners and masses at 9.30am.
In the men's race, Aaron Richmond from Bideford Amateur Athletic Club, finished first in a time of 1:08:07 ahead of Lloyd Biddell from Mercia Fell Runners who crossed the line in 1:09:31.
They were followed by Steven Tuttle from Marshall Milton Keynes AC in third with a time of 1:09:49.
Emma Stepto from Cornwell Athletic Club took first place in the women's field in a time of 1:17:42, followed by Bristol and West AC's Annabel Granger in 1:18:38 and Charlotee Firth from Windsor Slough Eton and Hounslow AC in 1:18:56.
Finishers at this year's Simplyhealth Great Bristol Half Marathon had another reason to grab that all-important finisher's bag when they crossed the line as they received a bespoke finisher's T-shirt in partnership with the Affordable Art Fair.
The T-shirt's exclusive design was created by renowned local artist Alex Lucas, whose distinctive style is instantly recognisable in the bright and colourful artwork.
The motif features a cartoon bear taking part in the race victoriously leaping over the Clifton Suspension Bridge, is inspired by Bristol's own Bear Pit and reflects the hard work and triumph of all of those who participated.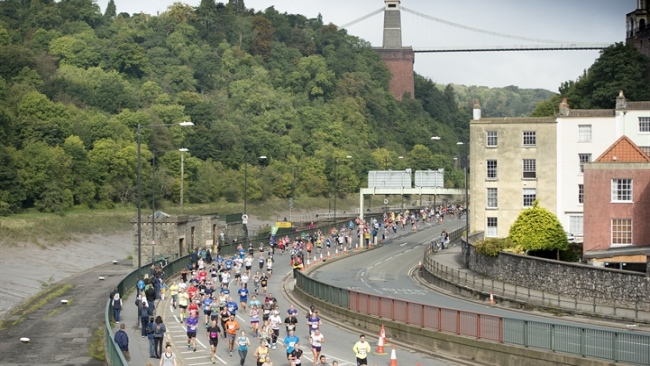 Andy Graffin, project manager of the Simplyhealth Great Bristol Half Marathon, said: "It's been a fantastic day at the Simplyhealth Great Bristol Half Marathon and we'd like to say a huge congratulations to the thousands of people who took part.
"We would also like to say a big thank you to our partners who have helped to deliver a fantastic event and the hundreds of local volunteers who gave the participants an unforgettable running experience."
"The Simplyhealth Great Bristol Half Marathon and the Simplyhealth Great Bristol 10k both grew hugely in popularity this year so I would encourage anyone who wishes to enter the 2018 events to do so now to avoid missing out!"
Raman Sankaran, Chief Commercial Officer at Simplyhealth, the event's title partner said: "We're delighted that another 10,000 runners have joined our #millionsmoving campaign, simply by taking part in this brilliant event.
"We know that movement and activity is the cornerstone to better everyday health; it makes us feel better both physically and mentally. Well done to everyone who ran, walked, wheeled and supported; you're amazing."
The event, which was first staged in 1989, joined the Simplyhealth Great Run series last year and has grown in size, with over 10,000 runners taking part in 2017.
The event was staged in partnership with Bristol City Council. Marvin Rees, Mayor of Bristol, said: "I'd like to congratulate everyone who took part in this weekend's run.
"In our year as European City of Sport it's great to see so many Bristolians out pounding the city's streets and getting active. It's such a great spectacle for the city and an opportunity for everyone to come together and tackle a sporting challenge together.
"I hope that everyone had fun this Sunday and that it will encourage other people to try getting active more often. Who knows, perhaps you could be out there with them jogging through the streets next year."
Next year's Simplyhealth Great Bristol Half Marathon will take place on Sunday 23 September.
Entries are now open and participants are urged to sign up now to avoid disappointment. The first 500 entrants will receive a £5 discount.
Enter at: Greatrun.org/Bristolhalf
Entries are also open for the 2018 Simplyhealth Great Bristol 10k, which will take place on Sunday 13 May.
Enter now at: Greatrun.org/Bristol10k