106 Year Old Fauja Singh To Start Birmingham Marathon
The world's oldest marathon runner will be one of the honorary starters at the first-ever Birmingham International Marathon on Sunday, October 15.
Known as the 'Turbaned Tornado', 106-year-old Fauja Singh BEM took up running when he was in his 80s after moving to London from Punjab in northern India.
Fauja shot to fame at the sprightly age of 89 when he completed a marathon in six hours and 54 minutes. This took 58 minutes off the previous world best in his age bracket.
In October 2011, Fauja became the first 100-year-old to complete a marathon when he crossed the finish line of the Toronto Waterfront Marathon in 8 hours and 11 minutes.
He was one of the torchbearers for the Athens Olympics in 2004, 2010 Commonwealth Games Baton Relay runner, and torchbearer for the London 2012 Olympic Games and in 2015 he was awarded a British Empire Medal in the New Year's Honours for services to sport and charity.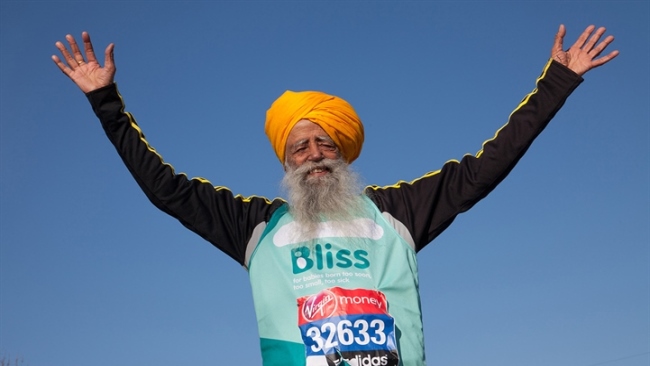 The running legend will be joined by another world-famous athlete at the Alexander Stadium start-line, Birmingham International Marathon ambassador Liz McColgan.
Scottish-born Liz is a two-time gold medallist over 10,000 metres at the Commonwealth Games and winner of the 1991 New York Marathon, 1992 Tokyo Marathon and 1996 London Marathon.
The appearances in Birmingham of Fauja Singh and Liz McColgan will help the city's ambition to host the Commonwealth Games after the Government last week officially endorsed Birmingham's bid to welcome the sports spectacular in 2022.
And to celebrate Fauja's visit to Birmingham, his family are aiming to enrol 106 children from schools in the city for the Simplyhealth Great Birmingham Junior and Mini Runs, which take place on Saturday, October 14, the day before the 26.2-mile run.
The Birmingham International Marathon reached capacity months ago, with its 9,000 individual entry places snapped by runners from across the world.
Starting at the Alexander Stadium, the marathon takes in city sights such as Selfridges, Edgbaston Stadium, Cannon Hill Park and Bournville.
Fauja said: "I feel privileged in being part of Birmingham's first International Marathon because it makes me feel as if I am still running myself.
"Although I felt I still had many running years left in me when my coach and family wisely made the decision to retire me from running, I am proud to be part of the diverse Birmingham community that has always shown me love whenever I visit this great city.
"I can already feel the positive energy of all the runners and their families too as they prepare to take on personal challenges as I used to before each race – I wish everyone the very best and can assure them that their elation after crossing the finishing line will be worth the months of effort they put into their training."
The marathon takes place on the same day as the Simplyhealth Great Birmingham Run half marathon, which still has a limited amount of entry places available.
Entrants who sign up for this year's Simplyhealth Great Birmingham Run are offered a guaranteed entry window for the Birmingham International Marathon 2018 to make sure they do not miss out on what is already one of the country's top six 26.2-mile runs.
Harmander Singh, Fauja's running coach, added: "When I learnt that Fauja was going to be the starter for Birmingham's first International Marathon, as his coach I just had to enter the race myself.
"As the Club President of 'Sikhs In The City' (Fauja Singh's running club) which, like Birmingham, is the most diverse running club in the country with members from nine different faiths, I wanted to lead the way for our club members and have ensured many from the club also take part."