13,000 Complete Simplyhealth Great Bristol 10K
13,000 runners of all abilities rose to the challenge when they conquered the Simplyhealth Great Bristol 10k on Sunday.
The 10k offered participants an awe-inspiring route to be their greatest around the city centre, taking in the sights of the iconic Clifton Suspension Bridge and the Avon Gorge.
Participants were set off by five times Olympian and World, European and Commonwealth medallist, Jo Pavey. Jo set the thousands of runners on their way and took part in the Simplyhealth Great Bristol Family Run after the 10k, with her children and husband.
She attended the event as title sponsor Simplyhealth's new Active Ambassador, to encourage other families to enjoy being active together. Among the runners was the Lord Mayor of Bristol Councillor Cleo Lake, who joined in with starter duties before taking on her very first 10k with a group of inspiring runners from the city.
This was Cllr Lake's first major running event and she spoke about how training for the 10k and involvement with other beginner runners has left her feeling inspired.
She was also fundraising for the National Caribbean Monument Charity and to raise awareness about the importance of this culture in the city. She said: "Many congratulations and respect for everyone who took part today. This was my first 10k and I am so proud to have taken part with so many other inspiring individuals.
"I was left inspired by the likes of movements in the city such as Bristol Girls Can and This Mum Runs, so much so that I wanted to improve my own lifestyle by training for this event.
"Events like this bring people from all backgrounds and communities to participate, support and achieve together."
The 13,000 participants were also joined by a competitive club runner field, featuring some of the best runners from around the region.
In the men's race, elite runner Chris Thompson set a course record when he came first in a time of 29:35, ahead of Tom Merson who crossed the line in 29:52.
They were followed by Jonathan Cornish from Hercules Wimbledon in third with a time of 30:34.
Kate Reed from Bristol & West AC took first place in the women's field in a time of 33:11, followed by Annabel Gummow from Winchester & Disctrict AC in 34:16 and Laura Gent from Aldershot Farnhsm & District AC came third in 35:18. 
Bristol charities were well represented, with the Grand Appeal, Bristol Children's Hospital Charity fielding over 70 runners in both the 10k and many more in the Simplyhealth Great Bristol Family Run.
There were also representatives from Bristol SANDS, St Peter's Hospice, Southmead Hospital Charity and Great Western Air Ambulance Charity.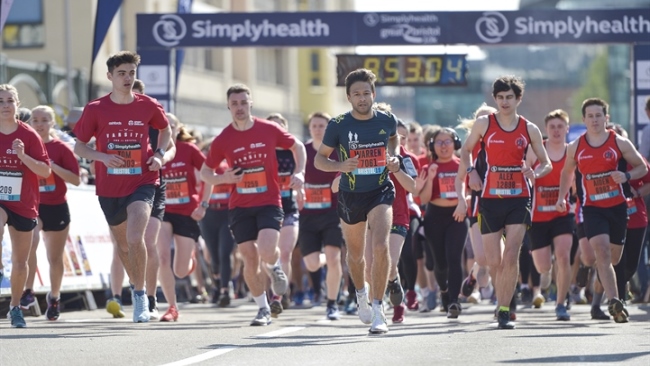 900 university students, staff and alumni from the University of Bristol and the University of the West of England also took part in their own huge red wave for the very first time.
The Varsity Team partnership is part of a drive from the universities to improve their lifestyles of their students and staff in the city.
Many of the University of Bristol participants were also supporting the Healthy Minds Campaign, which helps Bristol students affected by mental health issues to get more active in a supporting, friendly environment.
The 10k has a long-standing history and was first staged in 1989. It then joined the Great Run series in 2016.
The Great Run Company's Andy Graffin said: "It has been a fantastic day at the Simplyhealth Great Bristol 10k. Huge congratulations to everyone that took part and conquered their own personal challenge today.
"We have worked closely with our partners to deliver the event and we'd like to say a big thank you to them and to the hundreds of local volunteers who have made the experience so memorable.
"The Simplyhealth Great Bristol 10k offers thousands of people the chance to be their greatest and experience their very own finish line moment. "If anyone has been inspired by the efforts of participants today, there's a chance for you to be a part of it again this year with the Simplyhealth Great Bristol Half Marathon in September."
Bambos Neophytou, Brand Director at Simplyhealth, said: "The Simplyhealth Great Bristol 10k is always such a popular event and a firm favourite for us in the Series calendar. 
"Congratulations to the thousands of runners who took part, from families getting more active together, to individuals taking on their own personal challenges or raising money for charity.
"We were there supporting runners every step of the way. Making its debut in Brsitol, queues of runners took the opportunity to learn more about their running style to help create optimum performance at the brand new Simplyhealth Rate my Gait experience and kick started thier recovery at our stretch and massage zone."
This year's Simplyhealth Great Bristol Half Marathon is to take place on Sunday 15 September. Participants can enter today at: Greatrun.org/Bristolhalf
For more information about the 2020 Simplyhealth Great Bristol 10k, pre-registration is open at: Greatrun.org/Bristol10k ?