30 Ambassadors Announced For Great Tees 10K
To enter the Simplyhealth Great Tees 10k, visit: Greatrun.org/Tees10k
Local people have answered the call to become special ambassadors for the Simplyhealth Great Tees 10k.
More than 30 people have signed up to take on the role in the build-up to Saturday 8 September – where they'll join hundreds of people on the 10k run which hugs the banks of the Tees and takes in some of Stockton-on-Tees' iconic sights such as the Infinity Bridge and Tees Barrage.
The volunteers will represent and promote the event at various other races and days out across the region to encourage people to sign-up and demonstrate the positive health and social benefits running can bring.
Dr Helen Godfrey has signed up to be an ambassador and can't wait to get started.
She said: "As a local GP I have promoted health through running and exercises for many years and I have met so many patients who have found the benefits to include improvements both to their mental and physical health."
Also joining the group was Elite Ambassador Richard Kilty, fresh from his gold medal triumph in the 4x100metre relay at the Commonwealth Games on Australia's Gold Coast.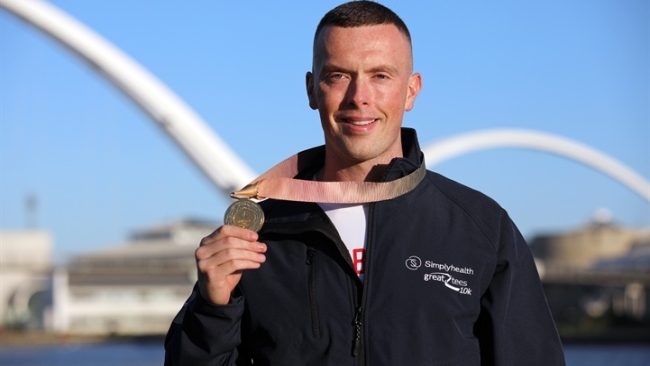 Richard, aka 'The Teesside Tornado', said: "It's great to be back at home in Stockton-on-Tees with my gold medal from the games in tow and it was fantastic to meet all of my fellow ambassadors who will be joining me to shout about what will be a brilliant event.
"Their enthusiasm was really infectious and I'm sure they will inspire a lot of people over the coming months to take on the challenge and sign-up to take part – whatever their experience or ability. I'm really looking forward to getting out and about with them all in the near future."
Councillor Norma Wilburn, Stockton-on-Tees Borough Council's Cabinet Member for Arts, Leisure and Culture, said: "It's fantastic to see just how many people have put themselves forward to help us promote what is set to be a truly special event here in September.
"The weekend will be truly memorable for the North East as a whole with our exciting new events complementing the world's biggest half marathon, the Simplyhealth Great North Run, taking place the day after.
"The events sit alongside each other to set up what will be a major sporting occasion for the whole region.
"I'd like to echo the message of our ambassadors and encourage anyone new to running or looking for a challenge to get involved and be part of it."
Alongside the Simplyhealth Great Tees 10k, there's a range of new and accessible events taking place – with something for everyone on offer.
The Great North CityGames Elite Mile relocates from NewcastleGateshead to Stockton-on-Tees for the first time in its history.
It'll see world-class athletes take each other on and the best part – you can watch it for free on the day!
The Simplyhealth Junior and Mini Great Tees Run events offer two shorter running routes for budding athletes, school friends and fun runners – with a 2k Mini course for three to eight year-olds and a 4k Junior course for participants aged nine to 14.
Parents and carers can run with their kids, so there's no excuse for anyone not to lace up their trainers and get moving.
The event is being brought to the Borough thanks to a new partnership formed between the Council and the Great Run Company, who organise the UK's leading mass participation series, including the world's biggest half marathon, the Simplyhealth Great North Run.
The Simplyhealth Great Tees 10k and associated events take place on the same weekend as the Simplyhealth Great North Run to capitalise on the unmet demand from people who don't get a place.
To enter the Simplyhealth Great Tees 10k, visit: Greatrun.org/Tees10k