A Boy With Autism Is Set For The Great Junior South Run
Sam Kift, who has autism, will run at the Simplyhealth Great Junior South Run to raise money for The National Autistic Society and the St John's project at his school.
13-year-old boy from Waterlooville, is determined to take part in the race after he completed the run on his own in his local park last year after the event was cancelled due to bad weather.
Sam was diagnosed with Autism Spectrum Disorder in November 2016, aged 11, in his first year of secondary school. It took several years to get him diagnosed but his parents noticed some issues since he was a toddler.
Sam said: "It affects my daily life more than people realise. I sometimes struggle to grasp many concepts and on occasion I have more than fed the stereotype of 'Autistic people don't understand sarcasm'.
"I also have trouble sleeping and take medication 15-20 minutes before I go to bed to aid my difficulty. Anxiety is also a lot more common so I get worried over the smallest of things.
"Sometimes I feel discriminated and it stings where it hurts most if I'm having a bad day though a lot of friends treat me like a typical boy."
The National Autistic Society helped the family before Sam was diagnosed and Sam wanted to help others in a similar situation to himself. He also chose to raise funds for St John's project at school that supports a Catholic school in Korogocho, a slum in the suburbs of Nairobi, Kenya. With raised money, he hopes to send 10 children to school for the upcoming few school terms.
Last year, Sam ran in his local park as he felt responsible for his sponsors and was determined not to let them down. He even received a special award at school for his fundraising.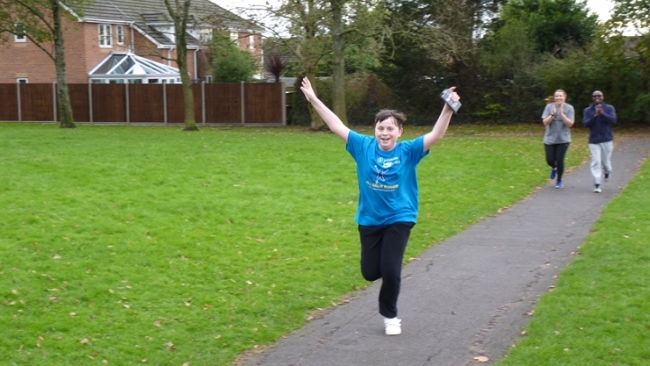 Sam's mother, Jenny, said: "After he'd collected his sponsorship last year and the event was cancelled, he felt he had to do something to honour the promise he'd made to run. We have a local park behind our house and so he decided to run the same distance there. His form tutor, another teacher and his family and some other friends ran with him as they wanted to support him. "
Now Sam is excited to run 2.5k on Saturday 20 October and raise more money for two amazing causes.
The Simplyhealth Junior & Mini Great South Run returns to Portsmouth on Saturday 20 October, with almost 2,000 budding athletes, school friends and families taking on the 1.5k and 2.5k courses, which start and finish on Clarence Esplanade in Southsea.
It's part of a great weekend of sport in the city, which includes the Simplyhealth Great South 5k and the South's biggest running event, the Simplyhealth Great South Run, which will see over 20,000 people running in aid of fun, fitness and fundraising on Sunday 21 October.
For more information about the event, visit: Greatrun.org/South
To support Sam's fundraising campaign, visit: www.justgiving.com/fundraising/sam-kift-gsr2018