A Daughter To Run In Memory Of Her Dad
A daughter will be running the Simplyhealth Great Birmingham Run in aid of Bowel Cancer UK after she lost her dad to the disease when she was just 15.
21-year-old Chloe Evans from Sedgley is set for the half marathon on 14 October as part of the fundraising campaign she set up for Bower Cancer UK after losing her dad at such a young age.
Chloe's dad Wayne was diagnosed with terminal bowel cancer and sadly passed away aged 41. Wayne had a very hard time suffering from heart attacks, seizures and undergoing treatment but never gave up fighting. He did everything he could to stay with his family as long as possible.
Chloe said: "We were always so close and did everything together, so going from a family of four to three was just heart-breaking and nothing ever prepares you to lose a parent at a young age. You never think it will happen to you."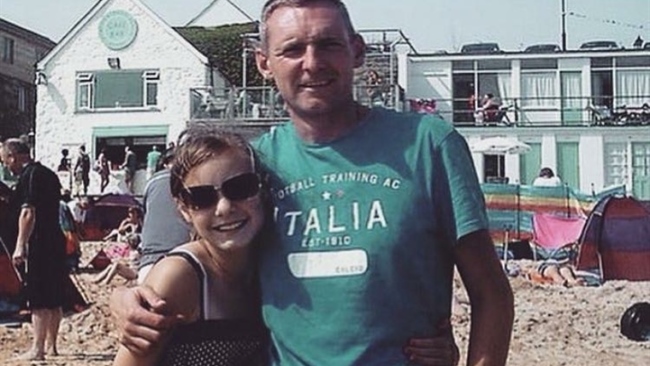 The loss was very hard for the whole family. Fortunately, Chloe found a way to deal with her loss through dancing and raising money in her Dad's memory. She set up Chloe's Bows Foundation where she makes and sells bows to raise funds for Bowel Cancer UK. Chloe organises numerous stalls in local stores, holds an annual 'Wear A Bow Day' on the date of her Dad's passing and, being a dancer and teacher within the arts, she holds a Dance and Musical Theatre evening on her Dad's birthday.
Chloe said: "I like to organise events that are special in not only the theme but also the dates. Turning the sadder days into positive ones.
"I'm lucky to have such supportive family and friends who have always been there for me when I needed them."
Her amazing initiative raised nearly £10,000 in her dad's memory in twelve months. She hopes that her campaign may help other families and prevent them from going through a similar experience.
On 14 October Chloe will be running with a group of eight friends as part of #TeamChloesBows
Chloe said: "It's my first ever running event, I am super nervous but cannot wait to see how much we raise.
"I have never been a strong runner, however I'm a really determined person so I love setting myself a challenge and working towards something.
"We want to have fun and bring forward the day it stops another family going through this awful heart-breaking loss."
The Simplyhealth Great Birmingham Run will start on Broad Street before taking runners to handsome Highfield Road in Edgbaston and down the infamous hill of Lee Bank Middleway, once a challenging incline near the end of the half marathon. Participants will then do a lap of Cannon Hill Park and world-famous Edgbaston Stadium before turning back to the city centre after they reach beautiful Bournville. The run finishes before thousands of cheering spectators on Jennens Road and the Aston University Campus Charity Village.
Anyone who entered the Simplyhealth Great Birmingham 10k will receive a £10 discount on their entry fee for the Simplyhealth Great Birmingham Run. To enter click here.