Adrian Chiles And Geoff Thomas Launch World Record Bid
Enter the Great Birmingham Run at greatrun.org/birmingham
Blood cancer charity Cure Leukaemia is celebrating the 10th anniversary of the Centre for Clinical Haematology (CCH) at the Queen Elizabeth Hospital, Birmingham by attempting a world record for the most names included in the design of a running shirt.
The charity's 'Donate Your Name' campaign will encourage existing supporters and the general public to donate £20 via bespoke website www.donateyourname.co.uk to have their name or chosen name included in the design of the commemorative shirt. The aim is to not only raise vital funds for the £3million planned expansion of the CCH, but also to attempt a world record for the most names on a running shirt.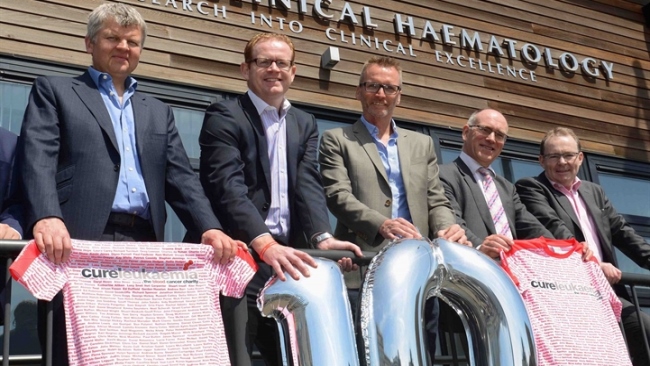 L-R: Adrian Chiles – Patron, James McLaughlin – CEO, Geoff Thomas – Patron, Professor Charlie Craddock CBE – Co–Founder & Graham Silk – Co-Founder
The campaign will run throughout the summer with a number of roadshows planned at iconic Birmingham sites including Fort Dunlop this Thursday and Brindleyplace and Edgbaston Cricket Ground later this summer. Well known supporters of the charity including Ben Foster, Ian Bell, Jonathan Trott, Trustee Glynn Purnell and Patrons Geoff Thomas and Adrian Chiles will have their names included on the shirt so members of the public could find their name next to these famous figures.
Specialist research nurse Donna Walsh, whose position at the CCH in Birmingham is funded by Cure Leukaemia, was the first person to donate her name during the Brindleyplace Dragonboat Race earlier this month.
She said: "It's a wonderful idea and one I'm sure patients, their families and the public will want to be a part of. I hope this shirt can raise lots of vital funds to allow us to continue to treat patients with groundbreaking treatments that are not available through standard care. I'm very proud to be the first person to donate my name to this fantastic campaign."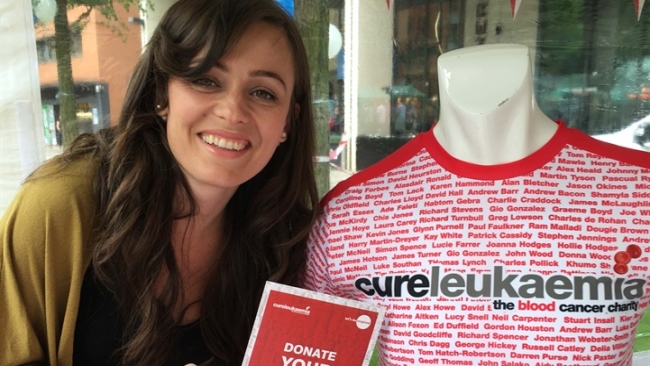 Donna Walsh
With the support of the Great Run, the shirt will be unveiled for the first time on Sunday October 16th when all runners taking on the Great Birmingham Run for Cure Leukaemia will be wearing the unique running shirt.
Cure Leukaemia CEO James McLaughlin said: "this is a landmark year for the Centre and we were keen to mark it with a special campaign that celebrates the whole Cure Leukaemia family. This is the perfect way for the city to unite as one and be inspired to beat this terrible disease. Not everyone can run 13.1 miles but this way everyone can be a part of the event. Many people choose not to run for a charity as well but this is a way for those runners to be a part of something very special. We hope that current and former patients are keen to get involved and this is also a way for families to remember those they have lost to this horrible disease."
He continued: "the £3million capital project to expand the CCH to create the Birmingham Institute of Haematology will double the capacity of the already world renowned Centre. This will mean more nurses, improved facilities and more patients treated. This campaign will help save lives and help continue progress towards finding a cure for this dreadful disease. We already have 1000 names on the shirt and we would like as many people as possible to join the Cure Leukaemia family."
Head of Communications for the Great Run Company, David Hart, said: "This campaign is innovative and, most importantly, will directly benefit patients battling blood cancer. If enough people sign up to run for Cure Leukaemia in October there is the possibility of a 'Cure Leukaemia wave' in the event.
Enter the Great Birmingham Run at greatrun.org/birmingham