Age Is Just A Number For Manchester'S 80-Year-Old Don
Age is just a number for a veteran runner who is Sale Harriers' longest serving club member and has taken part in over 200 Great Run Locals.
80-year-old Don George, from Altrincham in Trafford, has been inspiring his fellow runners for the past three years, having participated in 238 of the fun runs in Greater Manchester since 2013.
Don, who served in the army for three years before becoming a secondary school teacher, started running in 1947, just after the Second World War.
He joined the Boys Brigade and took up running as a hobby there when he was 10-years-old.
Eventually, Don decided to join Sale Harriers, a local running club that his father also ran for in his younger days.
He is now the club's longest running member and has been a part of it for 65 years. He started to attend Great Run Local at Wythenshawe Park in South Manchester, which offers free weekly 2k and 5k runs.
Don has now celebrated taking part in over 200 runs at Great Run Local and has met hundreds of new people and new friends.
Don, who has recently been diagnosed with early-stage dementia, credits running the event as keeping him both physically and mentally active in his experienced age.
Despite suffering from medical problems and having a pacemaker fitted, Don remains determined to keep running.
Don said: "I love running still for several reasons. It gets you out in the fresh air, keeps you fit and healthy. At places like Great Run Local you can guarantee that you'll meet new people and make new friends.
"The event is also a challenge to check your times and compete against similar standard runners.
"I had to have a knee replacement some years ago and a little while after that I had a heart problem and needed a pacemaker fitted.
"I have recently been diagnosed with early dementia which was something that really shook me as I have always considered myself a fit and able person.
"This came after years of good health and many miles of running so Great Run Local has been a way of me being able to feel like I can still do something.
"Even though I don't run on the level that I used to, I still really enjoy taking part and helping and organizing others to join too."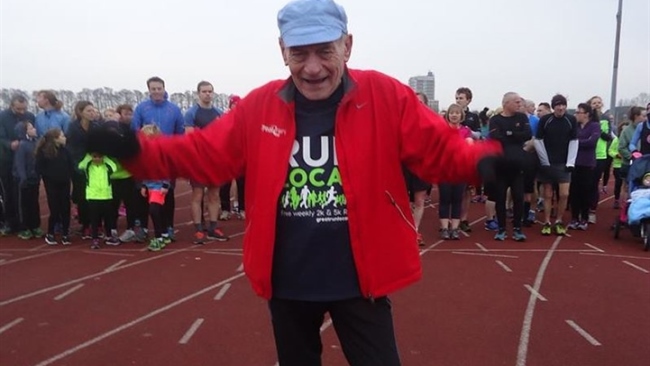 Great Run Local takes place in five venues across Greater Manchester including Salford Quays, Wythenshawe Park, Burrs Country Park in Bury and Debdale Park in Gorton.
The events are run entirely by dedicated volunteers each week, who also provide support and first aid. The events are the perfect way for beginners to take on running distances for the first time, or to keep up their training with their fellow participants while training for an event,
Deborah Cliff, from Bury, has been the Event Co-ordinator at Burrs County Park since the event's launch in 2015.
She said: "The best thing about events like Great Run Local is the community. "I have made so many friends and so many people have been brought together who met at the event who now run in other events together.
"I regularly go for a run with other likeminded volunteers and It's great to watch the progress people have made too from 2k to 5k, from walking, to jogging, to running as well as pushing for those personal bests.
"The events allow people to meet in a safe environment and run together. There is the affiliation with the huge Simplyhealth Great Manchester Run, which a lot of our attendees train for as people can come regularly throughout the year, including winter."
Don added: "Great Run Local gets people, whatever their ability, out and taking part in exercise.
"It also helps to let all ages take part with the variation of distances on offer and the fact that all are welcome no matter how long you take over your run. It's a fantastic family atmosphere."
For more information about Great Run Local, and to find the nearest event in your area, visit: Greatrunlocal.org
To enter the Simplyhealth Great Manchester Run, visit: Greatrun.org/Manchester