Anu Named Honorary Starter At Great Birmingham 10K
Spirited eight-year-old Anupurba Saha takes most of life's challenges in her stride.
The Northfield schoolgirl spent the first 17 months of her life in hospital after she was born with her umbilical cord wrapped tightly around her leg, cutting off the blood's circulation.
Sadly, the leg could not be saved and she was also left with heart and lung damage, requiring mechanical ventilation at hospital and later at home to help her breathing.
However, thanks to a unique pink prosthetic sports blade purpose-made by the West Midlands Rehabilitation Centre in Selly Oak, where Anu receives regular assessment, physiotherapy and prosthetic support, she is able to play with brother Anupran and friends at St Laurence Church Junior School, Northfield.
Anu became an internet star in 2017 when a video of her running on her blade in the playground captured the hearts of millions around the world. The BBC Midlands Facebook clip has been watched a staggering 17.5 million time.
She has also been nominated for a 'Brummies' award, featured on BBC children's TV and taken part in the Simplyhealth Junior Great Birmingham Run at the iconic Alexander Stadium.
Now, to recognise her remarkable outlook on life Anu will be an Honorary Starter at next month's Simplyhealth Great Birmingham 10k, which takes place on Sunday, May 26.
Anu and her family will stand alongside the Lord Mayor of Birmingham to sound the starting horn for thousands of 10k runners and walkers as they set off from the event's new start-line on Colmore Row in the city centre.
She has also inspired her dad Anirban to sign up for the 10k for the first time and with his plucky daughter cheering him on it promises to be a poignant moment for all the family.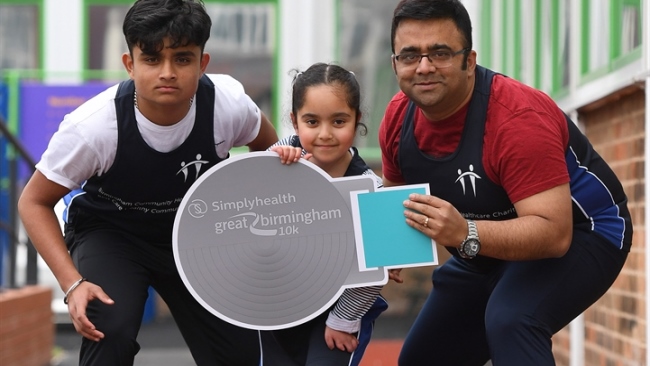 Birmingham Community Healthcare (BCHC) is looking to harness the 'power of 10′ to raise funds for all kinds of extras to improve patients' experience of care by assembling a 10-strong team of committed colleagues to tackle the 10k course. The team has set a fundraising target of £1,000.
The centre is part of a wide set of specialist services provided for adults and children by BCHC at the Selly Oak facility and at nearby Moseley Hall Hospital. Last year, a new outdoor therapeutic walkway and play area was opened at the rehab centre thanks to a £10,000 charity appeal.
Anu's dad Anirban said: "As a family, we have very personal experience of the quality of care provided at West Midlands Rehabilitation Centre.
"Anu has attended for several years for assessment, treatment and support with her prosthetics and I can honestly say the welcome is so warm and the team so caring that it almost feels like one big family."
BCHC Charity fundraising assistant Stacey Taylor added: "We're really looking forward to teaming up with Anu's family and taking on the challenge of tackling the 10k.
"The money we raise will help fund a range of projects that will improve patients' experience of care and we're very grateful to everyone who supports us."
The new Simplyhealth Great Birmingham 10k route will be a Bank Holiday Weekend celebration of Birmingham as it passes some of the most famous landmarks in the city centre.
The new route showcases to thousands of runners and spectators iconic locations such as New Street, the Rotunda and the city's most photographed resident – the Bullring Bull.
More than 8,000 participants signed up for last year's 10k, making it the biggest to date. Some 350 of the participants walked the route and even more are expected to join the Walking Wave this year; perfect for anyone considering signing up for their first organised running event.
Anyone who enters the Simplyhealth Great Birmingham 10K will receive £10 off their entry fee for the Simplyhealth Great Birmingham Run half marathon, which takes place on Sunday, October 13, 2019. Sign up now at greatrun.org/birmingham10k