Anu To Start Simplyhealth Mini Great Birmingham Run
Entries are still open for the Simplyhealth Junior and Mini Great Birmingham Run taking place on Saturday 14 October at Alexander Stadium. Enter now here.
Brave Anupurba Saha melted hearts around the world when a video of her running and playing with friends went viral earlier this year.
Anu, as she is known to family and friends, was born with her umbilical cord wrapped tightly around her right leg, cutting off the blood's circulation.
Sadly, the leg had to be amputated and she was also left with damage to her heart and lungs meaning she had to spend the first 17 months of her life in hospital.
In the video she was seen on her first day back at school, showing off her new, pink, prosthetic running blade.
To recognise her bravery Anu, from Shirley, has been named as honorary starter for the Simplyhealth Great Birmingham Mini Run at the city's famous Alexander Stadium on Saturday, October, 14.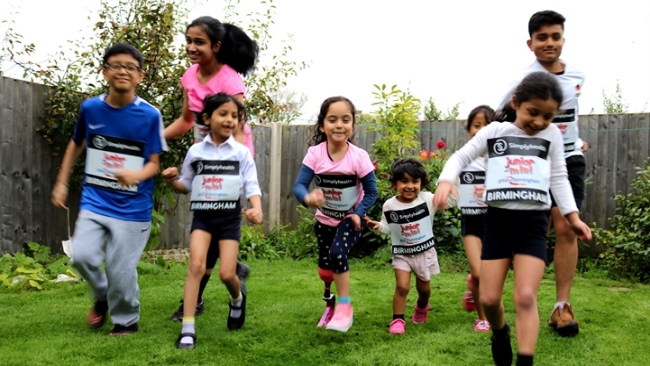 And to make the seven-year-old's day at the Stadium extra special she will be joined by friends and family who will be taking part in the Mini and Junior Runs.
More than 500 people have signed up to take part in the family events, the day before the Simplyhealth Great Birmingham Run and first-ever Birmingham International Marathon, ensuring Birmingham comes alive with running for the whole weekend.
Still open for entries, the 1.5K Mini Run is for children aged 3-8 and the 2.5K Junior Run is for 9-15 year-olds.
All finishers receive a goody pack, a medal and bottle of water as soon as they cross the finish line.
Anu recently won a Birmingham Mail 'Brummies' award for her incredible bravery.?Her proud dad Anirban said: "There's nothing in the world that she cannot achieve. She's as capable as anyone in the world. She's unstoppable!"
The Junior and Mini events form part of the huge weekend of running in Birmingham as the all new Birmingham International Marathon takes place on Sunday 15 October before the Simplyhealth Great Birmingham Run kicks off in the afternoon.