Batth Aims To Get Wolves Fans On The Run
•
Danny Batth urging Wolves fans to sign up for Simplyhealth Great Birmingham 10K
•
He wants supporters to get active and raise funds for Foundation DB's three causes
•
Club captain officially launched his team of runners at Molineux
•
The top fundraisers will receive a Wolves shirt signed by club's promotion-chasers
Danny Batth is hoping to get Wolves fans running – while he completes the 'run-in'!
The Wolves skipper and his promotion-chasing team-mates face their final EFL Championship fixture of the season at Sunderland on Sunday, May 6 (ko 1230).
Ninety minutes earlier, a team of runners that central defender Danny is assembling will be tackling the Simplyhealth Great Birmingham 10K in aid of Foundation DB.
Danny unveiled the first members of his fundraising squad at Molineux this week and wants to recruit Wolves fans of all fitness levels and abilities to take on the 6.2-mile challenge to help the three vital causes Foundation DB supports.
The Simplyhealth Great Birmingham 10K starts in Birmingham city centre before taking runners and walkers past sights such as the Selfridges building, Cannon Hill Park and Edgbaston Stadium.
The annual event has music at its heart, with energetic warm-ups and start waves featuring 80s, 90s, 00s and today's tunes. However, the Challenger and 90s music waves have now sold out, while only limited places remain in the 'now' music wave.
"This is a big moment for Foundation DB," said 27-year-old Danny, who grew up in Brierley Hill.
"We've wanted to tie in with the Simplyhealth Great Birmingham 10K, and other events like it, for a long time.
"This is our first one so I'm hoping there's going to be a good response from Wolves supporters who aren't going to Sunderland, and anyone else who wants to get active, for a good cause.
"Today is day one and we've already got four runners signed up, so if we can keep that going until May 6, with more people signing up each week, I'll be very pleased."
Since launching last year, Foundation DB has raised thousands of pounds for homeless charity YMCA Black Country plus Football for Peace, which uses the power of sport to educate young people from disadvantaged backgrounds, and Yuwa India, an organisation that aims to keep vulnerable girls out of child marriage and from being trafficked.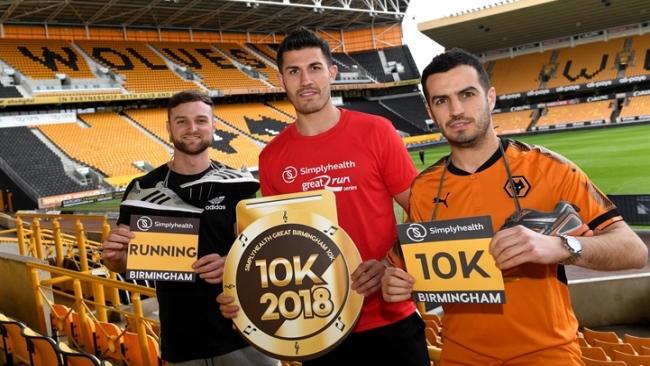 Danny launches his running team at Molineux with Jack Carey and Mark Ridgway
Danny is offering an incentive to anyone who joins his running team. The team member who raises the most money will receive a signed Wolves shirt, and the second and third top fundraisers a signed Wolves item. Danny will personally present the prize to the No.1 fundraiser.
Danny claims he would be lining up alongside his runners at the start-line if the event didn't clash with a Championship fixture.
"If it had been a week later, and the season ends the way we want it to, it would have been perfect – I would definitely have run," he said.
"I'll certainly be looking to take part in future.
"Something I want to stress about the Simplyhealth Great Birmingham 10k is that it's such an inclusive event. It doesn't matter how fit you are, or how long it's been since you've pulled on your trainers, people of all abilities can take part.
"You can even walk the route, and I hope people from all backgrounds will come forward and join my team.
"Seeing the crowds that line the route and cheer the runners on will give everyone a great sense of achievement, especially at the finish line. It will probably replicate a matchday, to some degree.
"After entering the event, anyone can fundraise for Foundation DB by setting up their own fundraising page via PayPal or JustGiving."
So would Danny collecting a promotion-winning medal while his runners bag finishers' medals be the perfect end to the season?
"We've still got a lot of work to do on the pitch and I'm only focussing on the next game, but if everything goes to plan, I'm hoping the season ends on a really positive note, both for everyone connected with Wolves and those running for Foundation DB," he added.
"With the 10K starting at 1100, Wolves fans can help their club captain raise money for great causes before putting their feet up and following the Sunderland match!"
The Simplyhealth Great Birmingham 10K is described as a great training run for those taking on the Simplyhealth Great Birmingham Run half marathon, which takes place on Sunday, October 14.
Anyone who signs up for the 10K will be given the option to fundraise for Foundation DB when completing the online form.
Danny's partner Natalie Cutler was a co-founder of Foundation DB and has filmed and produced a documentary featuring the Yuwa charity, about which details will be revealed soon.
This follows her documentary last year entitled 'Not in Vain', which examined the concept of beauty by contrasting a look at the Miss Universe GB pageant with survivors of acid attacks in India.
To enter the Simplyhealth Great Birmingham 10k click here
To enter the Simplyhealth Great Birmingham Run half marathon click here