Birmingham International Marathon T-Shirt Revealed
It's this season's must-have fashion accessory – the finishers' tee-shirt for the first-ever Birmingham International Marathon.
What makes this tee-shirt extra special, however, is that it was designed by a student from Birmingham Metropolitan College at the 'We Make Feed' Millennium Point design studios.
The tee will be handed out to the finishers at the city's inaugural Birmingham International Marathon on Sunday, October 15.
Runners from across the world will be descending on Birmingham for the marathon, which takes place on the same day as the established Simplyhealth Great Birmingham Run half marathon.
While the marathon reached capacity some time ago, places are still available for the Simplyhealth Great Birmingham Run half marathon and potential participants are urged to sign up quickly to avoid missing one of the biggest days in Birmingham's events diary.
Featuring a design that reflects the city's historic connection to the bull and an inspirational tagline 'I CONQUERED A MARATHON', the dark blue marathon finishers' tee was designed by student Prayer Makurumidze.
Prayer, aged 19, is completing a HND in Graphic Design and competed against 30 other students in the challenge to win the design brief.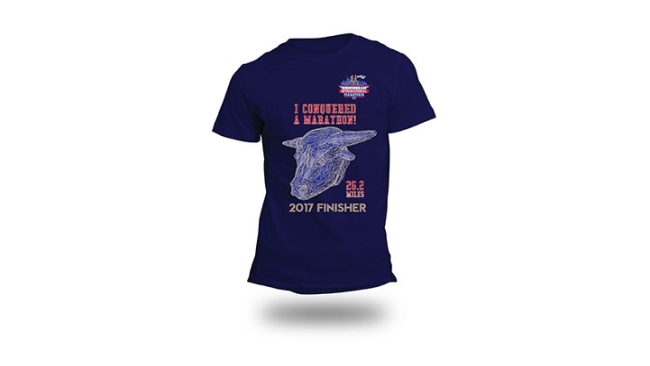 We Make Feed is a purpose-built studio that enables art and design students the opportunity of learning real-world design skills.
Working with The Great Company, organisers of the Birmingham International Marathon, gave students the chance to take part in several exciting and engaging live briefs.
The students were also given placements with Channel 5 and Nova Films as runners and camera assistants.
Prayer said: "This has given me the chance to learn new skills and the feedback from the client was really useful.
"It has given me the confidence to talk and work with other potential clients. The whole process has been really enjoyable and the finished tee will be a strong part of my portfolio."
Adam Guy, Course Leader for HND Graphic Design, said: "Every one of our students, whether they have won or not, has had a great experience.
"The Great Run Company has given our students several live briefs where our students can test out their many design skills and this really strengthens what we do at Feed.
"It enables credibility with the students and helps them build real industry portfolios. The Great Run Company are fantastic at feedback and visit regularly to encourage the students. The process across all of the briefs has been incredibly valuable."
Birmingham is widely regarded as the birthplace of mass participation long-distance running events and the Birmingham International Marathon will cement the city's position as the European Capital of Running.
Birmingham staged one of the country's first open-to-all marathons, the People's Marathon, which ran from 1980-85 and was organised by late Solihull-based elite runner John Walker.
How To Get Involved
Sign up for the Simplyhealth Great Birmingham Run 2017 here
Sign up for the Simplyhealth Junior and Mini Great Birmingham Runs here