Birmingham'S Greatest Runner Signs Up For 10K
You can join Ian on the start line at Birmingham on May 1, visit here for entry details greatrun.org/great-birmingham-10k
BIRMINGHAM athletics legend Ian Stewart will make a return to road running after signing up for the Great Birmingham 10K.
The Handsworth-born Scotsman, who won a bronze medal in the Olympics and was a European and Commonwealth champion in his long and successful career, will once again lace up his running shoes – but is bringing a few friends along with him.
Daughter Rachel will join Ian on the streets of Birmingham on May 1, along with Ian's friends from Birmingham City Council including the Lord Mayor Ray Hassell.
Also joining the 67-year-old, whose bronze medal in the 5,000m came in Munich in 1972, will be runners from the Tartan Army – a group of running enthusiasts from Scotland who travel to events around the world to cheer on Scottish athletes.
And although the competitive spirit still runs strong in the Stewart clan – brother Peter and sister Mary were both champion athletes – Ian admits that the aim on May 1 is merely to get around the course, with the finish line on Broad Street in his sights.
"I'm more active in the last two months than I have been for some time. I'm running every other day at the moment, but don't expect me to be flying on May 1," said Ian.
"I'm 67 now, I'm a year younger than Brendan Foster, so I'm not going to get anywhere near the front of the field, I know that.
"I was going to run this last year but I got injured, and I'm in better shape this year. I just thought I'd get involved. I've a few friends who are doing it too, my daughter, and a couple of lads from the Tartan Army. So we have a team together. It'll be good fun and I'm looking forward to it.
"They all say that the Stewarts are part of some running dynasty, but I'm not so sure. It's one of those things where you get on with it. My daughter's 32, she's in better running shape than me, I think – we'll see."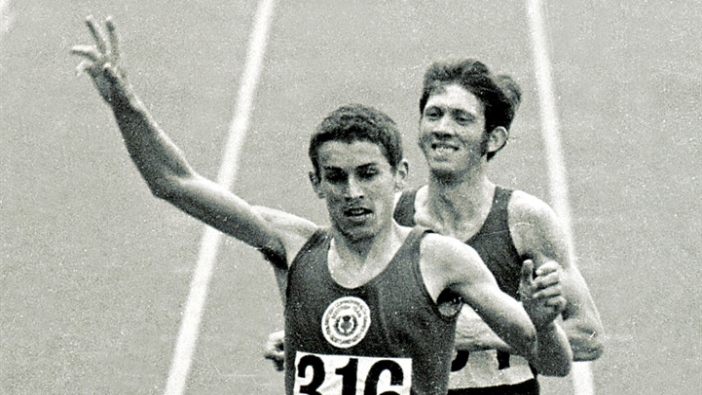 Ian Stewart in action during the 1970 Commonwealth Games – pictures courtesy of Mark Shearman
Ian, who was most recently head of endurance at UK Athletics, based out of Alexander Stadium in the city, believes the Great Birmingham 10K and its sister half marathon event, held in October, is helping to put the city on the map for road running, with the city's bid for European Capital of Running status.
He added: "It's a great concept. Last year was a good start and that will be built on this year, I should imagine. We're going to have a bit of fun on the way.
"We just thought to start with that we'll get round. If it goes well, we'll plod on and see if we can do the half. If we're all in one piece we'll do a few more.
"Birmingham has a big running tradition. The road running is a relatively new thing, but we've held events like the Indoor Grand Prix since '93, it was the best meet in the world at the time but now that's gone to Glasgow.
"You have the Diamond League in Birmingham and the Olympic trials here so it's very much a running place."
The second staging of the Great Birmingham 10K, believes Ian, is the start of something bigger in the city.
"The fact that it starts in the city and finishes down Broad Street, it's got a big following and it's getting bigger all the time.
"The city is into a massive health campaign, the city are pushing the running which is great, really. I think there's definitely more to come from Birmingham as somewhere to come and run. It's definitely been on a roll for some time and that's only going to get better.
"There are some huge clubs around the Midlands area, there's a huge running tradition here. So you have that already there, add in the large amount of social runners, and it's even better than it was."
You can join Ian on the start line at Birmingham on May 1, visit here for entry details greatrun.org/great-birmingham-10k