Birmingham's Year Of Great Runs Is Launched
Simplyhealth Great Birmingham 10K features popular walking wave
University teams aiming for more than 1,200 staff and students
Birmingham Children's Hospital Charity aiming for 2,000 runners at all events
107 runners from Sikh community to honour world-famous marathon man
From first times to fastest times… the Great Run Company has unveiled its biggest ever year of running in Birmingham with events for all ages and abilities.
Coming hot on the heels of last year's inaugural Birmingham International Marathon, the city's only 26.2-mile distance event will once again take place on the same day as the established Simplyhealth Great Birmingham Run half marathon on Sunday, October 14.
The two events attracted more than 21,000 participants in 2017, raising £4.1 million for good causes.
Earlier in the year the ever-popular Simplyhealth Great Birmingham 10K returns to the city streets on Sunday, May 6, during Bank Holiday weekend. The 10K is described as a great training run for those taking on the half marathon or marathon in the autumn.
The 10K starts in Birmingham city centre before taking runners and walkers past sights such as the Selfridges building, Cannon Hill Park and Edgbaston Stadium.
The 10K has music at its heart, with energetic warm-ups and start waves for 80s, 90s, 00s and today's music.
Children can also experience the thrill of running by taking part in the Simplyhealth Great Birmingham Junior and Mini Run.
The family events take place at the Alexander Stadium, the focal point of Birmingham's Commonwealth Games in 2022, on Saturday, October 13.
The 1.5K Simplyhealth Great Birmingham Mini Run is open to children aged 3-8 and the 2.5K Junior Run is open to 9-15-year-olds and, costing just £10 per child, the events are a great way for all the family to get active in 2018.
The 10K and Simplyhealth Great Birmingham Run feature the annual Business Challenge, which pits companies against each other for fastest-time trophies. The Business Challenge is perfect for raising office morale and getting staff active throughout the year.
Romana Abdin, CEO of Simplyhealth, said: "Our purpose is to help people make the most of life through better everyday health.
"We believe movement is the cornerstone to good physical and mental wellbeing, and is the reason why we are title partner of the Simplyhealth Great Run Series. So no matter your age or level of ability, come and join the #millionsmoving."
Charities, universities and well-known sports stars have already pledged to take part in this year's events. Among them:
GET CARTER!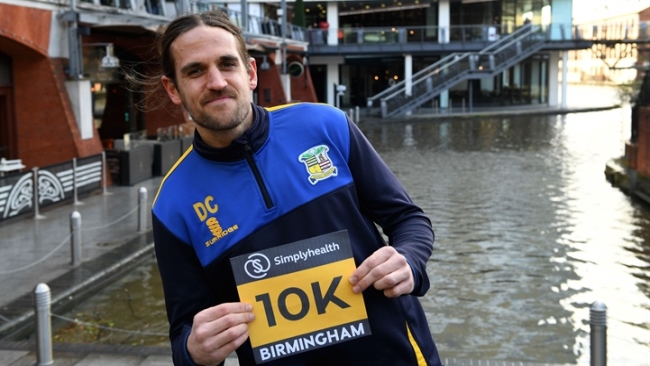 Darren Carter, Solihull Moors' Player/Academy Coach, will be taking on the Simplyhealth Great Birmingham 10K for the first time.
"I'm really looking forward to the Simplyhealth Great Birmingham 10K," he said. "I've never run this far in one go before and entering my first running event in my home city will be special.
"I've run further during a day of pre-season training and over the course of a match but that's in intervals. I'm buzzing to do it, it should be great fun, but I'll also be testing myself over the distance. I'll be training properly as I like to push myself and I'll be looking to get around the route as quickly as possible."
Darren, who famously fired Birmingham City into the Premier League for the first time with the decisive spot-kick in a 2002 play-off final shootout aged just 18, made almost 50 appearances for City and also spent two years with West Bromwich Albion.
"Entering running events is something I've always thought about. Because of my playing career, I've never really been able to consider it before, but the Simplyhealth Great Birmingham 10K falls outside of our season, which is great," he added.
STUDENTS ON THE START LINE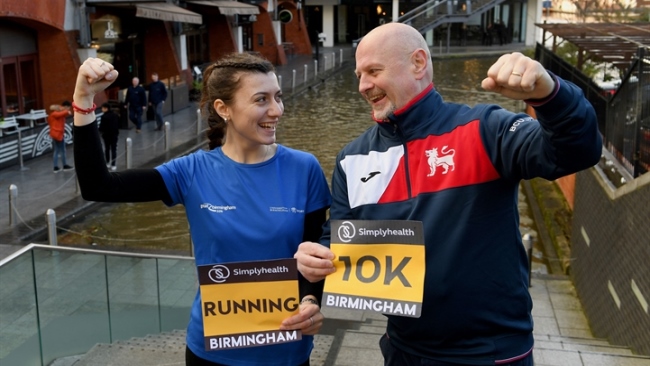 Two of the city's biggest universities – the University of Birmingham and Birmingham City University – are aiming to have thousands of staff and students at the Great Birmingham 10K to help promote active lifestyles on campuses.
The University of Birmingham had its own start wave at the 10K in 2017 after amassing a team of 500 runners and is aiming to improve that figure this year.
"UBSport and the 10,000 Lives programme is delighted to partner with Great Run for what promises to be a fantastic Great Birmingham 10K this year," said Ali Lee, Participation Development Officer, UB Sport.
"With an aim to get 800 participants in the UBSport wave, the University's fundraising efforts will go towards the 10,000 Lives campaign – a project that helps create life-changing education opportunities for young people.
"UBSport look forward to welcoming all runners, walkers, joggers to #TeamUoB – whether it's a first 10k or a 50th, anyone is encouraged to join the wave to support giving young people in Birmingham the chance to access higher education.
"Enter the Team UoB wave now at https://www.sportandfitness.bham.ac.uk/great-birmingham-10k/too help change the lives of 10,000 young people."
Mark Jeffreys, Director of Sport and Physical Activity at Birmingham City University (BCU), said: "BCU are aiming to get around 400 staff and students running in this year's 10K.
"It's a great opportunity to bring staff and students together to represent the university. Everyone's reasons for doing the 10K are their own, but it is a great way of bringing everybody together to help meet their own aims."
COMMONWEALTH KING CRAIG
Craig Heap, double Commonwealth gold medallist and Olympian in gymnastics, will be running either the Simplyhealth Great Birmingham 10K or Simplyhealth Great Birmingham Run.
He said: "The three events are going to be absolutely amazing and it's great to see Birmingham getting active, welcoming runners to the city and raising funds for some great causes.
"These events cater for all different types of runners and abilities. For example, I ran against Mo Farah in the Great North Run in Newcastle. The fact he finished about 23,000 places in front of me didn't matter!
"With the Commonwealth Games coming to Birmingham, these are exciting times for the city and I'm looking forward to coming down, taking part and picking up the local vibe.
"I also like the idea of the different starting waves and music. I was born in the 70s but maybe the 80s scene will suit me!"
CELEBRATING A CENTURION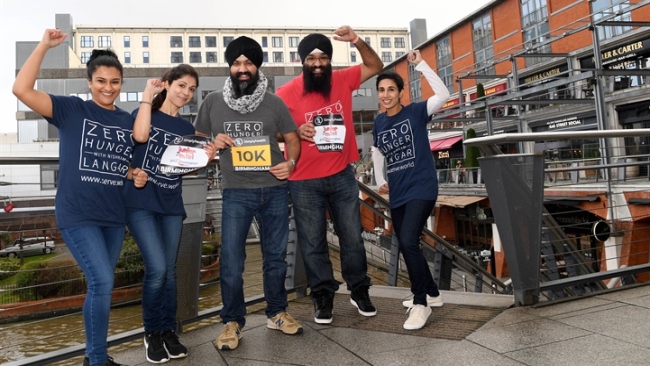 In honour of Fauja Singh, the 106-year-old 'turbaned tornado' who was honorary starter at last year's Birmingham International Marathon, UK-based charity Zero Hunger with Langar is aiming to inspire 107 runners to take part in the Simplyhealth Great Birmingham 10K this year.
Fauja, who will be 107 at the time of the 2018 10K, took up running when he was in his 80s after moving to London from Punjab in northern India and became the first 100-year-old to complete a marathon.
Zero Hunger with Langar is aiming to raise enough funds to serve thousands of meals to children in Malawi.
"This, we believe, will be the start of an annual homage to the legacy of Fauja Singh for years and generations to come," said Jagjit Singh of Zero Hunger with Langar.
BIRMINGHAM CHILDREN'S HOSPITAL CHARITY AIMING HIGH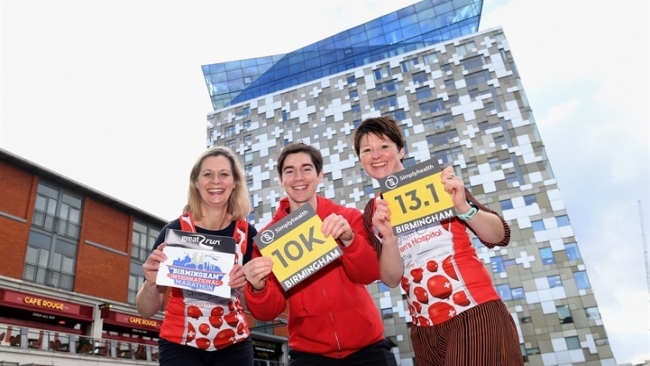 More than £300,000 was raised for the Birmingham Women's and Children's Hospital Charity at the Birmingham Great Run events in 2017 and Miranda Williams, Public Fundraising Manager, is hoping runners go the extra mile for its lifesaving campaigns in 2018.
"The Birmingham Great Run series is one of our biggest annual fundraisers, with over £300,000 raised in 2017 by our incredible supporters," said Miranda.
"We already have over 100 runners signed up to this year's 10K, and we hope to have up to 2,000 runners across this fantastic series of events in 2018.
"This year we have four fantastic staff members running in support of our Critical Journey's Appeal, which helps raise vital funds to equip a fleet of Critical Car Ambulances with the latest life-saving medical equipment so we can respond faster and more effectively, helping patients and their families get to the right place, at the right time, for the right treatment.
"We're very thankful for the continued support from all our fundraisers and urge people to support the charity where they can so that initiatives like this can continue making a difference to the lives of sick children."