Blind Dave Takes On Simplyhealth Great Run Series
– Black Country endurance athlete to take on 25 events in 2017 in aid of Albion Foundation
– He kicks off his challenge in Edinburgh this Saturday and finishes in Ethiopia in November
– Dave's extraordinary fundraising feats have already seen him run more than 58,000 miles
– He is urging Albion fans to join him in running events, especially the three Birmingham races
He has run the equivalent of two laps of the planet – with 8,000 miles to spare – in a lifetime dedicated to phenomenal fundraising feats.
Yet Black Country legend 'Blind Dave' Heeley shows no sign of running out of steam after visiting his beloved West Bromwich Albion yesterday to launch his latest punishing challenge.
The endurance athlete extraordinaire will mark his 60th year by taking on the Simplyhealth Great Run series' entire 2017 events calendar, in aid of the Albion Foundation, which it is understood will be a world first for a blind pairing.
Dave will kick off the first of 25 gruelling challenges in Baggies skipper Darren Fletcher's city of birth with the relatively gentle Simplyhealth Great Edinburgh Winter Run 5k this Saturday before finishing at the Great Ethiopian Run in November.
As the Simplyhealth Great Run series offers a range of distances across a weekend, Dave and his running guides, Darlaston-born Tony Ellis and Wigan's Garry Wells, will have to run twice on some days.
His toughest leg will come on home turf on October 15 when he attempts the inaugural Birmingham International Marathon AND the Simplyhealth Great Birmingham Run, the country's second largest half-marathon – that's 39.3 miles in one day!
Dave is one of over 5,000 people to have signed up for the Birmingham International Marathon which, some ten months before its debut, has already become the UK's sixth largest 26.2-mile run.
Starting at Alexander Stadium, the marathon will take in iconic city sights like Matthew Boulton College, Selfridges, Edgbaston Cricket Ground and picturesque Cannon Hill Park before finishing at Millennium Point.
In total, Dave will be running two marathons, six half-marathons, two ten-mile events, ten 10ks, one five-mile race and four 5ks – that's more than 230 miles!
"I sat down the other day and calculated that, including training, I've run about 58,000 miles in my lifetime – no wonder I'm always tired!" quipped Dave who averages almost 1,000 miles per year he's been alive.
"I did my 15th Great North Run last year and completing all the Great Run series events in one year is one of these things we've been talking about for about six years, but something kept coming along to stop us.
"But it's all worked out well. With Tony turning 50 this year, Garry 48 and me 60 in November, what a year to attempt it!"
With Dave's long-term sponsors Pertemps pledging to donate £1,000 to the Albion Foundation for every Simplyhealth Great Run completed, each event really is going to count.
Dave was interviewed about his latest challenge pitchside during half-time at Albion's recent 3-1 Premier League victory against Hull at The Hawthorns.
Chris Brunt, who headed the Baggies' equalising goal, said: "It was great to see Dave and send him off on what is another incredible challenge with a win.
"The lengths he goes to to raise funds for the Albion Foundation is inspirational. We'll be right behind him as he progresses through his 25 events."
Dave, who was diagnosed with Retinitas Pigmentosa aged ten and lost his eyesight completely by his 20s, began fundraising for the Albion Foundation in 2015.
He completed the Marathon des Sables, dubbed the 'toughest footrace on earth', in the Sahara desert while not even the Escape From Alcatraz Triathlon could hold him last June.
Dave's motivation this year will be raising as many funds as possible for a new initiative the Albion Foundation – the club's charitable arm he is an ambassador of – aims to launch in 2017 to help people with disabilities into work. Full details will be released in the coming weeks.
Dave, an official torchbearer for the London 2012 Olympics, said: "The Albion Foundation does some marvellous work in the local community and one area that goes from strength to strength is its disability department.
"They are really passionate about helping children and adults with disabilities and learning difficulties, both in playing sport and making the transition from full-time education into work.
"It's a fantastic charity and, being a Baggies fan, this really is a personal challenge."
Dave is urging Baggies fans to help him raise funds by joining him in running some of the 25 events, particularly with three races on their doorstep.
The first opportunity arrives with the Simplyhealth Great Birmingham 10k on April 30, ahead of the Simplyhealth Great Birmingham Run half-marathon and Birmingham International Marathon – both on October 15.
He is delighted to see the introduction of the latter.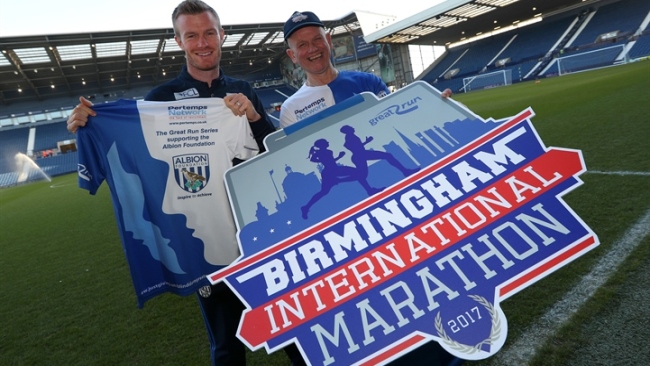 Blind Dave with footballer, Chris Brunt
"It's about time there was a marathon in Birmingham," added Dave, whose greatest achievement was becoming the first, and to date only, blind person to run seven marathons in seven successive days on seven different continents in 2008.
"I've done London, New York and plenty of marathons around the country, but the Second City should also have one.
"For us, we'll run the marathon in the morning, the half in the afternoon and then have a pint at the end. It would be amazing if Albion fans would consider running the events with us.
"The Simplyhealth Great Run series, as a whole, is fantastic. There are events to suit all abilities."
To sponsor Blind Dave, visit: www.justgiving.com/fundraising/blinddavegreatrunseries2017
join Blind Dave at the Simplyhealth Great Birmingham 10k on Sunday, April 30 
Anyone who enters the 10k will receive a £10 discount for either the Simplyhealth Great Birmingham Run or Birmingham International Marathon on Sunday, October 15. Also, all entrants for the Simplyhealth Great Birmingham Run or Birmingham International Marathon will earn a £10 discount for the Simplyhealth Great Birmingham 10k.