Brenda Aims To Walk Final Steps At North Run
A wheelchair-bound woman who was warned by doctors that she may never walk or talk again aims to defy them at this year's Simplyhealth Great North Run by walking the final steps on her own.
Dr Brenda Whittle, from Marske-by-the-Sea in Teesside, was left relying on the use of a wheelchair when she was hit by a virus in 1997.
Brenda had just finished her PhD in Chemistry and had travelled to Canada for work when she became unwell and had to be hospitalised.
The virus had begun to attack her brain, resulting in her being confined to a wheelchair and doctors warned that she may never be able to walk or talk again.
Brenda's life was completely changed as she went from completing her third degree with a bright and promising future to being told that she would have to be a full-time wheelchair user and require constant care.
Brenda's positive attitude to life meant that she spent the next 20 years determined to prove doctors wrong.
She has spent time at Markse Hall care home, ran by Leonard Cheshire Disability, which cares for adults with physical disabilities and decided that she wanted to repay the centre for all of their efforts in supporting her in her recovery.
Over the years, with the help of the centre and her own willpower, Brenda has meant she is now able to talk again, feed herself, do her washing and is beginning to learn how to walk again.
She will take on the Simplyhealth Great North Run this year on Sunday 10 September with a team of supporters to fundraise for physiotherapy and rehabilitation equipment for the residents of Markse Hall.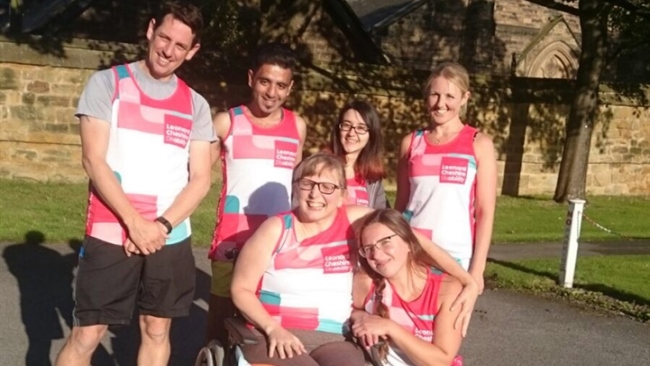 Brenda hopes to raise £5,000 of the £20,000 that is needed to equip the physiotherapy room.
She will be supported by 17 runners who will form Team Brenda, who aim to help her achieve her goal of walking the final ten steps of the world's biggest half marathon.
Brenda's carer Ruth Hebden, who is also the volunteer coordinator at Marske Hall, said: "Brenda is determined to complete the Simplyhealth Great North Run, along with her team of supporters who are assisting her.
"She is a full-time wheelchair user and wants to get up out of it and with assistance and a great deal of gutsy determination, walk the last 10 steps and complete the half marathon herself.
"This will be a massive challenge for her but I have known Brenda for the last 10 years and I have every confidence that this is a challenge she will rise to.
"Brenda had a very bright and promising future in 1997 after just completing her third degree.
"It was a huge shock when she became so unwell that the specialist warned her parents that she may never walk or talk again.
"I think everyone had underestimated the sheer fortitude of Brenda as over the years, she has made so much progress with herself.
"I am in awe of Brenda's spirit and passion for life and I am honoured to be able to support her during the Simplyhealth Great North Run."
Team Brenda's fundraising is named 'Many Steps For Next Steps' as the name of the new centre is to be called Next Steps.
Team Brenda consists of a group of novice runners from Markse Hall who are all taking on their first half marathon this weekend.
They will join 57,000 others who make the 13.1 mile journey from Newcastle to South Shields every year, crossing the iconic Tyne Bridge and experiencing spectator support like no other.
The event is also broadcast live on BBC One from 9.30am – 1.30pm.
Ruth added: "All of Team Brenda have put their heart and souls into this challenge, even though most of us probably couldn't run for a bus before we started training.
"Any effort we have made is insignificant in comparison to the sheer determination that it has taken Brenda to get to this point. "Even though she has started to achieve tasks independently, her first want is to make sure the residents of Marske Hall have the opportunity to achieve the same."
To support Team Brenda's fundraising, click here.
For more information about the Simplyhealth Great North Run, visit: Greatrun.org/North