Charlie Signs Up To Junior Manchester Run After Leg Op
Entries for the Simplyhealth Junior and Mini Great Manchester Run are open. Enter at: Greatrun.org/Manchester
A youngster is set to take on a running challenge despite undergoing two major operations on his legs to thank the hospital that supported him during his recovery.
Charlie Idiens, from Rochdale in Greater Manchester, suffered a slipped upper femur in one leg in April 2017, and a second in November, meaning that he had to undergo two large operations on his legs to repair them.
Two 10cm pins were inserted from his femur to his hip and he was not able to walk for over two months, being confined to a wheelchair and crutches.
The condition, slipped upper femoral epiphysis, affects pre-teens and causes extreme pain and instability.
Charlie, 12, had just secured a part in his local pantomime and was devastated to have to miss out on the opportunity, but he became determined to return to good health and his love of sports.
After undergoing both operations at the Royal Manchester Children's Hospital, Charlie decided that he wanted to fundraise for their charity to thank them for the efforts they had made in helping him in his recovery.
He decided to sign up to the Simplyhealth Junior and Mini Great Manchester Run on Sunday 20 May to fundraise for the Royal Manchester Children's Hospital Charity.
Charlie's mum Donna said: "Although going through two difficult operations, Charlie is a really positive boy and decided that although he has pins in both his legs, there should be no stopping him in terms of what he can do.
"He is still in recovery and has just been given the all clear to start walking, so when he saw the Simplyhealth Junior and Mini Great Manchester Run, he has made it his ambition to walk, jog but he wants to try to run it.
"He is working with a physio who believes it's a brilliant goal to set himself. "Last year Charlie went through two operations on his legs and it was a big shock for him at such a young age as he wasn't able to stand on his own two feet for months.
"It means that he needs to slowly build up to exercise. He lost his place in a pantomime as he couldn't complete the dances and routines in a wheelchair or on crutches.
"Despite all this he is a very positive person and his recovery has been so seamless thanks to the Royal Manchester Children's Hospital, where he received treatment."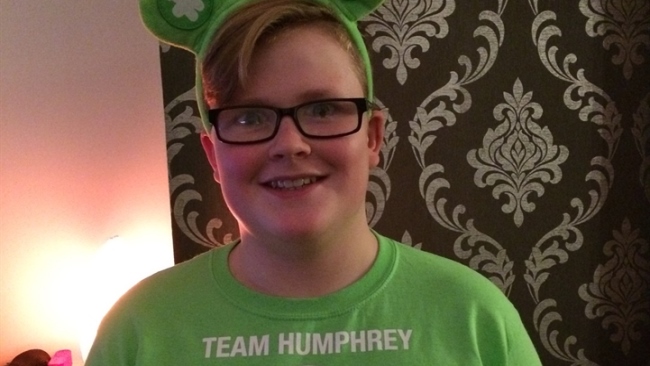 Charlie will join over 1,000 other children who will descend on the streets of Manchester city centre for the Simplyhealth Junior and Mini Great Manchester Run.
Children from ages 3-15 can be part of a day of running in the city like no other, when Manchester runs together. Charlie hopes to follow in the footsteps of his father Sheridan, who took on the Great Manchester Run ten years ago for the same charity.
Donna added: "Charlie wants to raise funds to say thank you to the hospital for all of the great care and help that they have given him over the past year.
"He also wants to show people that you should never give up on your goals. His Dad took part in the 10k event 10 years ago in 2007 for the same charity and we cannot speak highly or commend the staff at the hospital enough.
"Hopefully his fundraising will help future patients and is a small part of saying a big thank you."
Support Charlie's fundraising here.
Entries for the Simplyhealth Junior and Mini Great Manchester Run are open. Enter at: Greatrun.org/Manchester