Charlotte'S Run After Losing Parents To Brain Tumours
Entries for the Simplyhealth Great South Run are open. Enter at: Greatrun.org/South
A woman who tragically lost both of her parents to the same aggressive brain tumour has embarked on a huge fundraising challenge for charity to raise awareness about the condition.
Charlotte Venables, from Gurnard on the Isle of Wight, lost her father Mike to a Gliobastoma brain tumour in 1998.
Mike was diagnosed with the condition after he suffered a loss of peripheral vision while driving.
After an invasive operation to remove the tumour was unsuccessful as the tumour returned, there was no further treatment available for Mike.
Two months after his diagnosis, Mike sadly passed away at just 56-years-old, leaving his family devastated.
Charlotte saw first hand how gruelling the surgery was and the effect that it had upon her father and was dealt a cruel blow 15 years later when her mum Jenny was diagnosed with the same illness.
Brave Jenny had also witnessed what her husband had gone through and decided against any treatment, wanting to make the most of her time with her family.
After a courageous battle against the disease, Jenny passed away in February 2014.
Having to deal with the effects of losing both parents to the same condition had a huge impact on Charlotte's grief, but she vowed to turn the negative into a positive.
After researching charities, Charlotte discovered that there were many other people in her position and decided to dedicate her time to fundraising for Brain Tumour Research.
She has since raised over £8,000 for the charity and will continue her fundraising efforts by taking on the Simplyhealth Great South Run when it returns to Portsmouth on Sunday 22 October.
Charlotte, 43, said: "In 1998 my world was turned upside down when my Dad was diagnosed with an aggressive brain tumour.
"Despite undergoing horrific brain surgery, he died just two months after his diagnosis which was very hard to take.
"I found it difficult to cope with losing my Dad but then in 2013, the unthinkable happened when Mum collapsed.
"She was diagnosed with the same aggressive tumour and she was just 67.
"We were all scared for the future, having seen what Dad had gone through and we could not believe that this was happening to us again.
"Mum bravely refused any invasive treatment, knowing there was no cure, as she wanted to make the most of her time left. "She received palliative care through the three months that she was still with us.
"She saw in my 40th birthday and Christmas that year, before passing away in 2014.
"Having seen both of my parents die of the same disease, I realised there had been no advance in treatment or survival rate during that time so I decided that I wanted to play my part in hopefully changing that by supporting Brain Tumour Research."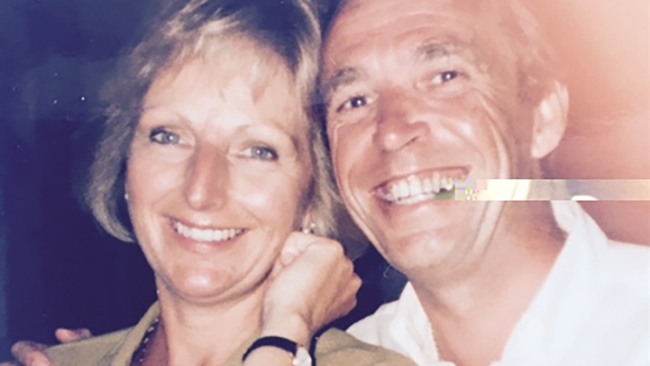 Charlotte will join over 20,000 runners for the Simplyhealth Great South Run, which takes place on the weekend of the 21 and 22 October.
The event is the world's leading 10 mile run and features a fast and flat course which grants runners exclusive access through the Portsmouth Historic Dockyard, home to HMS Victory.
Runners then cross the finish line on the scenic sea front with beautiful views of the Isle of Wight.
Charlotte, who is a mum of two, added: "When both of my parents were battling the disease and also when we were grieving, we didn't have any emotional support.
"I decided I wanted to make a difference and when I researched charities to support, I came across Brain Tumour Research.
"It shocked me how many people are affected by this disease every single day and it made us realise we weren't alone.
"It's now nice to be able to have a support network and although the treatment has not advanced in the years, the support and advice definitely has.
"I ran the London Marathon for the charity this year and by taking on events like the Simplyhealth Great South Run, I hope to increase awareness about the need for more research into this disease."
Support Charlotte's fundraising here.
Entries for the Simplyhealth Great South Run are open. Enter at: Greatrun.org/South