Cheryl Aims For South Run After Breast Cancer Battle
To enter the Simplyhealth Great South Run, visit: Greatrun.org/South
A woman who had to delay taking part in the Simplyhealth Great South Run due to undergoing treatment for stage three breast cancer is set to take on the 10 mile challenge this year with her family.
Cheryl Skedgel-Hill, from Gosport, wanted to take part in the event in 2018 but doctors found a malignant tumour when she went to a routine mammogram appointment in March last year.
The news came as a huge shcok to Cheryl, who had planned to take on the Simplyhealth Great South Run with her family that October.
She underwent surgery to remove the tumour a week later and started chemotherapy sessions on her birthday in May. Because of the intensive treatment, Cheryl watched her family take part in the event this year, but was devastated that she would not join them on the start line.
She made it her mission to remain strong and focused and to complete the 2019 event for herself and for breast cancer awareness.
Following chemotherapy and radiotherapy sessions, Cheryl began training for the event by walking an hour each day before progressing onto running.
She will join her brother Stephen at the event this year when it returns to Portsmouth for its 30th anniversary on Sunday 20 October.
Cheryl, 55, said: "I wanted to take part in the Simplyhealth Great South Run last year but I was undergoing treatment for stage 3 breast cancer.
"Doctors found a malignant tumour during a mammogram check on the week that I was due to start a new job in Portsmouth.
"The news was a shock to me as they– they were 100% sure it was a malignant tumour. I embarked on the journey that I hadn't really anticipated going on.
"One week later I had the tumour removed and lymph node check. The good news was that the nodes were clear, but the bad news was I had grade 3 which is the fastest growing, most likely to return type.
"I started chemotherapy on my birthday. I lost all of my hair but I tried to remain strong. The loss of hair on my eyebrows and lashes was the hardest to take but I never wanted to let my children see me cry as a mother you don't want to be a burden on them.
"I was upset as I had arranged to do the Simplyhealth Great South Run with my siblings – I had watched one of my brothers complete it in 2017 and dared another family member , this then went on to include two more brothers and my sister-in-law. Now I knew I would have to sit on the side lines.
"I finished radiotherapy a week after the event last year and I made a decision that day that I would do the run in 2019.
"I wanted to take back control and to feel strong and empowered. I longed to have a sense of achievement that within a year of completing cancer treatment I was running in events at my age."
Cheryl's ambitious goal has also inspired her other family members to take part and she hopes to run a marathon this year.
She is a firm believer that exercise has helped her to maintain a positive mental attitude during her treatment and hopes to inspire others living with cancer through her journey.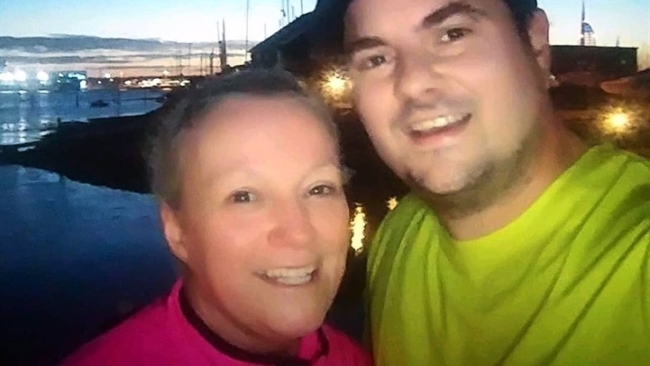 She will join 20,000 others for the Simplyhealth Great South Run who will take a fast and flat 10 mile tour of Portsmouth, passing the likes of Spinnaker Tower and having special access to run through Portsmouth Historic Dockyard before crossing the finish line on the sea front.
Cheryl, who works at Portsmouth Job Centre and has continued to do so part-time during her treatment, added: "I have started training and cant tell you how amazing it feels to tell people about my progress and how they have told me they are inspired to get fit and start running!
"I'm doing this for me because I can and because I have a choice! I won't take for granted that I do have choices I can make and being healthy and fitter is one that I want to do. I'm sure that having this goal has helped with days when I've felt a bit down.
"At the moment I am coping with my hair growing back and I can definitely run, albeit slowly!"
To enter the Simplyhealth Great South Run, visit: Greatrun.org/South