City Landmarks In The Spotlight For Birmingham 10K
From Bennetts Hill to the Bullring Bull, some of Birmingham's most famous landmarks took centre stage at this year's Simplyhealth Great Birmingham 10K.
Featuring a new route that took thousands of runners and walkers through the historic heart of Birmingham for the first time, the 10K was a Bank Holiday weekend celebration of the city in perfect running weather conditions.
In another first for the Great Birmingham 10K, there were two start lines – both on Colmore Row either side of its junction with Bennetts Hill. Depending on which side of Colmore Row participants started they assembled near Victoria Square or Birmingham Cathedral.
Runners were greeted with a grandstand finish – and that all-important finisher's medal and goodie bag – on the Aston University Campus where hundreds of cheering spectators were waiting to welcome them home.
Honorary starters Anu Saha, Hayley Carruthers and legendary running coach Bud Baldaro received a heroes' welcome on the Colmore Row start lines as they waved off the 7,000 runners with air horns and high-fives.
Anu spent the first 17 months of her life in hospital after she was born with her umbilical cord wrapped tightly around her leg, cutting off the blood's circulation. Sadly, her leg could not be saved but thanks to a unique pink prosthetic sports blade purpose-made by the West Midlands Rehabilitation Centre in Selly Oak she is now able to run and play with family and friends.
Queen Elizabeth Hospital radiographer Hayley collapsed during the London Marathon and had to crawl over the finish line on her hands and knees. Footage of her gutsy performance was shared around the world during live TV coverage of the event.
Among the famous faces taking on the 10K were World, European and Commonwealth medal-winning runner Jo Pavey, who won the 10,000m gold medal at the 2014 European Championships in Zürich, 11 months after giving birth to her second child.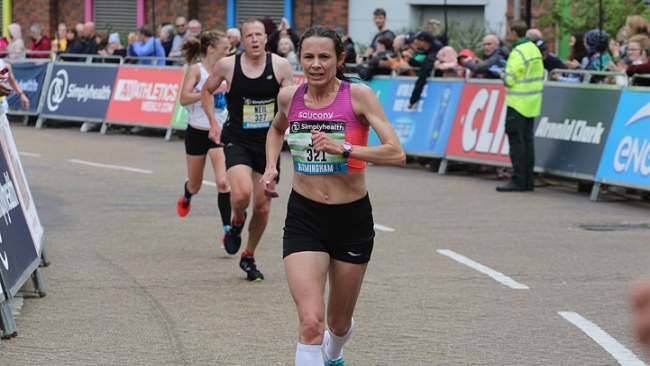 As she works her way back to full fitness, Jo is hoping for a record-equalling sixth Olympic Games next year, when she will be 46. That would match javelin thrower Tessa Sanderson's six Olympic appearances by a British track and field athlete.
Despite picking up an injury during the 10K Jo still managed a respectable third-place among the female runners with a time of 00:36:50.
First male finisher was Notts Athletic Club runner Douglas Musson with a time of 00:30:22. First female finisher was Birchfield Harrier Chloe Richardson in a time of 00:34:56.
Staff from Birmingham Women's and Children's NHS Foundation Trust were among those taking part in the Simplyhealth Great Birmingham 10K as part of #TeamBWC.
To help promote staff health and wellbeing, this is the first time doctors, nurses and surgeons from across Birmingham Women's and Children's NHS Foundation Trust came together as one united team to walk, jog or run.
The corporate world once again played its part in the 10K with office teams competing in the ENGIE Business Challenge.
Companies battled it out for fastest-time trophies with the accumulated times of the first four runners in each team added up to decide the winners. They will get the chance to do the same in October's Great Birmingham Run, which also features the ENGIE Business Challenge.
Among the big businesses showing their commitment to local good causes at this year's 10K was the Birmingham office of PwC.
The financial services giant had over 200 runners taking part, many of these on behalf of grassroots Birmingham charity, LoveBrum, which aims to support projects working to overcome the challenges Birmingham is facing, particularly those tackling homelessness and the poverty gap.
David Hart, Partnerships Director for the Great Run Company, organisers of the annual 10K, praised the thousands who were up for the 10K challenge, many for the first time in the Walking Wave.
"Once again Brum runners and walkers came out in their thousands to take part in the Simplyhealth Great Birmingham 10K, raising thousands for charity or hitting personal activity goals.
"Our thanks go out to all our local partners including Birmingham City Council and Retail BID Birmingham for their help planning this event and we look forward to working together to create a bigger and better Simplyhealth Great Birmingham Run half marathon in October."
Anyone who entered the Simplyhealth Great Birmingham 10K will receive £10 off their entry fee for the Simplyhealth Great Birmingham Run half marathon, which takes place on Sunday, October 13, 2019. Sign up now at greatrun.org/great-birmingham-run