Dad Runs Bristol Half For Premature Twin Sons
Entries for the Simplyhealth Great Bristol Half Marathon are now open. Enter at: Greatrun.org/Bristol
A Dad will take on a half marathon challenge this Autumn to raise funds for the unit that supported his baby twins when they were born prematurely due to early intervention for a life threatening condition.
Dan and Sadie Ryan, from Locking in Weston-Super-Mare, were left shocked when a scan revealed that their baby twins had been diagnosed with twin to twin transfusion syndrome when Sadie was 16 weeks pregnant.
The condition means that identical twins Charlie and James, who shared a placenta, had an unequal blood flow between them. As a result, one baby received less blood, while transferring more into the other twin in the form of a blood transfusion, meaning their lives were in danger.
The twins had immediate surgery in the womb, involving a laser to attempt to close the vessels that were connecting them.
This was a high risk operation and Dan and Sadie were told that their survival chances would be touch and go.
The laser surgery was successful, however the twins development had to be monitored weekly, for the weeks after the surgery in case or reoccurrence.
Charlie and James were delivered by emergency C section prematurely at 32 weeks weighing 2.8lbs and 3.5lbs at St Michaels Hospital in Bristol in November 2016.
James spent four weeks at the neo-natal intensive care units in Gwent Hospital, Newport and St Michaels Hospital to make sure he was at full strength before being allowed home on Boxing Day.
Charlie was in the intensive care unit for eight weeks as he suffered a perforated bowel and underwent further lifesaving surgery at one day old in at the Children's Hospital in Bristol.
Thankfully, the twins are now thriving at seven months old and Dad Dan wanted to look for a way to repay the Cots for Tots charity, who supported the family while Charlie and James were in hospital.
He decided to sign up for the Simplyhealth Great Bristol Half Marathon, which takes place on Sunday 17 September.
Dan, 32, said: "Last August, when my wife was 16 weeks pregnant, we went for a routine scan as we knew we were expecting twins and so we were monitored more closely.
"That's when we were told that the babies had twin to twin transfusion syndrome. This is a very dangerous and acute condition with a very low survival rate the chances of this occurring were less than 10%, so we were very unlucky.
"One of the twins was transferring blood to the other so it was very dangerous for both of them and if we did not opt to have the surgery, they would not have survived.
"The surgery itself to sever the blood flow was difficult and we were told there was also a low chance of this working.
"Thankfully, both twins pulled through and were monitored until they were born prematurely at 32 weeks.
"We weren't out of the woods as Charlie was born with a blocked bowl which subsequently perforated and so had a longer stay in hospital than his brother.
"In total, he spent eight weeks there including intensive care but we were relieved when we could finally bring them both home."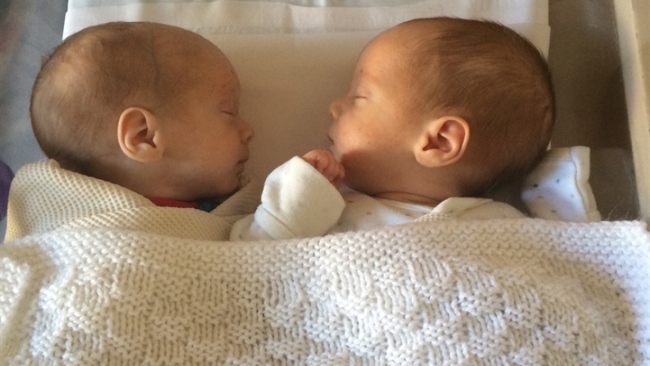 Dan will join 10,500 runners for the Simplyhealth Great Bristol Half Marathon on a scenic route that makes the most of the city's picturesque backdrop.
The city centre run has become a long-held tradition in the sporting calendar, starting and finishing in Bristol's historic harbourside.
The sea-level route takes runners along the stunning Avon Gorge, passing under the iconic Clifton Suspension Bridge twice before returning to the city centre.
Dan will be raising money for Cots for Tots, who provide free accommodation a close to the hospital, for the family whilst James and Charlie spent time at the Special Care Baby Unit in Bristol.
He also hopes to raise awareness and help fund research into twin to twin transfusion syndrome with the charity TAMBA, as little is known about the condition.
Dan added: "Through a lot of the pregnancy, we were told to expect the worst as the outcome was not very positive for the twins, so we know that there are a lot of people who end up in a terrible situation.
"It's important that we try and raise money to support other families who are going through something similar.
"We were offered the chance at surgery which is a relatively new thing for the condition, so it would be nice to be able to play a part in allowing more babies to benefit from this."
Support Dan's fundraising here.
Entries for the Simplyhealth Great Bristol Half Marathon are now open. Enter at: Greatrun.org/Bristol