Dad'S Great South Run To 'Keep Daisy Smiling'
Entries for the Simplyhealth Great South Run are open. Enter at: Greatrun.org/South
The Dad of a four-year-old who is battling cancer is to take on a 10 mile running challenge to raise funds for charity after a campaign that was set up to support her and keep her smiling.
Daisy Wigginton, from Bracklesham in Sussex, was diagnosed with cancer in her right lung at the age of three last December.
The shock diagnosis completely rocked her parents Darren and Ria, who had taken Daisy to hospital after she had breathing problems after reoccurring chest infections.
Scans revealed that Daisy had Lymphoblastic Lymphoma and the cancer had also spread to her kidneys and spine.
Darren and Ria, who also have two other children, Primrose, six, and 11 month old Willow, were forced to move out of their home into St Richard's Hospital in Chichester, while Daisy underwent intense treatment.
Ria was on maternity leave and Darren was self employed and had to put his business on hold while giving his full support to his daughter.
They spent seven weeks in hospital and during this time, their local community rallied round them and began to raise money to support the family and to help create positive memories for Daisy.
From this, the online campaign Keep Daisy Smiling was born, where the family launched a platform where people could show their support for Daisy and help contribute towards their total.
Now Daisy is back at home and going through the final stage of her treatment plan, Darren is taking on the Simplyhealth Great South Run to raise funds for Children with Cancer UK, a cause that is now closer to his heart than ever.
Darren, 44, said: "As like all families, we want our children to stay safe and stay well and our family was like that until Daisy started to get chest infections, this went on for a good few weeks.
"After she had breathing problems we took her to St Richard's Hospital where a doctor ordered a scan for her. This revealed that Daisy had a huge tumour in the right lung and the cancer had spread to her Kidneys and her spline.
"We were all completely shocked by the devastating news that our daughter had cancer. It was horrendous, we spent Christmas in hospital, Daisy's 4th birthday in hospital and a further seven weeks there.
"The diagnosis really hit us hard. I was self employed, just starting up a new business of my own and I gave everything up and focus on Daisy. Ria was on maternity leave and we started to really struggle financially.
"We come from a very small village community, people started to here about Daisy and wanted to fundraise for us as a family and support Daisy which was unbelievable.
"This is where Keep Daisy Smiling came from as we wanted to create an online page that could be used as a place for showing support and also to let people know how Daisy was getting on.
"We also now use the page to channel my own fundraising and take on challenges and support all the wonderful organisations that have helped us so far on our journey.
"I have ran a marathon in the past but I always wanted to run again and now I have a very real reason for doing so.
"Taking part in the Simplyhealth Great South Run will be so exciting as it is a massive event which gives me even more determination to complete it."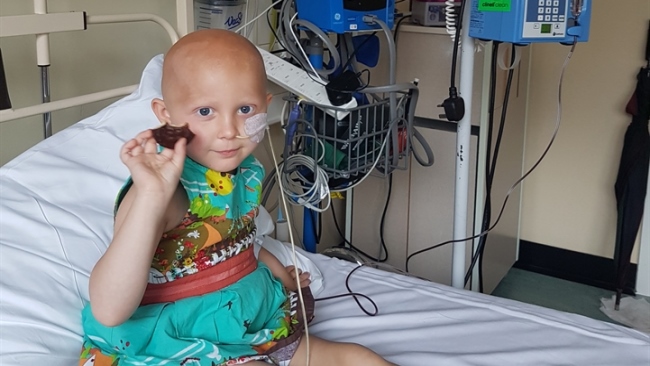 Darren will join over 20,000 others for the Simplyhealth Great South Run on Sunday 21 October.
The world's leading 10 mile running event features a fast and flat course, which gives participants the unique opportunity to run through Portsmouth Historic Dockyard, home to HMS Victory and the Mary Rose.
Now that Daisy is making positive progress with her treatment, Darren hopes that her strength will give him the motivation he needs to complete the 10-mile run.
Daisy and her sister Primrose will also take on the Simplyhealth Junior and Mini Great South Run, which takes place the day before on Southsea common with over 2,000 kids.
He added: "In terms of the cancer, things are looking really positive. "Daisy has just entered her final stage of the treatment process called maintenance.
"This involves small daily doses of chemotherapy given orally by ourselves with weekly visits from community nurses to take bloods, this process will continue for a year and then at that point treatment stops.
"Daisy did start school but has spent time off due to illness caused by having a low immune system.
"Just being able to get into a steady day to day rhythm proves challenging but you learn to deal with life's changes.
"The main thing is that Daisy is responding well, life is moving forward and I can start to give back."
Visit Keep Daisy Smiling at: Facebook.com/KeepDaisySmiling
Support Darren's fundraising here.
Entries for the Simplyhealth Great South Run are open. Enter at: Greatrun.org/South