Dibaba And Bekele Rule The Roost In Manchester
ETHIOPIA'S triple Olympic champions Kenenisa Bekele and Tirunesh Dibaba were once again victorious in the Great Manchester Run today.
Two of the greatest distance runners in history showed their true class in a repeat of the 2014 result to take the wins in the men's and women's races respectively.
For Bekele the victory was bittersweet with the 33-year-old having learned he had missed out on selection for the 2016 Rio Olympics, but he did his talking on the roads of Manchester to finish in 28.08 ahead of Wilson Kipsang in 28.15, with David McNeill third in 28.39 after the hotly-tipped Zane Robertson fell away to finish fourth.
Bekele, taking his second victory in the IAAF Gold Label event, plans to compete again in the North-West with a view to attempting to match Haile Gebrselassie's domination of the event.
The Ethiopian legend won five times in Manchester before taking part in his final event last May and Bekele, who beat Haile in the 2013 Great North Run, hopes to be crossing the finishing line on Deansgate a winner once again.
"It's great to be here in Manchester, it's a great place with great people," said Bekele. "Everything was fantastic and I'm happy to be here. It was a great race and I'm happy with the win.
"If I get the chance I'll come back here for sure. I always enjoy it in Manchester. It's a fantastic race."
Dibaba, meanwhile, picked up where she left off after taking time off to have a baby – her victory from Edna Kiplagat coming in her first race since 2014.
The 30-year-old's winning time of 31.16 could not be bettered by Kenyan Kiplagat nine seconds behind, with Diane Nukuri third in 31.49.
Dibaba, who took her third Great Manchester Run win, said: "I felt a bit nervous [before the race] but I'm happy with my result.
"I did not expect this time; I just wanted to win. I didn't know what was going to happen so I had no clue about the time."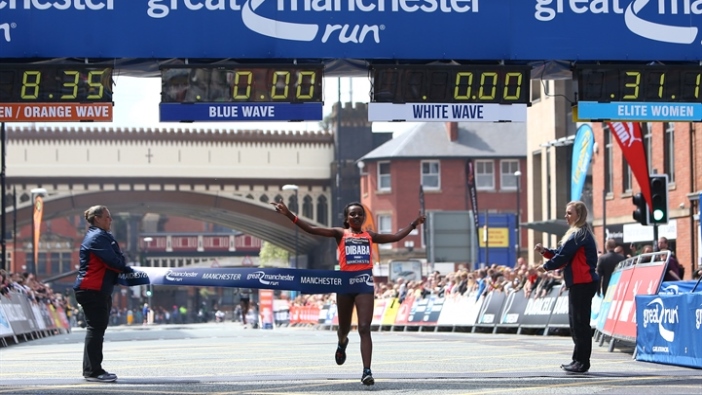 In the men's race, the lead pack of Robertson, Bekele and Robertson was joined by Richard Goodman in a surprising development in the early stages of the race, the Shaftesbury Barnet 25-year-old keeping the pace before slipping away from the frontrunners.
Meanwhile Robertson, the New Zealand record holder over 10km, was expected to challenge Kipsang and Bekele and was doing just that until the 6k mark where he began to struggle, leaving the two favourites to battle it out.
Kipsang and Bekele went through 8km in 22.40 with Robertson 12 seconds behind, before Bekele stretched his legs and eased ahead of Kipsang to take the victory.
Robertson dropped down to fourth as David McNeill took full advantage to finish third.
The women's race was always going to be about Dibaba and Kiplagat – with the Kenyan former world marathon champion seeking her first Great Manchester Run victory.
The pair stretched away at the halfway mark from Nukuri – who had taken an early lead – and shared the lead going through 8KM at 25.03.
But Dibaba, showing no signs of any rustiness, eased clear of Kiplagat with 800m to go.
Dibaba plans to take part in a 10,000m on the track following Manchester in order to achieve the qualifying time for Rio, and said: "I don't know exactly where or when I will be running but I expect to run it within a month.
"The federation is going to select the team according to time. The best three times will be selected."
Britain's Gemma Steel, still not fully fit following a chest infection and ankle injury, finished 20 seconds from fourth-placed Dominika Napieraj in 32.43 to take eighth place.
Steel, who is awaiting selection for the GB squad for the European Championships where she aims to contest the half-marathon, was pleased with her performance on the day.
"It was good to blow away the cobwebs and be back in a competitive environment again," said Steel. "I'm getting there.
"I just need to get as fit as I can. You can't do anything about injuries. I am happy today because I was 20 seconds away from the fourth-placed finisher and that shows I'm getting there."
In the men's wheelchair race, Simon Lawson took the victory in 21.20, ahead of Brett Crossley in 24.15 and Matthew Clarke in 25.21.
Lawson, runner-up in Manchester in 2015, said: "It's good to get the win this year after finishing second last year, so I'm happy with that. It was a quick time as well so all the better.
"I need to qualify for the Paralympics and I've been getting some good marathon times, so the preparation is going very well.
"The conditions were perfect today, nice and sunny, no wind, you can't ask for anything more."
Shelly Woods won her second Great Manchester Run in a row – and her third of all-time – in 25.21, but was pushed all the way by British compatriot Jade Jones in 25.35.
Woods was happy with the resistance shown by Jones – which she felt pushed her on to a faster time.
"It was a good race," said Woods. "I was pushed for the first 7K and then I managed to get away for the last 3k and hold it. Jade's strong, she's on the way up, so she's doing well. It pushes you on.
"It's always good to beat good competition and I was happy to win here knowing how strong she is, it's a Paralympic year and I'm feeling strong and fast."