Dog Lover To Run Bristol For French Bulldog Sanctuary
Entries for the Simplyhealth Great Bristol Half Marathon and the Simplyhealth Great Bristol 10k are open. Enter at: Greatrun.org/Bristol
A woman who set up her own charity to help rehome French Bulldogs after her own dog died of a genetic condition due to illegal breeding will take on a running challenge to raise funds for the sanctuary.
Jess Delanghe, from Bristol, tragically lost her pet French Bulldog Bronson after she found out he had epilepsy and had been bred illegally.
She had bought Bronson as a puppy from a seller in London and did not realise that he had a genetic deformity until she took him to a routine vet check-up.
During the difficult times with Bronson, she was supported by a rescue service, who helped her with important information and advice while she was learning about his condition.
After she lost her dog, Jess decided to set up her own charity to help other French Bulldogs, called Phoenix French Bulldog Rescue.
The charity helps to rehabilitate and rehome French bulldogs that are either unwanted, suffering from illness or being sold unscrupulously.
The charity is run entirely by volunteers and wants to raise awareness and to educate people on the importance of saving breeds like French Bulldogs.
Jess hopes to raise money for the Phoenix French Bulldog Rescue when she takes on the Simplyhealth Great Bristol Half Marathon on Sunday 17 September.
Jess, who also has a one-year-old French Bulldog called Pippa, said: "I bought Bronson two years ago from a breeder in London and then as our time together went on, I found out he had a number of genetic deformities.
"He ended up passing away due to epilepsy and I was told it was due to him being bred incorrectly. I received a lot of support from the rescue and decided I wanted to give something back.
"I set up the charity to help rehome dogs that are either abandoned or that the owners no longer want and find them a suitable home.
"We have Facebook alert pages to get more people interested and a lot of members of the public inform us through this method if they find a French Bulldog in the area.
"In just two months we have rescued 21 dogs and managed to give them loving homes."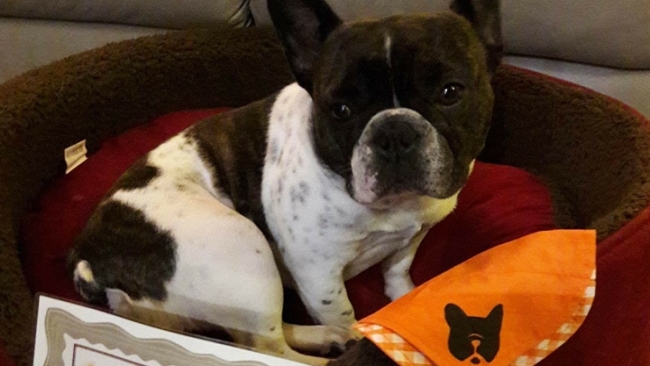 Jess will join over 10,000 others at the Simplyhealth Great Bristol Half Marathon, which features a picturesque tour of the city.
Runners pass along the Avon Gorge before going under the Clifton Suspension Bridge twice and returning into the city centre to cross the finish line.
The Simplyhealth Great Bristol 10k, that takes place on Sunday 7 May, is the perfect training run for the half marathon, with 16 per cent of finishers going on to take part in the event in Autumn.
Jess, who works in IT Pharmacy company, added: "All of the rescue dogs are picked up and transferred to a foster home and assessed.
"After any medical assessments have taken place by vets they are then adopted by loving homes.
"The charity is completely not-for-profit and so relies on donations and I thought what better way than to take on a challenge like a half marathon to support the funds and raise awareness.
"The challenge gets me out running and allows me to spend quality time outside with my dog.
"It's a great social activity too because I have met so many new dog owners while out running with Pippa and it's amazing how many owners of French Bulldogs actually enjoy running."
To support the Phoenix French Bulldog Rescue, visit their Facebook page.
Entries for the Simplyhealth Great Bristol Half Marathon and the Simplyhealth Great Bristol 10k are open. Enter at: Greatrun.org/Bristol