Ella Running To Recovery After Hole In Skull Op
Entries for the Simplyhealth Junior and Mini Great Manchester Run are open. Enter at: Greatrun.org/Manchester
A young girl who was left with a hole in her skull after suffering from chronic sinusitis will take on a running challenge for the hospital that helped treat her in her recovery.
Ella Travis, from Hindley in Wigan, Greater Manchester, spent a month in hospital in December 2015 after scans revealed she had developed a hole in her skull.
Ten-year-old Ella had developed chronic sinusitis and the area around her sinuses had become so inflamed that they pushed against her skull and ate away at it.
After taking ill at home and going through MRI scans, doctors told her mum Andrea that the infection has spread up into her brain and that had begun to attack her skull.
Ella underwent a long operation at the Royal Manchester Children's Hospital to reduce the infection and to repair her skull.
Doctors drained most of the infection through a hole near her eyebrow and then treated the rest with a strong antibiotic.
Ella's left eye was damaged in the process and she now has double vision, but Andrea says that is a small price to pay for her life.
During her time at the hospital, Ella met many sick children who were in a worse position than her and wanted to give something back to the hospital that helped her and many children like her.
She decided to take on the Simplyhealth Junior and Mini Great Manchester Run that takes place in Manchester city centre on Sunday 28 May to support the hospital now she is on the road to recovery.
Andrea said: "Around Christmas time, Ella started complaining of headaches. We took her to the doctors but we were told a couple of times that she was suffering from a migraine.
"After her condition worsened and her temperature soared, I decided to take her to A&E at our local hospital in Wigan.
"After going through a couple of scans, doctors thought that she had meningitis at first until they discovered something like an air pocket close to her brain.
"The results of the MRI scan showed that she actually had a hole on her skull and she was transferred to the Royal Manchester Children's Hospital.
"Ella underwent theatre to drain the infection through a hole near her eyebrow. We were told this had happened due to a severe form of sinusitis where the infection had spread upwards towards her brain.
"If we had not caught it quickly it could have been far worse. To be told something like that is something you cannot prepare for and looking back, I think the whole family were on autopilot.
"Finally Ella was allowed out of hospital in January but while she was in there, she was very upset seeing a lot of children in a worse position than her.
"It really got to her and it made her want to give something back to help the hospital."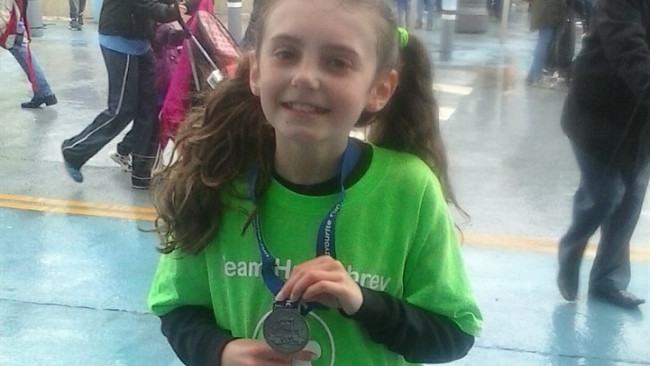 Ella will take on the Junior run at Manchester's biggest children's running event when it comes to a brand new city centre location this spring.
Over 2,000 children are expected to take to the city's streets where they can run, jog or walk for fitness, fun and fundraising.
The event is part of a packed weekend of sport which also includes the Simplyhealth Great Manchester Run, which features the traditional 10k distance and a brand new half marathon.
The Simplyhealth Junior and Mini Great Manchester Run is perfect for children whose parents are taking on the 10k, who can watch their children take on the 1.5k and 2.5k courses before running their event.
Ella, who is a keen runner, will take on the event for the second time in the hope of beating her position last year and raising money for a worthy cause.
Andrea, who is a full time mum, added: "Ella still suffers from small headaches and cannot move her left eye, meaning she has double vision, but that is a small price to pay for having her here with us.
"There were times when Ella could not get out of bed and so the staff at the hospital brought toys and activities to her. In time she was able to get up and go to the play rooms but she was very aware there were children who could not.
"It really upset her and she decided that she would like to support the hospital in some way, as she still visits as an outpatient for check ups.
"Ella loved the event last year and it is the perfect opportunity for her to get back into sport now she is feeling better.
"Hopefully she can raise a lot of money and get support and make everyone at the hospital proud of her."
Entries for the Simplyhealth Junior and Mini Great Manchester Run are open. Enter at: Greatrun.org/Manchester