Ella To End 10K Challenge In Manchester With Friends
For more information about the Simplyhealth Junior and Mini Great Manchester Run, visit: Greatrun.org/Manchester
Super-fundraiser Ella Chadwick will be joined by a group of her friends as she completes her challenge to run 10k in kids' events at the Simplyhealth Great Manchester Run weekend.
The brave ten-year-old, from Whitworth in Rochdale, has spent the last year running multiple Great Run children's events as part of her tenth birthday.
She decided to mark ten years of being treated at Royal Manchester Children's Hospital, who have cared for her since she was a baby.
Ella survived 40 gruelling operations in the first six years of her life before having a lifesaving kidney donated from her grandmother.
She has been a patient there all of her life after she was born with Congenital Nephrotic Syndrome, a rare illness which causes kidney failure.
She was forced to have both of her kidneys removed and up until her life-saving transplant; she faced multiple hospital trips for dialysis each week.
Even after her transplant in May 2014, Ella suffered from mobility problems and had to learn how to support herself on her feet. But she has never let that stop her and she kicked off a full year fundraising challenge in September, which will come to a close at the Simplyhealth Junior and Mini Great Manchester Run on Sunday 20 May.
This year, she has recruited five of her friends to take part in the final 1.5km with her on Portland Street in Manchester. Among them is 15-year-old Freya Tyndall, from Huddersfield, who has dwarfism.
Like Ella, Freya's mobility is limited, and she struggles to walk long distances but is determined to take part in the event to raise money for Royal Manchester Children's Hospital Charity.
They will also be joined by Elliott Browne, from Congleton, Savanna and Rihanna Bentham from Rochdale and Lucy Kilduff from Heywood Elliott has also been a patient at Royal Manchester Children's Hospital as she has a brain tumour and is visually impaired.
She took part in the event two years ago while undergoing chemotherapy and is set to return this year as part of Ella's team.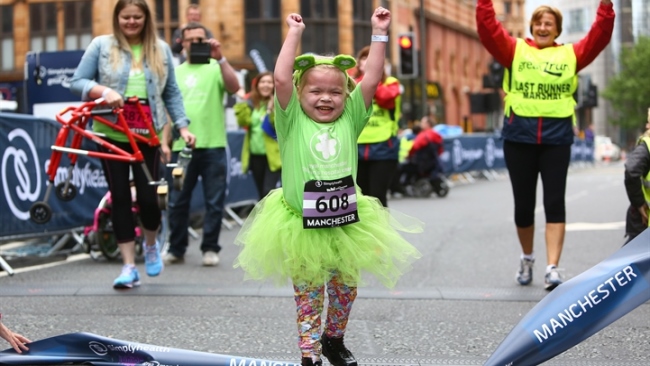 Ella's mum Karen, 36, said: "Ella loves taking part in the running events and having her friends join her at her home event is the perfect way to round off her 10k challenge.
"She is really excited and happy that some of her friends are going to help the poorly children who she sees at the hospital a lot of the time.
"Ella knows it will be a challenge for some of her friends but she knows herself to keep positive and she hopes that she'll be able to encourage them to keep going – in her words even when their legs hurt!
"It's hard to put into words what the Royal Manchester Children's Hospital have done for us. They have been Ella's lifeline since she was born and she will need them when she is older.
"A year of fundraising for them is the perfect way to celebrate 10 years of her being a patient too."
Sarah Naismith, Head of Royal Manchester Children's Hospital Charity comments: "Ella is one of our most loyal supporters, always taking part in fundraising events to help raise vital money for our Children's Hospital.
"It's brilliant that her friends will be joining her at the last run of her 10k birthday challenge. We will be there at the Great Manchester Run cheering Ella and her friends across that finish line!"
To sponsor Ella please visit: www.justgiving.com/fundraising/karen-hughes23
For more information about the Simplyhealth Junior and Mini Great Manchester Run, visit: Greatrun.org/Manchester