Emily Runs Mini Manchester Run After Kidney Diagnosis
Entries for the Simplyhealth Junior and Mini Great Manchester Run are now open. Enter at: Greatrun.org/Manchester
A youngster who was diagnosed with a rare kidney condition just after she completed the Simplyhealth Junior and Mini Great Manchester Run will return to the event in 2018 to raise funds for research into her condition.
Five-year-old Emily Cook, from West Didsbury in Greater Manchester, will take part in Manchester's biggest children's running event for the Nephrotic Syndrome Trust after she was diagnosed with the condition in July.
After weeks trying to find a reason behind swelling of her eyes, which was at first suspected to be hay fever, she was diagnosed with Nephrotic Syndrome.
The condition means that Emily's kidneys do not hold protein and the water that would usually leave her body is retained, causing a huge build up of fluid.
To stop the build up and kidney damage, she relies on constant steroid use, with doctors at the Royal Manchester Children's Hospital currently trying to find an alternative way to manage the condition.
The family decided they wanted to fundraise in order for more money to be put into trials to find a cure in the future.
The charity aims to provide patients and their families with knowledge and support so that they do not feel alone, something which Emily's parents Lorna and Will feel passionate about.
Emily and her six-year-old brother Alexander enjoyed taking part in the 1.5km run and so they decided to sign up to the event for 2018, which takes place on Sunday 20 May.
Will has also signed up to take on the Simplyhealth Great Manchester Run 10k on the same day to raise money for the charity which also funds research into Nephrotic Syndrome.
Lorna, 39, said: "Emily did the Simplyhealth Mini Great Manchester Run this year with her brother and really enjoyed it. It's something she was really looking forward to and loved getting her medal and T-shirt.
"The children enjoyed the Simplyhealth Junior and Mini Great Manchester Run this year and so when Emily said she would like to do it again, we thought it would be a great opportunity to raise money to fund research.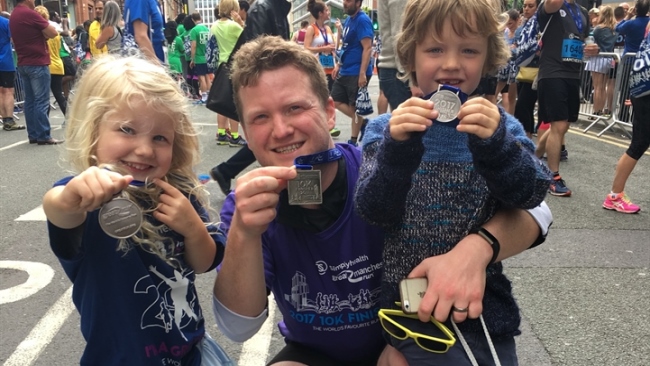 The Simplyhealth Junior and Mini Great Manchester Run features over 1,000 children from ages 3-15 years old, who take on a city centre route, starting and finishing on Portland Street.
The event takes place on the same day as the Simplyhealth Great Manchester Run, Europe's biggest 10k, meaning Sunday 20 May will be a day of running in the city for all ages.
Lorna added: "Emily's condition itself affects one in 50,000 children. We are currently trialing a new medicine which should hopefully mean Emily can stop the steroid treatment soon. Trials are very important in this area.
"Emily and Alexander loved the event last year and so we thought it would be a great idea for the whole family to get involved in fundraising.
"Will is going to take on the 10k afterwards and we hope we can raise a significant amount of money to help make a difference to others who are going through a similar thing."
Entries for the Simplyhealth Junior and Mini Great Manchester Run are now open. Enter at: Greatrun.org/Manchester