Emily Tackles North 10K After Skin Cancer Diagnosis
Entries for the Simplyhealth Great North 10k are now open. Enter at: Greatrun.org/North10k
A nurse who was diagnosed with skin cancer is to take on a 10k running challenge to warn others of the dangers of leaving your body unprotected this summer.
Emily Renshaw, from Wallsend in Newcastle, was diagnosed with malignant melanoma, after a mole she had always had began to change in shape and colour.
Emily had thought nothing of the change, but her concerned partner Emma voiced that she should visit her GP to get it checked out.
Thanks to Emma's advice, the visit in May 2016 saved Emily's life as she was told after a biopsy that she had developed malignant melanoma.
The devastating news was a huge shock to Emily, who always covered up in the sun and wore factor 50 sun cream.
Thankfully the cancer was in its early stages and had not spread, so Emily underwent an operation to remove it at Newcastle's Royal Victoria Infirmary.
The operation also removed tissue around the surrounding area to ensure that none of the cancer had been left behind.
Now she is cancer free, Emily is hoping to raise awareness about the effects of skin cancer and the need to be cautious when protecting skin during the summer.
Emily, 28, and Emma, 31, will take on the Simplyhealth Great North 10k Gateshead on Sunday 9 July for Melanoma UK.
Emily said: "A year ago I was diagnosed with skin cancer, something that I never thought would happen to me.
"I always had this mole on my body but I didn't think anything of it because it had been there for so long.
"I didn't even notice a change in it at all but then my partner Emma said that she thought it looked different.
"I am a nurse and so I didn't want it to look like I was running to the doctors at the slightest thing so I was reluctant to go, but Emma insisted that I get it checked out.
"Thankfully, Emma's persistence saved my life because after a scan and a biopsy, I was diagnosed with malignant melanoma.
"The scary thing is that the mole itself was not big and it looked almost identical as it did before to me. But when I saw the biopsy results it was clear that it was malignant, you can't see what is going on beneath your skin.
"I never really went out and exposed myself to the sun too much and when I did I always wore factor 50 sun cream, so it was a big shock to me.
"After seeing a skin cancer specialist, I had an operation to remove it and luckily, it had not spread.
"I feel very lucky and it has been a huge reality check for me."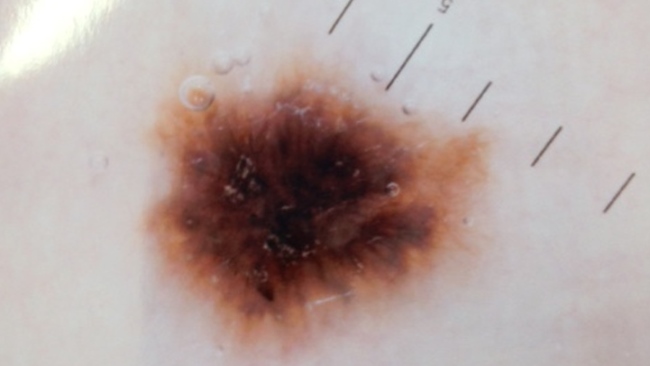 Emily and Emma will join 5,500 others for the Simplyhealth Great North 10k, which is the North East's biggest 10k running event.
Participants are taken on a scenic tour of the NewcastleGateshead Quayside, passing the likes of Sage Gateshead, the BALTIC Centre for Contemporary Art and the Gateshead Milennium Bridge.
Runners then enter the iconic Gateshead International Stadium, before finishing on the track in front of cheering crowds.
The event also is the official training run for the Simplyhealth Great North Run, the world's biggest half marathon.
Emily has now dedicated her time to raising awareness about skin cancer, and supports the Royal Victoria Infirmary's initiative to have a drop in skin care clinic for anyone who wants to get their skin checked.
Emily added: "I am now approaching one year cancer free and I want to turn my experience into a positive one.
"It's important to recognise the signs and I want to encourage people to check their skin often for changes and to be sensible in the sun.
"I am really grateful that mine was caught early enough to allow me to now live my life to the full every day.
"Emma and I are getting married this year so we also want to use our wedding favours as an opportunity for people to donate to us running the Simplyhealth Great North 10k in aid of research into skin cancer."
Support Emily's fundraising here.
Entries for the Simplyhealth Great North 10k are now open. Enter at: Greatrun.org/North10k