Family Lead Team At Bristol 10K In Memory Of Schoolgirl
Every runner has a story, it's time to start yours. Enter the Simplyhealth Great Bristol 10k at: Greatrun.org/Bristol10k
A team of runners will take on the Simplyhealth Great Bristol 10k this spring in memory of a brave five-year-old girl who lost her life to liver cancer.
Schoolgirl Aimee Humphries, from Emmersons Green in Bristol, lost her life eight years ago after being diagnosed with liver cancer and battling a rare genetic disorder.
Since her passing, her sisters Megan, 19, and Zoe, 17, along with brother Jake, 25, have dedicated their time to fundraising with their parents Jackie, 48, and Ian, 50, in support of Children's Hospice South West, where Aimee spent her time before her death.
The group will lead a team of around 20 runners who are supporting the Charlton Farm hospice at the Simplyhealth Great Bristol 10k on Sunday 13 May.
Aimee was diagnosed with Niemann-Pick Type C at just six months old, which is an extremely rare genetic disorder.
The disease affected her body's ability to process cholesterol and caused her to have an enlarged liver and spleen.
At first, Aimee appeared to be coping with her condition well and started school, but was then diagnosed with liver cancer in 2008 in a cruel twist of fate.
She went through chemotherapy at a young age to try and shrink the tumour, but it was not successful and in September 2009 she passed away at Charlton Farm.
Since her death, the family have raised approximately £60,000 the hospice, who they say provided Aimee and her siblings with amazing care and support.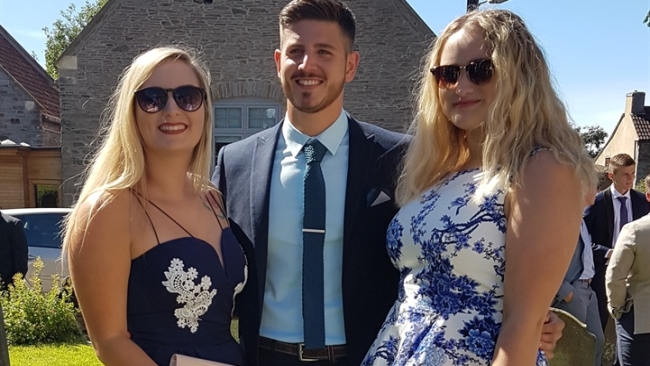 Aimee's sister Megan, who is a student at Southampton University, said: "We lost Aimee in 2009 when she was just five years old.
"I was only 11 but our parents made sure we were kept aware of everything that was happening during her illness.
"She was diagnosed with a rare genetic disorder when she was just a baby but then a year before she died she was diagnosed with liver cancer.
"She went through treatment to shrink the tumour, unsuccessfully, and then around August that year, she went to Charlton Farm to spend some time there, and then finally to pass away in September.
"Throughout the time we all stayed there, the staff and facilities were brilliant. They had staff there who had gone through a similar thing to help and support us, as well as the centre having outdoor areas for children and teenage patients.
"After Aimee passed away, we decided to start fundraising as a family to repay the Hospice for all of their amazing care.
"It gave us all something to focus on and my mum and dad started hosting charity evenings and taking part in running events.
"Dad has taken part in the Simplyhealth Great Bristol 10k for the past 6 years and this year, because the 10k lands on Aimee's actual birthday, we decided to join him as a team called Aimee's Runners."
The team will take on the 10k challenge at the Simplyhealth Great Bristol 10k with 13,000 others, whatever their pace or motivation. Runners will take in the sights of Bristol city centre before heading out along the Avon Gorge, celebrating everything that's great about the city.
Megan added: "The attention that Aimee and all of our family received then and after she died, is what helped us get through what was definitely the most darkest of days for us.
"Without the support, guidance and care we received from the Care team, the sibling workers and all the team at Charlton Farm, we definitely would not have coped.
"I've been running for a while and I find that training for events like the Simplyhealth Great Bristol 10k really helps with your mindset and focus. It's great for your mental health and can give you the headspace you need during a stressful time."
To support Aimee's Runners' fundraising, visit: https://www.justgiving.com/fundraising/ian-humphries2
Every runner has a story, it's time to start yours. Enter the Simplyhealth Great Bristol 10k at: Greatrun.org/Bristol10k